Meanwhile, back in Anatevka…
From April '10 Spotlight: The Marriott Lincolnshire opened their new production of Fiddler on the Roof on Feb 24. I have now seen over two dozen performances of Fiddler in my life, but this was the first time I'd ever seen Fiddler "in the round."
"The great thing about working in round is the ability to create a world that's a lot more intimate," director David Bell told me. "Members of the audience…get the benefit of actually seeing the story up close and personal."
Sitting in row eight, seeing all the other eyes around me watching too, I felt like we had all been magically transformed into Anatevkans. And because the number of people on stage at any one time is relatively small, the female characters are all more vividly individuated than in any prior production.
Rebecca Finnegan, playing "Yente the Matchmaker," has an especially large physical presence. "Yente's the dealmaker, the only woman in Anatevka who can move freely between men and women as an equal," Finnegan told me. "Yente's no clown; she's deadly serious." And Finnegan's performance is a revelation!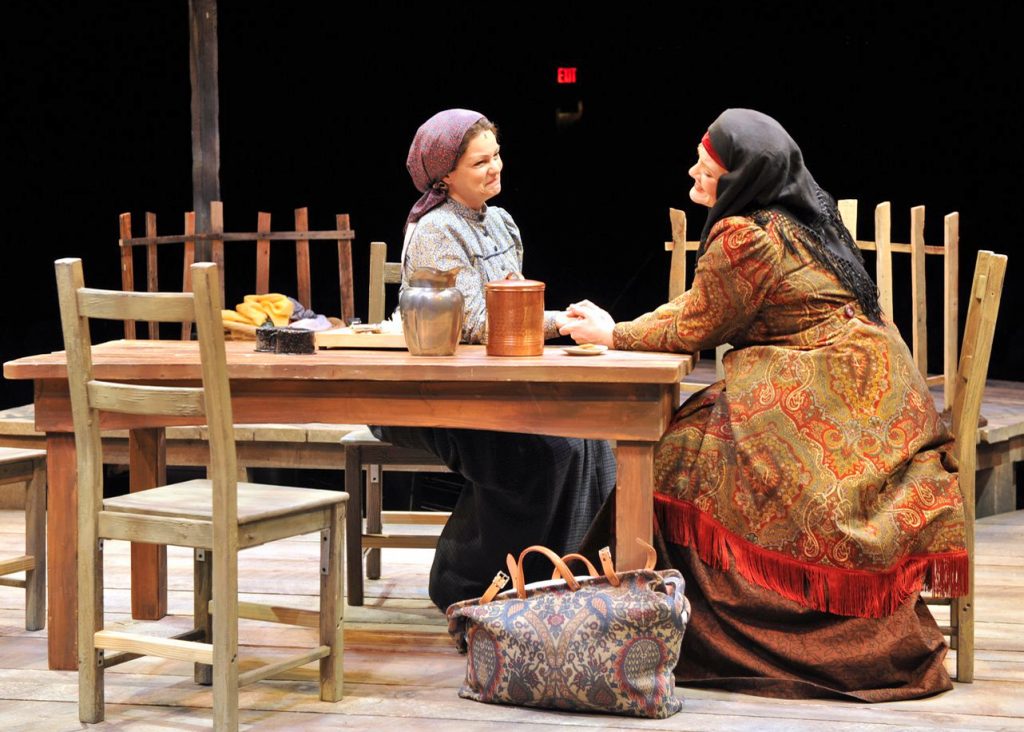 The Marriott's Fiddler runs through April 25. To purchase tickets, call (847) 634-0200 or visit www.MarriottTheatre.com.
Photos courtesy of Marriott Lincolnshire: Paula Scrofano as "Golde" (left) & Rebecca Finnegan as "Yente" (right).  Costume design by Nancy Missimi.  Brava!!!