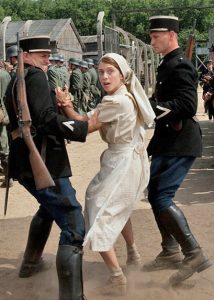 Tzivi reviews La Rafle… with a look back at Sarah's Key
July 16, 1942: Early in the morning, French gendarmes start banging on the doors of thousands of Jewish Parisians, and order them to pack one suitcase of personal effects each plus enough food for two days. They are then loaded onto trucks and herded into the Vélodrome d'Hiver, a sports stadium near the Eiffel Tower known colloquially as the "Vél d'Hiv."
After enduring several days of stifling heat, with poor sanitation and limited fresh water, they are packed off to small regional internment camps outside Paris, and soon after, they are sent on to Auschwitz, where almost all of them are immediately gassed upon arrival.
This black day in history is now known in French as "La Rafle" (in English, "The Vél d'Hiv Round Up"), and if some of this already sounds familiar to you, it's probably because you either read Tatiana de Rosnay's best-selling novel Sarah's Key (published in 2007), or saw the film adaptation released in 2011 (staring Kristin Scott Thomas as an American journalist named "Julia" who is covering French plans to commemorate the 60th anniversary of the Vél d'Hiv Round Up), or both.
Regular readers might recall that I was none too fond of Sarah's Key. In my August 2011 JUF News column, I wrote: "Without giving away the ending, let me just say that while the scenes set in 1942 are urgent and compelling, I couldn't find the adult Sarah in the girl so poignantly played by young Melusine Mayance… These documented historical facts, still so raw and painful, deserve a better framing story."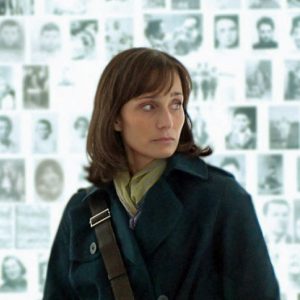 After I saw the film, I read the novel (that's the rule I follow as a film critic), and I did like the novel more, but only a little. For one thing, the melodramatic scene in which Sarah commits suicide was definitely added by director Gilles Paquet-Brenner and his co-screenwriter Serge Joncour; the fate of the novel's adult Sarah is much more ambiguous. But still, comparing Sarah's ordeal with Julia's domestic travails (which run along parallel lines in both the novel and the film), made me queasy.
So from my POV, it is all to the good that writer/director Rose Bosch keeps La Rafle anchored in the horrific events of 1942, and feels no need to "engage our sympathies" further by adding a contemporary heroine.
The narrative arc of La Rafle follows two characters, both drawn from life. The first is "Joseph Weissman;" the second is "Annette Monod." Joseph, nicknamed "Jo," is the child of Jews from Poland. Annette Monod is a French nurse and the daughter of a Protestant minister. We follow them separately for the first third of La Rafle, then their stories forever entwine when they meet in the Vél d'Hiv in the middle of the film.
When we first see him onscreen, Jo (played by Hugo Leverdez) is a happy kid living in a working class neighborhood with his parents and two older sisters. His father "Shmuel" (Gad Elmaleh) is a laborer with left-wing political views. His mother "Sura" (Raphäelle Agogué), who takes in ironing to help the family finances, is more religious. These are hard-working people who treasure their lives in France.
Sura, who sprinkles her clumsy French with Yiddish, has especially bitter memories of life in Lublin. Her consolation is that her children were all born in France, so whatever might happen to her, they are French citizens and therefore they are safe. As the round-up begins, Shmuel even asserts himself with the gendarmes, demanding respect as someone who fought for France in World War I. It doesn't matter. From the perspective of the Vichy Government, they are all just Jews… full stop.
The real Annette Monod came from a prominent French family. Film geeks will love the fact that one of her distant cousins is French director Jean-Luc Godard. Humanitarians will appreciate her close genealogical connection to Jean-Paul Sartre's mother Marie Louise Schweitzer (related on her father's side to Nobel Prize-winner Albert Schweitzer). None of this deep background (Thank you, Google!) is presented in the film, of course, but the Annette we meet onscreen does seem to possess a rare inner fortitude, as well as the firm conviction that she has the right, as a French citizen, to protest the horrendous treatment of her Jewish countrymen at the highest levels.
This appears to have been the real woman (someone who fought for years against the death penalty and ended her days working for Amnesty International); "Annette Monod" isn't just a screenwriter's convenience. (Note that the press kit claims "Today she is one of The Righteous Among The Nations…honored by Israel," but I was not able to verify this on the Yad Vashem website.)
French actress Melanie Laurent (best-known to American audiences for the Jewish characters she has played in Beginners, Inglorious Basterds, and Le Concert) is luminous as the moral center of La Rafle. True, I would have excised her close-ups with young Nono's teddy bear, but that is a really tiny quibble. For the most part, filmmaker Rose Bosch keeps our eyes focused on the abyss without clouding them with tears. Brava!
La Rafle opens tomorrow (January 18) at the Gene Siskel Film Center on State Street. For additional dates, times, and tickets, visit their website.
To learn more about La Rafle's historical background, visit the Menemsha Films website.
For more pix from La Rafle, visit my Pinterest page.
© Jan Lisa Huttner (1/17/13) FF2 Media
Featured Photo: Jews in Paris are forced from their homes on July 16, 1942 by French gendarmes.
Top Photo: Melanie Laurent as Annette Monod.
Middle Photo: Kristin Scott Thomas in Sara's Key
Bottom Photo: Inside the Vel d'Hiv.
La Rafle photos courtesy of Menemsha Films.
Jan Lisa Huttner (1/17/13) — Special for JUF Online.