For Jewish fans of novelist Philip Roth, Listen Up Philip arrives in our art house theatres like an early Hanukkah gift. Filmmaker Alex Ross Perry not only signals his intention right up front in the title, he also calls his lead character "Philip Lewis Friedman."
But true to his Rothian roots, Perry then mixes up the identities a bit, adding a mentor named Ike Zimmerman and introducing both Zimmerman and his work through a hilarious montage of book covers, all of which look like the covers of actual Philip Roth books. (For aficionados like me, the stylized Roth covers are as unmistakable as the Windsor font Woody Allen always uses for his film title and credit lines.)
Of course, you don't have to know all the details of the life and loves of Philip Roth in order to enjoy Listen Up Philip. It stands on its own as a black comedy about trying to make it as a serious writer in the era of noxious "self-branding." But the more you know, the funnier it is. And I suspect most Jewish readers—most of whom are devoted consumers of contemporary culture—will have absorbed a great deal of the necessary background already, if only by osmosis.
When we first meet Philip (a role seemingly made-to-measure for actor Jason Schwartzman and perfectly crafted around his persona), he has completed his second novel and he is working on his third. So we follow Philip as he is instructed in the mechanics of the business of publishing: Here is a list of your photo shoots; here is the itinerary for your book tour; here are snippets of the reviews of your second novel that will soon appear in major publications.
Philip has a meltdown. Offered sanctuary by his idol "Ike Zimmerman" (Jonathan Pryce), Philip stomps out of his publisher's office, packs a few bags at the Brooklyn home he shares with his longtime girlfriend "Ashley Kane" (Elisabeth Moss), and heads off to Zimmerman's country retreat for the summer. Then Zimmerman arranges an adjunct position for him at a local college, and Philip tells Ashley he will be staying through the fall.
As the plot unfolds, Eric Bogosian provides the unseen voice of a wise, omniscient narrator who sees all, knows all, and adds the erudite perspective that Roth himself might contribute if he were the one actually telling this story. Thus Philip, Ike, and Ashley come to exist not just as themselves on screen and in "real time," they also become characters in a cinematic Philip Roth "homage novel."
Without giving away any of the details, let me just say that Philip Lewis Friedman is intended to be one of the winners in the 21st Century culture wars, just as Philip Roth was himself a winner in the 20th Century culture wars. The narrator specifically tells us that Philip Lewis Friedman will achieve his goals as an author. But the open question is what this success will cost both men—both Philip Lewis Friedman and Philip Milton Roth—as people.
Perry's great accomplishment in Listen Up Philip is to address the delicate issue of misogyny from the perspective of a young man coming of age in the Millennial Generation. I just entered "Philip Roth + misogyny" into Google and got 20,600 results in .28 seconds, so I did not invent this topic. It has been there for most of my life and for all of Perry's life. Roth turned 80 last year and this year he announced his retirement, so there is nothing more he can do about any of this. Roth's "woman problem" now belongs to his literary heirs, and Perry—who turned 30 in July—is clearly up to the challenge.
Like Philip Roth, Ike Zimmerman expected women to be a certain way. We don't know how this worked out for Ike in his own romantic, sexual, or marital life, but we do learn quite a bit about how Ike's daughter "Melanie Zimmerman" (Krysten Ritter) feels about all of this. She tells Ike, she tells Philip, and she tells the world in her book A Daughter's Point of View: A Memoir of My Father which deliberately mocks the title of one of Ike's books (A Woman's Point of View) and also invokes My Life as Man, which is supposedly one of the Roth novels that triggered ex-wife Claire Bloom's notorious memoir Leaving a Doll's House: A Memoir. (From the Amazon page for My Life as Man: "At its heart lies the marriage of Peter and Maureen Tarnopol, a gifted young writer and the woman who wants to be his muse but who instead is his nemesis.")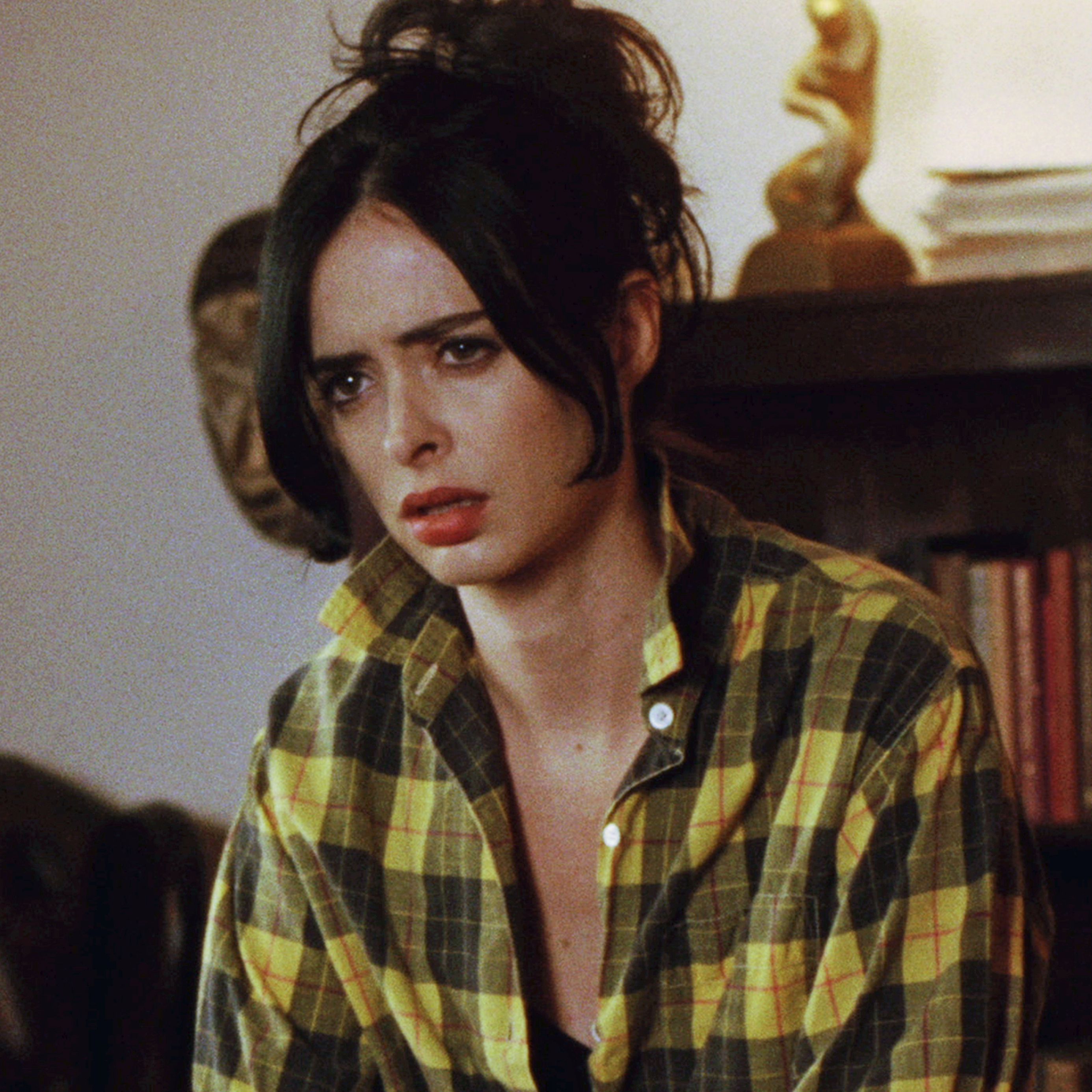 But enough inside baseball. Suffice it to say that Ike Zimmerman's relationships with women have been disastrous, so what does the future hold in store for Philip Lewis Friedman? From the sympathy with which Perry creates the "Ashley" character (Elisabeth Moss), the "Melanie" character (Krysten Ritter), and the character of "Yvette Dussart" (Joséphine de La Baume)—a professor Phillip meets at the college—we can be sure that Perry knows his own life as a man will follow different rules.
Philip Roth never had a daughter. Maybe that was one of his problems?
To see all the book jackets for Listen Up Philip—brilliantly designed for Perry by Teddy Blanks—follow THIS LINK to Slate.
Listen Up Philip opens today at the Music Box Theatre on Southport. Click HERE for schedule information. It is also available On Demand.
Top Photo: Jason Schwartzman as "Philip Lewis Friedman."
Middle Photo: Jonathan Pryce as "Ike Zimmerman."
Insert #1: Elisabeth Moss as "Ashley Kane" (with her cat).
Insert #2:  Krysten Ritter  as "Melanie Zimmerman" (with her anger).
Photo Credits: Shawn Bannon and Wendy George/Tribecca Films
Posted 10/25/14 on JUF Online.