TZIVI REVIEWS ZERO MOTIVATION FOR JUF ONLINE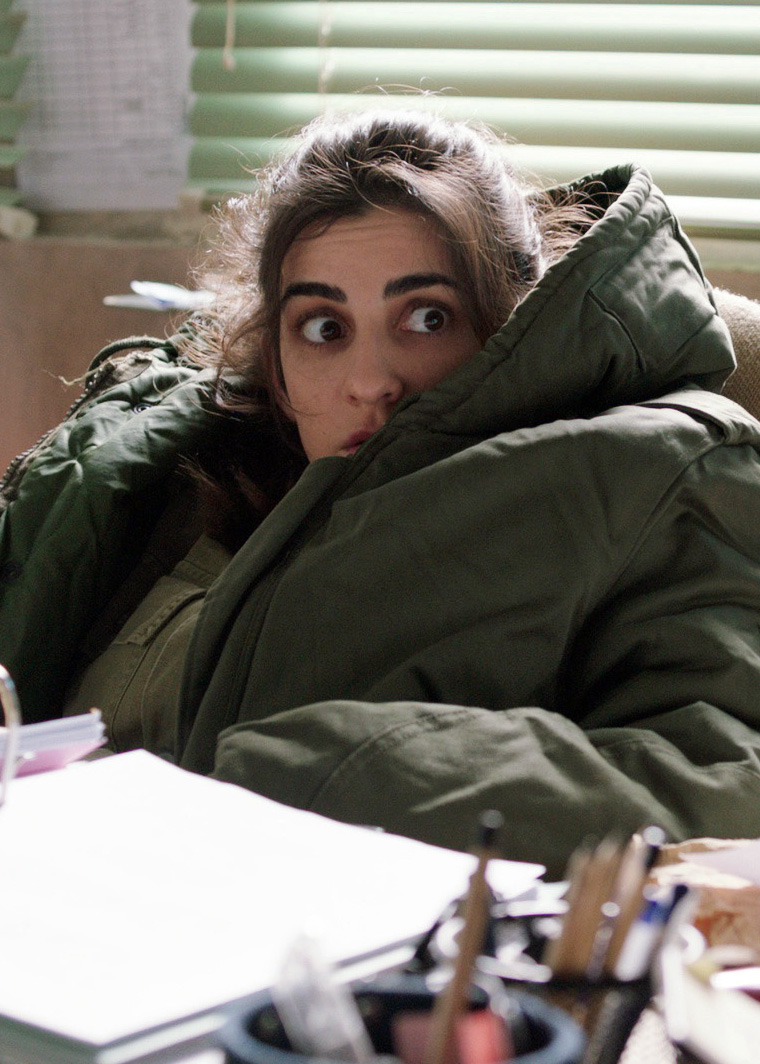 Zero Motivation, tied for my Top Pick in the Feature category at this year's Chicago Festival of Israeli Cinema, opens today at the Music Box Theatre on Southport. So if you didn't see it at CFIC '14 back in October, you now have another chance to see one the best—and most highly lauded—filmmaking debuts of the year. This is not hyperbole. In April 2014, Zero Motivation won Best Narrative Feature at New York's Tribeca Film Festival, and writer/director Talya Lavie won the prestigious Nora Ephron Prize. (Per TFF: "With our Nora Ephron Prize, we hope to not only honor this amazing woman, but also to inspire a new generation of female writers and directors.") Then, in August 2014, Zero Motivation received twelve Ophir Award nominations ("the Israeli Oscar") from the Israel Film Academy, and in September 2014, it won six Ophirs (Best Director, Best Screenplay, Best Actress, Best Casting, Best Editing, and Best Music).
So what makes Zero Motivation so special? On the most basic level, Zero Motivation is a hilarious look at the role of women in the Israeli military, rightly compared to Robert Altman's much-loved black comedy M*A*S*H. But dig deeper, and it is also an insightful peek into the current state of Israeli society as a whole, as well as an even more universal look at the role of women in most of today's "advanced" Western democracies. (What's missing here in both the microcosm and the macrocosm is the religious element, and that is only because religious women are not required to serve in the Israeli military. But few religious women fully participate in public life in any country, so I would argue that religious women are in fact represented in Zero Motivation by their very absence.)
The story unfolds in three chapters ("The Replacement," "The Virgin," and "The Commander"), with bookended Prologue and Epilogue segments.
In the Prologue, we meet our main character "Zohar" (brilliantly played by Best Actress Ophir winner Dana Ivgy), who is waiting at a crowded bus stop for her BFF "Daffi." (Daffi is played with equal brilliance by Nelly Tagar, who was nomination for a Best Supporting Actress Ophir. Ironically Tagar lost out to none other than Ivgy who, in addition to her Best Actress Ophir for Zero Motivation also received the Best Supporting Actress Ophir for her role in another film called Next to Her. Next to Her played in our 2014 Chicago International Film Festival and will likely play in our 2015 CFIC as well.) They are on their way back to a remote military base presumably somewhere in the Negev.
Quick-witted Zohar manages to grab two seats, ferociously saving one for lackadaisical Daffi (who is soon napping comfortably on Zohar's shoulder). But suddenly the bus stops and everyone must get out and transfer to another bus. In the ensuing scramble, Zohar and Daffi are pushed back by the huge throng of male soldiers which surrounds them, and the two young women are left standing in the aisle with miles and miles of desert still to traverse. As tiny Daffi reaches for and swings from the strap high above her head, one wonders if any of the guys aboard will think to offer his seat to "a lady"? Answer: Nope, not in this man's army!
In the epilogue, Zohar boards a new bus, one that is cool and empty and ready to spirit her to away from the base to whatever the future has in store for her.
Plot points in the chapters in between are primarily carried by three more actresses: Shani Klein as "Rama" (the head of Administration), Dana Minerat as "Anat" (the head of Education), and Tamara Klingon as "Irena" (a Russian immigrant who works in the same office as Zohar and Daffi and also bunks in the same room). Of course, there are many men in this mix playing commanders, soldiers, and paratroopers, but they all have relatively minor roles in the overall story of a small group of women who push paper for, bring coffee to, and otherwise service the needs of the very large group of muscular men in uniform who run the base.
How can this be funny? Seeing is believing, so trust me on this: By the time Zohar and Daffi circle each other with staple guns as if they were Wyatt Earp and Ike Clanton at the OK Corral, you'll be laughing through your tears.
Zero Motivation opens today at the Music Box Theatre on Southport. Follow this link for schedule information: http://www.musicboxtheatre.com/features/zero-motivation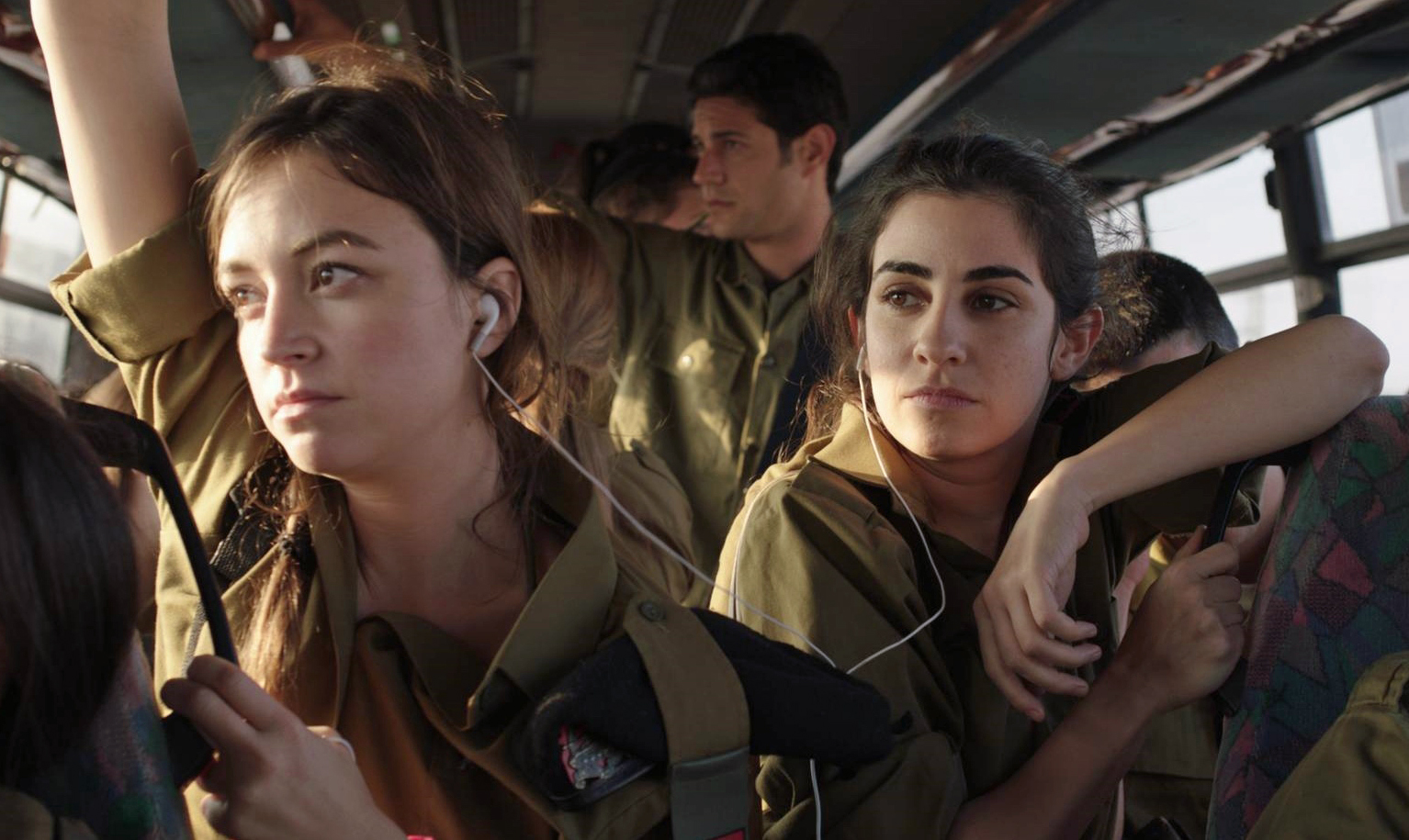 Top Photo: Dana Ivgy as "Zohar" at her Mail Clerk desk.
Bottom Photo: "Daffi" (Nelly Tagar) and Zohar on their way back to the base.
Photo Credits: © Yaron Scharf/Zeigeist Films
For more on Zero Motivation from the Jewish perspective, read the post on my Second City Tzivi Blog.
For more on Zero Motivation from the Feminist perspective, read the post on my Blog The Hot Pink Pen.
JUFB Post: 12/26/14