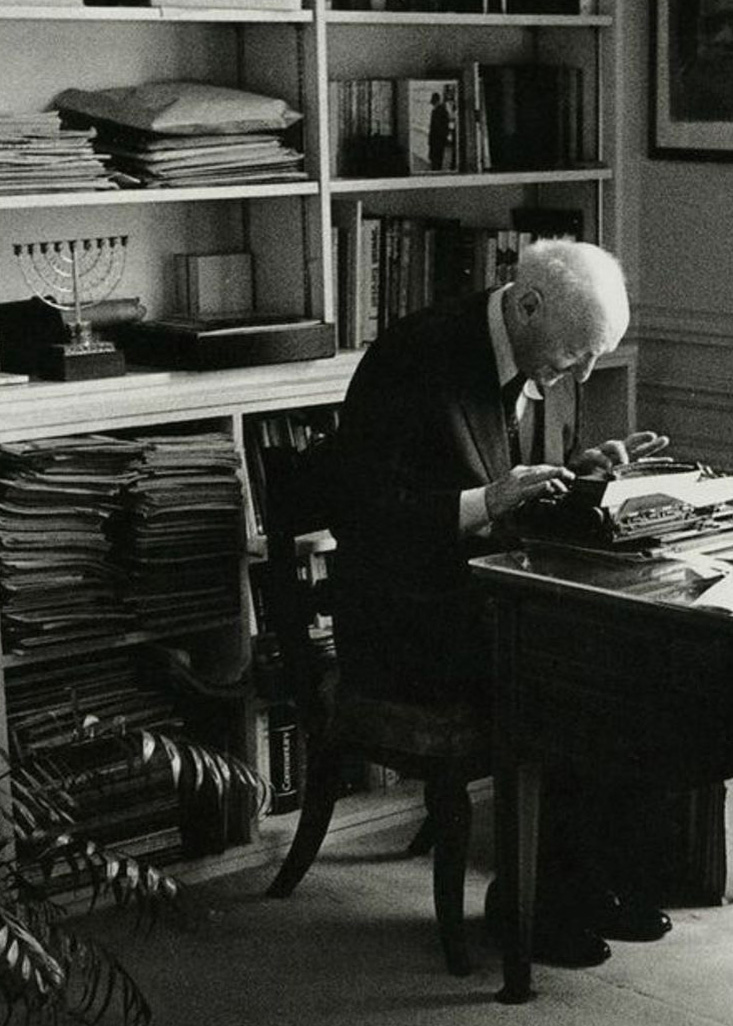 Isaac Bashevis Singer won the Nobel Prize for Literature in 1978. He was the first Yiddish author to be honored with a Nobel Prize for Literature, and he is quite likely to be the last Yiddish author ever to be honored with a Nobel Prize for Literature. But let's be honest: how many of the Nobel judges were fully capable of evaluating Singer's command of Yiddish? The answer–at best–was very few.
The truth is that Isaac Bashevis Singer won the Nobel Prize for Literature because of the superlative translations of his work which appeared in English, often in the pages of the New Yorker magazine. Stories in English made Isaac Bashevis Singer a widely-read and world-renown literary figure, and screen adaptations also increased his broad popularity (not to mention his bank account). By the time Isaac Bashevis Singer died in Miami in 1991 at the age of 88, he had become the very embodiment of a twinkly and much loved Jewish Uncle, not just for Kol Yisroel but for the world-at-large.
A great deal of self-confidence was required to dig deep into the life of such a archetypal persona, and the task was probably too fraught for Jewish-American filmmakers. But it has proven to be just right for two Israeli filmmakers: Asaf Galay and Shaul Betser.
I had the great good fortune of attending the very first American screening of The Muses of Isaac Bashevis Singer today on Opening Day of the 2015 New York Jewish Film Festival. The first question Aviva Weintraub of the Jewish Museum asked during the Q&A was the obvious question: "How did you come to make this story?"
Galay–who is more fluent in English than Betser is–answered immediately: "I was always a big fan. I read all his stories. And I started to notice how many women were named as translators. I counted forty-eight! So I wanted to know about these women." Betser's comment–in Hebrew–was translated into English as follows: "Our goal was to investigate how a creator creates."
Taken together, these two answers really do capture the essence of The Muses of Isaac Bashevis Singer. Perhaps it is not the case in all cases, but in this case, the act of translation–specifically the translation of Singer's work from Yiddish into English–was an essential part of the act of creation, and The Muses of Isaac Bashevis Singer shows how determined Singer was to have full and complete control over the process of translation from Yiddish into English from start to finish. He also instructed all those who wanted to translate his work into additional languages–including Hebrew–to use the English stories as their source rather than the Yiddish originals.
This is the point at which I must readily admit that I have never been much of a Singer fan, and I don't remember ever reading Singer "just because" or "for pleasure." Unlike Sholem Aleichem–a big-hearted Humanist who not only has great affection for common foibles but also readily admits his own–Singer has always seemed more misanthropic to me, and certainly more misogynistic.
I have had four occasions to write about Singer in the past: when I covered the documentary film Isaac in America for the World Jewish Digest in June '06; when I covered a traveling exhibit on the Singer Family for the JUF News in July '07; when I covered the Chicago Humanities Festival's "Evening with Alan & Marilyn Bergman" (the couple who received an Oscar for writing the lyrics for Yentl) for the JUF News in November '07;  and when I finally posted my extensive hour-long interview with the Bergmans in connection with my piece on the 25th Anniversary Re-Release of Yentl on DVD for the JUF News in March '09. So let's just say I've been around the Singer Track enough times to feel comfortable enough in my overall assessment of his work.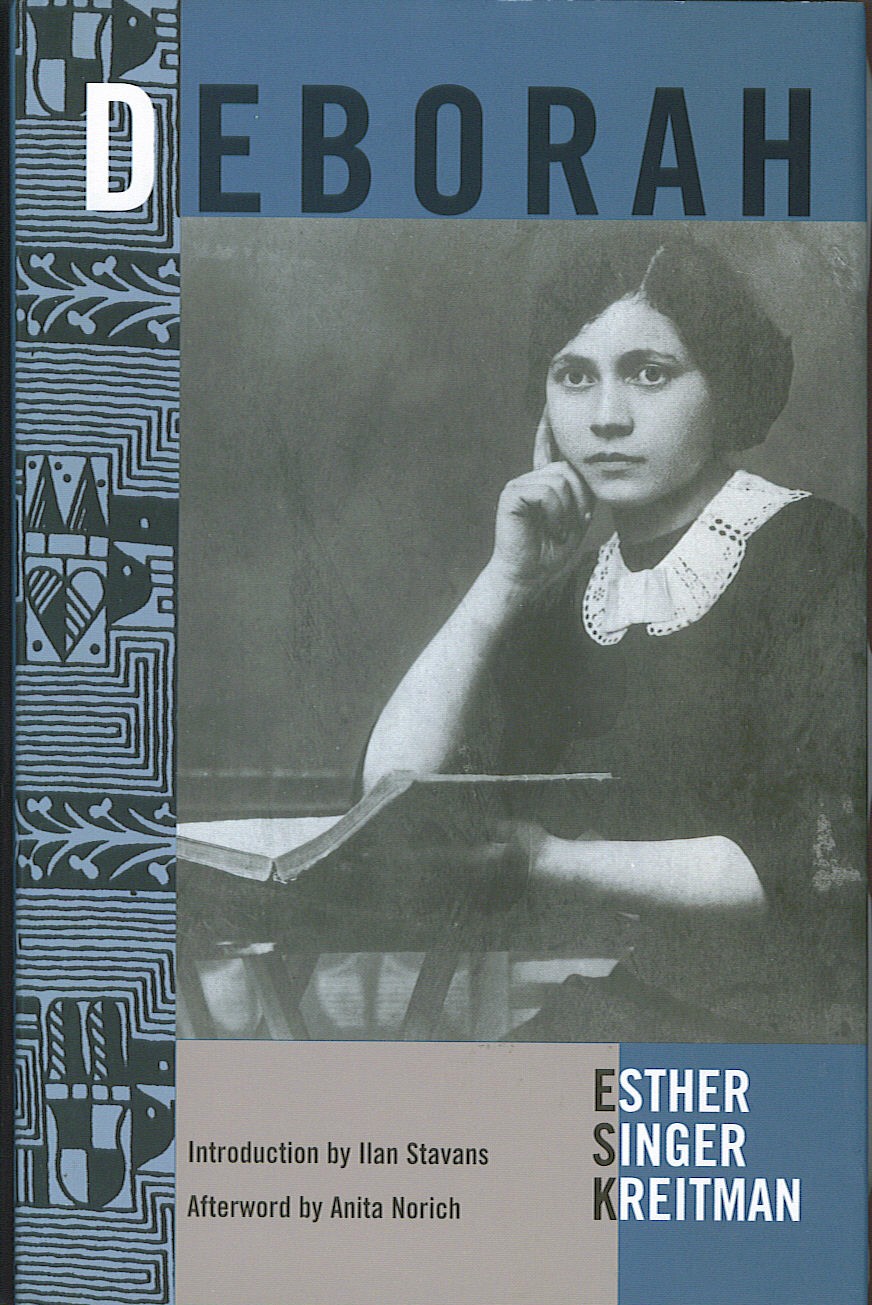 Since I am best-known as a Feminist film critic, readers probably expect me to focus on the fact that there were forty-eight female translators (!), all of them lost to history until Galay and Betser deliberately set out to learn more about them. But no one who knows about Singer's work, and certainly no one who knows about Deborah, the novel written by Singer's sister Esther Kreitman, can be the least bit surprised that Singer surrounded himself with multiple women and then treated all of them cheaply.
What fascinated me most about The Muses of Isaac Bashevis Singer was the filmmakers' deep examination of the process of translation itself. We always hear it is impossible to adequately translate a work of fiction from one language into another (Eskimos have a zillion words for "snow" and all of that), and yet it happens routinely, day-after-day, from one language to another and another. I have heard many successful authors describe this process, and they typically say someone is hired to translate one of their books and often they are not involved at all, whereas other times–if they are lucky and/or insistent–they are able to review the translation, ask questions, and maybe even make suggestions prior to publication.
But Singer didn't work this way. Singer was extremely hands-on. Again and again in The Muses of Isaac Bashevis Singer, a young woman spends hours and hours alone in a room with Singer while they transform a source text from Yiddish into English word-by-word, sentence-by sentence, paragraph-by-paragraph, and page-by-page until Singer decides they are done.
As a writer myself, I was mesmerized. To the non-writers reading this post, let me just say that finding the right words and making each phrase just so, this is the work of a writer and it is exhausting work. So who really "wrote" the English stories of Isaac Bashevis Singer? And who really earned the 1978 Nobel Prize for Literature? I think anyone who watches The Muses of Isaac Bashevis Singer with an open mind will agree that the answers to these two questions are no longer quite so obvious.
Only one woman eluded Singer's grasp and that woman was Barbra Streisand. Although Galay and Betser  do devote a couple of minutes to Yentl, this is the one subject on which The Muses of Isaac Bashevis Singer falls short. A few choice quotes from Singer's excoriating comments in the New York Times  ("I.B. Singer Talks to I.B. Singer about the movie 'Yentl'") clearly show how he was likely to react when anyone–especially a woman–dared to act independently.
So having gotten this far Galay and Betser owe it to themselves–not to mention the rest of us–to dig deeper into the Yentl case, and then come back to us with a feature-length documentary which is closer to the standard 90 minutes . (According to the NYJFF website, the current runtime of The Muses of Isaac Bashevis Singer is 72 minutes.)
Khaverim: Since you are already in for the penny, why not go for the whole pound???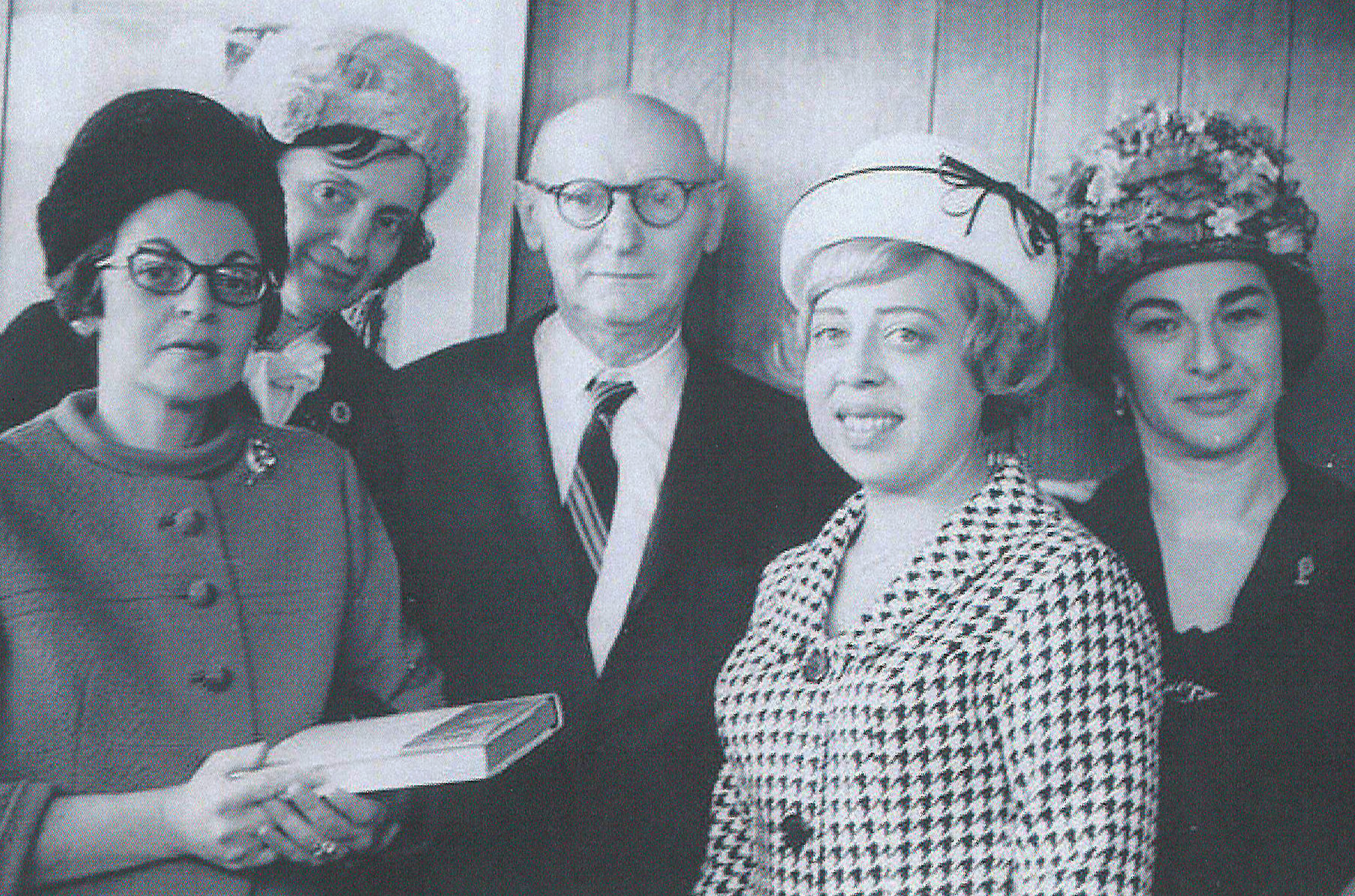 Top Photo: "The Myth" = Isaac Bashevis Singer–the solitary genius at work.
Bottom Photo: "The Reality" = Isaac Bashevis Singer surrounded by a few representative members of his huge "harem."
Photo Credits: Courtesy Antenna Productions (Israel) and the New York Jewish Film Festival.
BONUS: Click HERE to read Singer's Nobel Acceptance Speech. It's really terrific!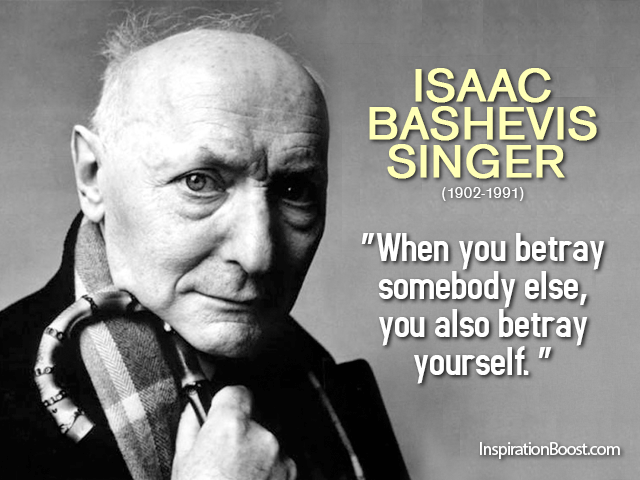 PS: I found this jpg (above) on Google credited to InspirationBoost. I don't know if the people who created it knew the details of Singer's story, but I can't pass it up. Having seen The Muses of Isaac Bashevis Singer, I find the irony of this quote too delicious to pass up!