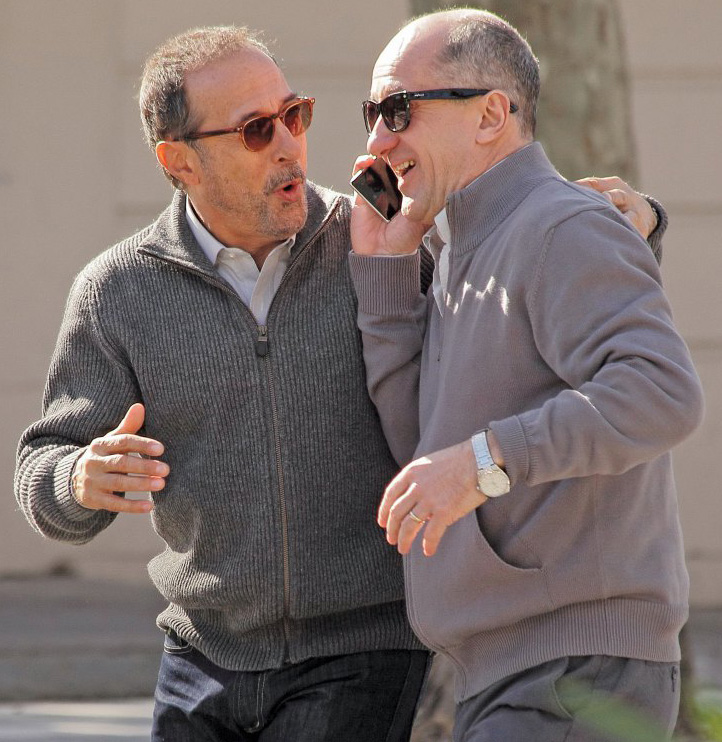 Daniel Burman's new film The Mystery of Happiness may well be the most beautiful adult love story ever made.
The Mystery of Happiness is told from the POV of "Santiago" (Guillermo Francella), a confirmed bachelor in early middle age who is living a very good life in Buenos Aires.
Year earlier, Santiago purchased a consumer electronics emporium with his good friend "Eugenio" (Fabian Arenillas), and they have done exceedingly well together. In an opening montage that had me bouncing in my seat, Burman shows Santiago and Eugenio doing all the things they do on an average day. There is nothing in any way surprising about this day; all the things they do are routine. But the laughs come from the fact that every act is done as if by two halves of one body; their activities are as well-rehearsed and well-executed as a synchronized swim routine.
Santiago is perfectly content. When he and Eugenio park their cars side-by-side that night, Santiago heads up to his apartment with glow of a man who knows his day was well-spent and his life is well-lived. And so, the next morning, Santiago arrives at the store ready for another "routine" day that will be just as affirming. He heads up to his office, sits down in his chair, and pulls up the blinds, fully expecting to see Eugenio seated at a matching desk on the other side of the glass window.
But… No Eugenio… Hours pass…Still no Eugenio… Where is Eugenio…?
Then Eugenio's wife "Laura" (Ines Estevez) arrives. "Where is Eugenio?!?" she demands. Santiago has no idea.
Thus begins the search for Eugenio–and it turns out this one man–Eugenio–has been living two very different lives. At first Santiago is stunned. After all, Santiago was sure that he knew Eugenio as well as he knew himself. But the longer he searches for Eugenio, the more Santiago comes to realize that he barely knows himself (let alone anyone else).
Guillermo Francella is perfect as Santiago. He is always affable, and even as the plot grows darker, his eyes continue to twinkle with merriment. He looked vaguely familiar to me, so as soon as I got home, I went straight to IMDb. Sure enough, Francella also starred in The Secret in Their Eyes (the Argentinian film which won the Oscar for Best Foreign Language Film in 2010). But even though his hair was brown there and gray here, it takes Santiago a long time to acquire the gravitas of an adult, and even then, he still has a bit of Peter Pan in his buoyant step.
Without revealing the where, what, when or why, let me just say that when Santiago and Eugenio finally meet up again, the scene Berman crafted with co-writer Sergio Dubcovsky is so superb that a shiver went through my whole body from tip to toe. It is a moment of redemption–proof positive that whatever rut we have found ourselves in, change is always possible.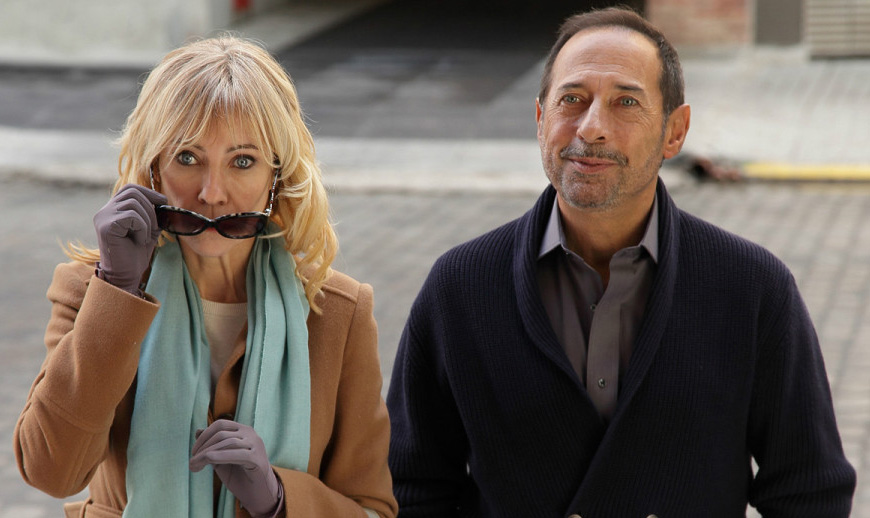 Top Photo: Santiago (Guillermo Francella) with Eugenio (Fabian Arenillas).
Bottom Photo: Santiago with Laura (Ines Estevez).
Photo Credits: BD Cine / Courtesy of Strand Releasing
Q: Is there any Jewish content in The Mystery of Happiness?
I saw The Mystery of Happiness at the 2015 New York Jewish Film Festival on January 17th, so the answer is probably yes, but if so, the Jewish content is deeply buried, and not apparent to someone like me who doesn't speak Spanish.
This is a surprise because Daniel Burman is beloved through-out Kol Yisrael for his films about the Jewish community of Buenos Aires, including Waiting for the Messiah (2000), Lost Embrace (2004), Family Law (2006), Empty Nest (2008), and Brother and Sister (2010). In each of these films, Burman makes it clear that most if not all of the main characters are Jewish.
In Lost Embrace, the film for which he won the Berlin Golden Lion, the main character lives in Argentina with his mother but his father lives in Israel. In Family Law, which was my Top Pick at the 2006 Chicago International Film Festival, the main character and his father are clearly identified as Jewish Lawyers. Parts of Empty Nest are actually set in Israel. Burman also participated in the making of a DocuDrama about the AMIA bombing called 18-J.
So I would be very grateful if one of my Spanish readers would answer this question:  Is there any Jewish content in The Mystery of Happiness?