Meet Legendary Theodore Bikel at Spertus in February!
"People ask me: 'Where are your people from?' And I say: 'Bukovina.' And they say: 'Where is that?' And I say: 'Okay, used to be Russia. When my parents were born, it was Greater Austria. In 1919, it became Romania. In 1946, it became Russia again. And now it's Ukraine." And they say: 'Oh, you moved a lot.'"
When Theodore Bikel tells us his life story, he covers all the bases of 20th Century Ashkenazi experience in Eastern Europe, Israel, and the USA. The Internet Movie Database (IMDb.com) tells us that Bikel was born in Vienna in 1924. The Internet Broadway Database (IBDB.com) tell us that he created the role of urbane Captain Georg von Trapp in The Sound of Music in 1959. And Wikipedia tells us that he has now played Tevye in Fiddler on the Roof "more often than any other actor (more than 2,000 times to date)." Bikel was nominated for an Oscar and two Tony Awards, and in 2005 he received his own star on the Hollywood Walk of Fame.
Now in his 90th year, Bikel is releasing a new film Theodore Bikel: In the Shoes of Sholem Aleichem which he refers to as "my legacy." "I'm a shtetl Jew. Even though I've never lived in a shtetl, I come from there. This film is an intentionally personal story. I carry Sholem Aleichem with me. I have my entire life. So these two stories, these two journeys are intertwined, his and mine, even though we never met."
Theodore Bikel: In the Shoes of Sholem Aleichem combines scenes from Bikel's acclaimed solo performance in Sholem Aleichem: Laughter Through Tears with footage filmed at Sholem Aleichem's 97th Annual Yahrzeit in Manhattan in 2013. To provide context, director John Lollos includes narration by Alan Alda, and interviews with a wide variety of talking heads including Jeremy Dauber, Joseph Dorman, Fyvush Finkel, Gilbert Gottfried, Sheldon Harnick, Allen Lewis Rickman, and Dr. Ruth Westheimer. Clear-headed and vivacious at the age of 102, Sholem Aleichem's granddaughter Bel Kaufman also graces the film with her final on screen appearance. (Kaufman died in July 2014.)
"The format evolved as the script evolved," said Lollos. "I started it with Theo's roots in Vienna and brought it forward. In discussions with Theo, I knew what songs would be sung, so I put them into the script, and then looked for people that could articulate and bridge us from one moment to the next."
Spertus Institute of Jewish Learning and Leadership (610 South Michigan Ave) will host the Chicago premiere of Theodore Bikel: In the Shoes of Sholem Aleichem on Sunday, Feb 8 at 2 PM. The film, which is 75 minutes long, will be followed by a Q&A moderated by Andrew Patner of WFMT.
For order tickets, call Spertus at 312.322.1773 or visit the Spertus website: http://www.spertus.edu.
Click HERE to read my JUFB review of Theodore Bikel: In the Shoes of Sholem Aleichem.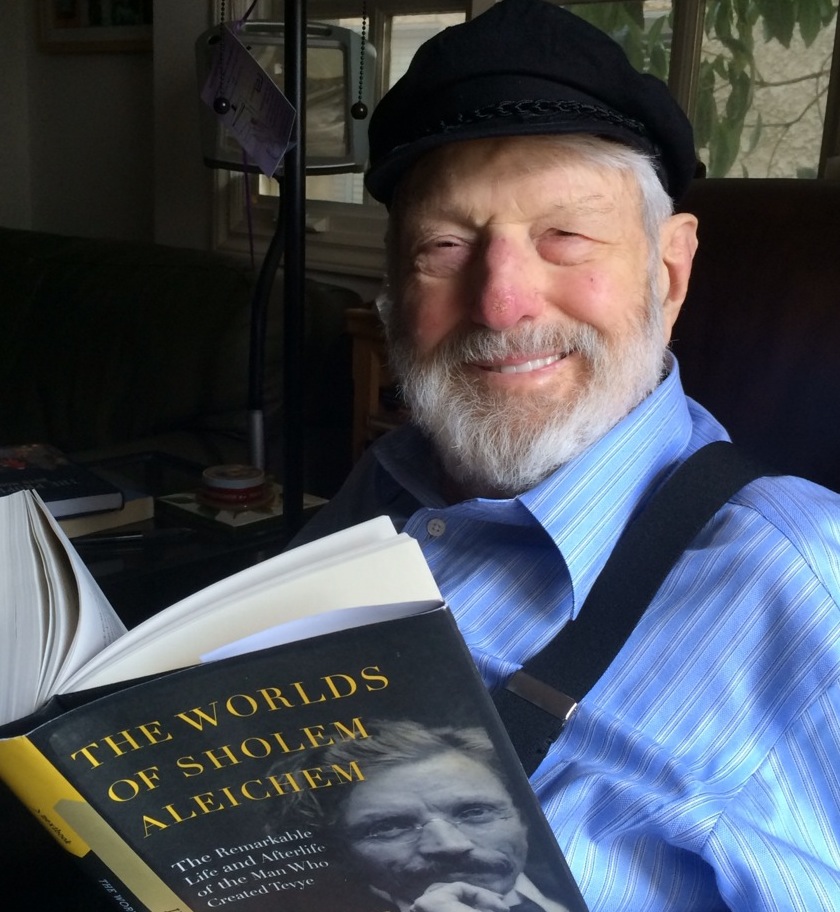 Bottom Photo: Theodore Bikel reading a copy of Jeremy Dauber's 2013 literary biography The Worlds of Sholem Aleichem.
Photo Credit: National Center for Jewish Film
Posted on JUF Online on 1/23/15.