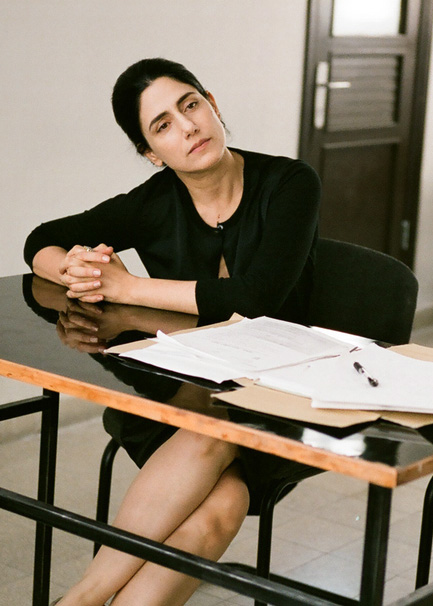 Gett: The Trial of Viviane Amsalem–released in Israel in 2014 as Gett–is the third and final film in "The Amsalem Triology," co-written and co-directed by actress Ronit Elkabetz in collaboration with her brother Shlomi Elkabetz. Once again, Ronit Elkabetz stars as "Viviane Amsalem" and Simon Abkarian co-stars as her husband "Elisha."
Gett was nominated for 12 awards in 2014 by the Israel Film Academy including Best Film, Best Director, Best Screenplay, Best Actress, Best Actor, Best Support Actor plus Best Casting, Best Costume Design, Best Editing, Best Makeup, Best Music and Best Sound. In the event, it only won two Ophir Awards–for Best Film and Best Supporting Actor (Sasson Gabai)–but the win for Best Film automatically made it Israel's candidate for the 2015 Best Foreign Language Film Oscar.
Gett also received a prestigious Golden Globe nomination in the Best Foreign Language Film category, as well as awards from the Chicago International Film Festival (Best Screenplay), the Hamburg Film Festival (Art Cinema Award), the Hamptons International Film Festival (Best Narrative Feature and Best Actress), the Jerusalem Film Festival (Best Israeli Feature, Audience Award, and Best Actor), the Oslo Films from the South Festival (Best Feature), the Palm Springs International Film Festival (Directors to Watch), and the San Sebastian International Film Festival (TVE Otra Mirada Award). It was nominated for additional awards by the Asia Pacific Screen Awards, and named one of 2014's Top Five Foreign Language Films by the National Board of Review (USA).
I first saw Gett on my computer via Vimeo in September 2014 right after I posted my Ophir Update for the JUF News. Because I am no longer in Chicago, I did not see it on the big screen in October when it played at the 2014 Chicago International Film Festival. I had to wait until January, when I saw it at the 2015 New York Jewish Film Festival with two female friends. (Because of the timing of Gett's Israeli release, this was one of the rare times Chicago was actually ahead of New York!) I saw it a third time with my husband Richard at the Lincoln Plaza Theatre on February 22–as part of my "Stop Blue Oscar" Boycott–after we had watched To Take a Wife and Shiva at home on DVD.
What follows is my review of Gett considered in itself as a single film (with minimal spoilers). To read more about Gett in the context of the whole "Amsalem Trilogy"–with necessary spoilers reflecting the full arc–click HERE.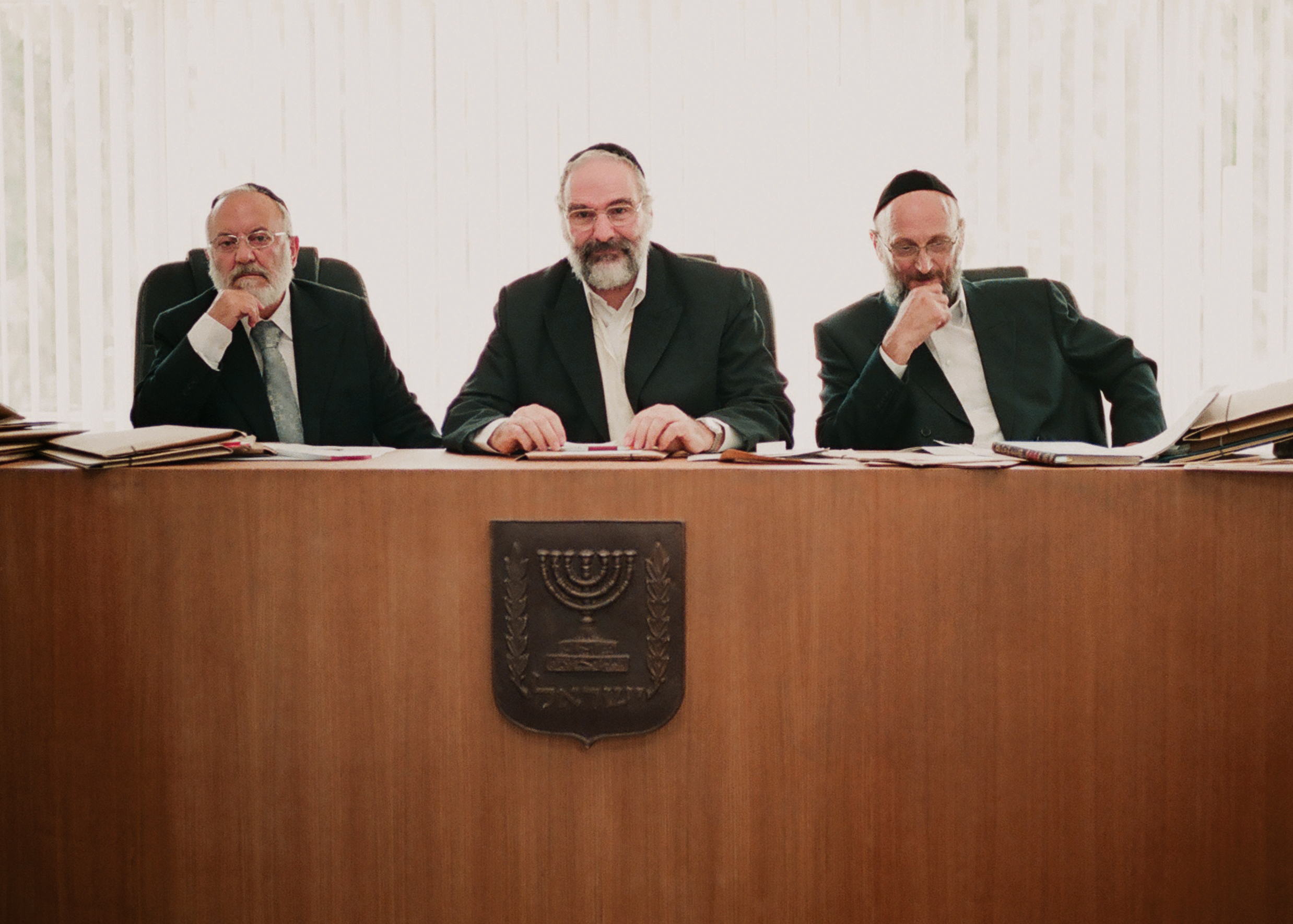 Gett is set almost entirely inside a court room, with only a few short scenes in the waiting room adjacent to the court room. Viviane has now been separate from Elisha for three years and she is seeking a "gett"–a Jewish divorce decree–which can only be granted by a Bet Din consisting of three male judges…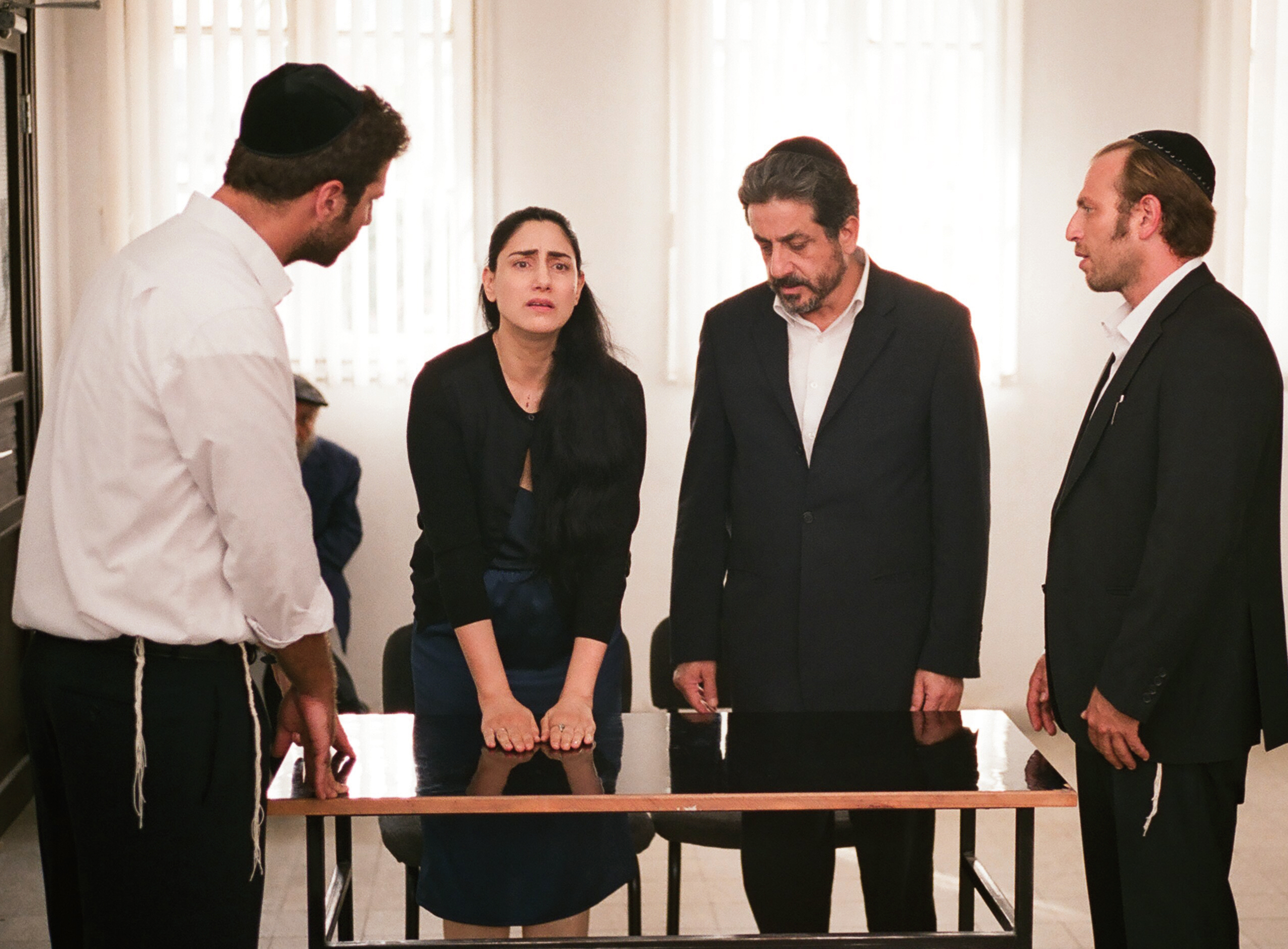 Top Photo: Ronit Elkabetz as "Viviane Ansalem" seeks a Jewish divorce decree (called a "gett" in Hebrew) from the Rabbinical court (called a Bet Din in Hebrew).
Middle Photo: The three members of the Rabbinical Court (called a Bet Din in Hebrew). Members of the Bet Din from left = Rami Danon, Eli Gorstein, and Roberto Pollack.
Bottom Photo: Viviane and her attorney "Carmel Ben Tovim" (Menashe Noy) are bookended by two of her brothers (who are in the court room to serve as witnesses and sign the gett).
Q: Does Gett pass the Bechdel Test?
No!
It is critical to the film that women's voices are marginalized. Even Viviane–who is the defendant–is allowed minimal opportunities to have her own voice heard.
In the Bet Din's search for grounds to grant Viviane her divorce, four women are called as witnesses. The Chief Rabbi of the Bet Din rigidly controls their testimony and even those who try to acknowledge Viviane's presence in the courtroom know they are on a tight leash.
Only one woman, Viviane's former neighbor "Donna Aboukassis" (Dalia Berger) eventually breaks down and addresses Viviane directly, pleading with her to return to Elisha and become the compliant wife their society demands. Since the judges have already seen how rigidly Donna's behavior is controlled by her own husband–and because they want Viviane to do exactly what Donna is telling her to do–they allow Donna directly to speak to Viviane at some length.
But this is not a "conversation" because Viviane never responds verbally, she simply cries. The emotional exchange between Donna and Viviane is one of the most intense and moving scenes in the entire trilogy.