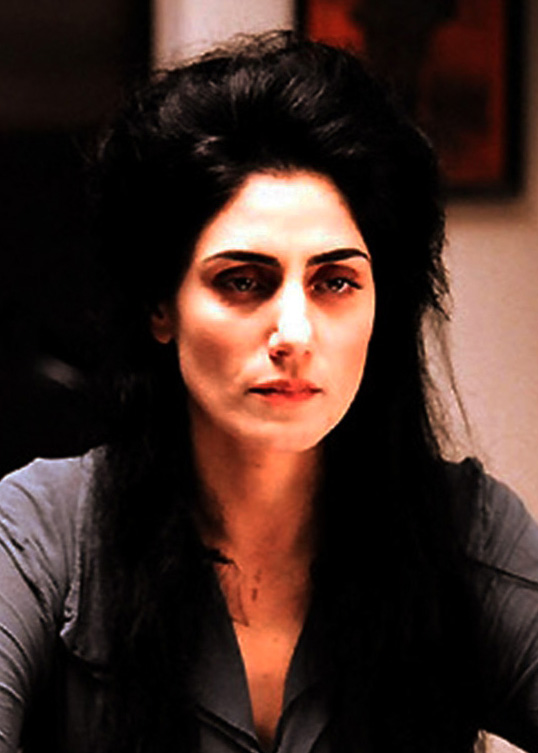 "The Amsalem Trilogy" is a series of three films co-written and co-directed by actress Ronit Elkabetz in collaboration with her brother Shlomi Elkabetz. Ronit Elkabetz stars as "Viviane Amsalem," an Israeli woman from a Moroccan family. Simon Abkarian co-stars as her husband "Eliahou."
To Take a Wife, the first film in "The Amsalem Trilogy," was released in Israel in 2004 as Ve'Lakhta Lehe Isha. I saw it for the first time on DVD in 2009. I saw it again on DVD in 2015.
Seven Days, the second film in "The Amsalem Trilogy," was released in Israel in 2008 as Shiva. I saw it for the first time on DVD in 2009. I saw it again on a big screen in 2009 at the 2009 Chicago Festival of Israeli Cinema. I saw it a third time on DVD in 2015.
Gett: The Trial of Viviane Amsalem, the third and final film in "The Amsalem Trilogy," was released in Israel in 2014 as Gett. I saw Gett for the first time on my computer in September 2014, using a streaming link provided to selected critics by the distributor (Music Box Films). The first time I saw Gett on a big screen was January 15, 2015, when I saw it at a sold out screening at the 2015 New York Jewish Film Festival. A saw it Gett second time on a big screen at the Lincoln Plaza Theatre on February 22, 2015. Once again, the house was packed.
Click HERE for my review of To Take a Wife. Click HERE for my review Shiva. of Click HERE for my review of Gett: The Trial of Viviane Amsalem.
*** SPOILER ALERT!!! ***
One of my principles as a film critic is to avoid spoilers. I am usually very vigilant and loath to give away plot points in my reviews, because I want my readers to see films for themselves–most especially when I am writing about films I consider "highly recommended." However, it is impossible to discuss "The Amsalem Trilogy" as a whole without giving away plot points that explore the full arc of the trilogy.
I am posting this overview co-incident with the Chicago release of Gett, which is the third and final chapter of "The Amsalem Trilogy." If you have already seen To Take a Wife and/or Shiva, you may be tempted to read this overview before you go to see Gett to remind yourself what happened in parts one and two. If so, I urge you to stop when you reach part three.
Trust me: Each of these three films can be seen independently. They each stand alone and do not require any on prior knowledge. So my hope is that most of you will go to see Gett first, and then come home to read this overview afterwards. Because "The Amsalem Trilogy" definitely becomes a more meaningful experience once you have seen all three parts.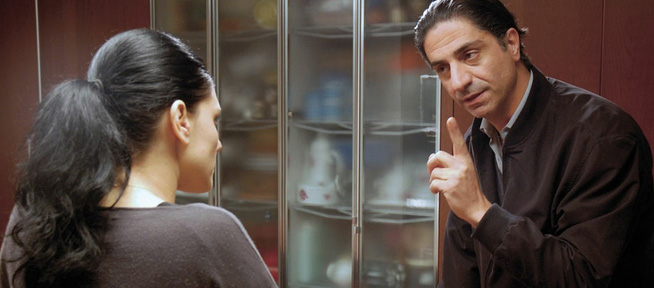 To Take a Wife (2004) = Part One: When we first meet "Viviane Amsalem" (Ronit Elkabetz) she is in her late thirties. The year is 1979 and the place is Haifa. Viviane has four children: three sons and a daughter. Although their ages are never specified, "Eviatar" (Kobi Regev) appears to be about 15, "Gabrielle" (Omer Moskovitz) appears to be about 12, "Lior" (Yam Eitan) appears to be about 8, and Shai, the youngest son, is an infant.
Later we learn that Viviane and "Eliahou" (Simon Abkarian) married when she was 15, so Viviane has already spent more than half of her life as his wife. Eliahou comes from a prominent Moroccan family, often referred to as a family of scholars, so he has a sense of himself as privileged. This leads us to believe that Viviane's family was honored when Eliahou's family proposed the match, which they perceived as a social step up. Viviane was young and beautiful, and she probably married Eliahou to please her family without really knowing him or thinking the choice of husbands was hers to make.
But twenty years later, there have been dramatic changes in their circumstances. Both extended families have moved from Morocco to Israel, and in Israel Eliahou is no longer a scholar; in Israel Eliahou is a clerk in a small post office. At one point we see him at work… sorting residential mail. Meanwhile in addition to raising their four children, Viviane has become a hairdresser. Her "shop" is her kitchen. All through the 97 runtime of To Take a Wife, women are coming in and out of the apartment to have their hair done. All of these women are Viviane's neighbors, and some of these women are also her friends.
An alien in his own home, his self-esteem battered, Eliahou finds his refuge in the synagogue. But the more devout he becomes, the less interaction he has with his children, who want to do "normal things" on the weekends like go on picnics with other families. Even though it is clear that Eliahou wants Eviatar and Lior to join him at the synagogue,  he says go, just take them and go. But he clearly blames Viviane for turning their sons away from God, which is not just a religious matter but also a public humiliation for him. (All the other men in the synagogue will see that he is alone, and therefore they will question his ability to control the members of his own family). Viviane, on the other hand, is tired of going alone with the children, she wants Eliahou to be more of a husband to her and a father to the family.
The tension in the apartment becomes intolerable. Viviane and Eliahou are constantly fighting–fights which take the form of Viviane screaming and throwing things while Eliahou stands as rigid and unmoved as a stone statue. The noise is so loud that a neighbor named "Donna" (Dalia Beger) comes into the apartment one night to try to calm things down, but there is no peace to be had. Eviatar is acting out, Gabrielle is always on the verge of tears, and Lior suffers from psychosomatic stomach aches. Eliahou's mother, who also lives in the apartment, spends most of her time hiding in her room rocking Shai's cradle. Viviane's brothers all insist that she must continue to honor her marriage vows, but really, how long can this go on?
Shiva (2008) = Part Two: Ten years! It takes Viviane a decade to finally leave Eliahou. The year is 1991 and the place is Kiryat Yam (a suburb just north of Haifa). Although the timing is never made explicit, I think we are to assume is that Viviane leaves Eliahou right after Lior starts his military service at age 18. No mention is made of any of the three older children, but I also think we are also to assume that Eviatar and Gabrielle have long since moved on, and none of them have significant contact with either parent. Eliahou's mother has died in the interim, and Shai, who is about to be a Bar Mitzvah, is the only person still living in the apartment with Eliahou. (Latter, in Gett, we learn that Viviane continues to prepare meals for Shai every day, meals which are brought to the apartment by Evelyne.)
Just as 90% or more of To Take a Wife takes place within the four walls of the Amsalem's Haifa apartment, almost all of Shiva is set inside the house owned by Viviane's brother Maurice. Maurice has died quite suddenly, and Viviane, her mother "Hanina" (Sulika Kadosh), her sister "Simona" (Hanna Azoulay Hasfari), and Viviane's many, many brothers– and all their wives–pile into the house for the seven day mourning period known in Judaism as a "shiva" (which is Hebrew for the number seven).
Although the house belongs to Maurice and his now-widow "Ilana" (Keren Mor), everyone expects Ilana to mourn, and it is understood that the bulk of the work required to care for this huge mass of people–as well as all the people who come to pray and pay traditional "Shiva Calls"–all of this work will be done by the sisters-in-law, most especially "Therese" (Ruby Porat Shoval)–who is the wife of the eldest brother "Meir" (Albert Iluz)–and Therese's sister "Evelyne" (Evelin Hagoel) who is not married (a "spinster" in English) and lives as something of a "hanger on" with Therese and Meir.
Shiva is a dense and rich cinematic stew, and this is not the place to describe all the complicated power dynamics–cultural, financial, and sexual–in play. With respect to the unfolding "Amsalem Trilogy," however, several reveals are critical, starting with the fact that Viviane is now on her own and no longer lives with Eliahou. However, because this is a Shiva and Eliahou is still considered one of Maurice's brothers-in-law (because that is his legal status as well as the will of Viviane's brothers), Eliahou is expected to make an appearance in the home as a mourner.
Eliahou uses this power to make repeated visits, not just to pray but to pressure Viviane. He also tries to persuade Meir–because he is the eldest–to force Viviane to "do her duty" to the family by returning to the marital home. Over and over, Viviane tells Eliahou she wants a divorce. Again and again, Eliahou says he will die before he gives his consent.
Why does this large family–which has become very prosperous and powerful in Israel–continue to defer to a postal clerk with no resources other than his obdurate insistence on his own rectitude? Moroccan Jews do not eat meat during a Shiva, but Iraqi Jews do. At one point, "Lili" (Yael Abecassis)–who is married to middle brother "Jacques" (Rafi Amzaleg)–serves a meat dish for dinner. Eliahou begins to eat, realizes he is eating meat, and spits the food out. "But in my family we always eat meat," says poor humiliated Lili. "That is not our tradition!" thunders Eliahou… and the food Lili has prepared is quickly removed from the table. This revealing scene echoes a moment in To Take a Wife in which Viviane also complains that Eliahou won't eat some of the food that she cooks. Eliahou is a man who always wants things his own way, and so far, at least with respect to matters within the home, both law and custom are on his side.
Gett (2014) = Part Three: To Take a Wife took place almost entirely within the four walls of the Amsalem's Haifa apartment; Shiva took place almost entirely within Maurice's house in Kiryat Yam; Gett takes place almost entirely within a court room. Metaphorically we have moved from the nuclear family, to the extended family/community, to the state.
It takes five years! For five years, Viviane and her attorney "Carmel Ben Tovim" (Menashe Noy) shuttle back and forth to an austere court room where they try to reason with the three members of the Bet Din on her behalf. Does she want reconciliation? No. Does she want alimony? No. What does she want? All Viviane wants is an end to this farcical marriage.
Viviane restrains herself for years, responding to questions in a hushed and respectful voice, silently watching as "witnesses" plead with her and sometimes even attempt to defame her, doing everything her power to appear ladylike until finally she screams out in Hebrew and in French: GIVE ME MY FREEDOM!!!
Sometimes Eliahou–now for some unexplained reason referred to as "Elisha"–is present in the courtroom, but often he is not. And when he is not there, nothing can happened without him. Sometimes, when he does show, he is accompanied by his brother "Rabbi Shimon" (Sasson Gabai). Sometimes Shimon–who is 10 years older than Elisha and supposedly "representing him" even though his qualifications are never specified–comes alone, unable the explain where Elisha is.
Viviane is not the only one boiling over with frustration. "Rabbi Salmion" (Eli Gornstein)–The Head Rabbi–is also enraged by Elisha's defiance, and his powerlessness in the matter becomes an insult to his sense of his own authority… and maybe even to his very manhood. Make no mistake: this drama becomes a battle between men and their status and their rights (both civil and religious). Women and their rights–as persons and as citizens of the state of Israel–are secondary in every respect.
In the end, Viviane only wins her freedom as a person by renouncing her needs as a woman. She agrees to give Elisha permanent possession of her body by promising that she will never enter into a relationship with any other man. Family, culture, tradition, and the laws of her country have reduced this proud and beautiful woman to a pair of feet in battered espadrilles… but the fact that she is still on her feet and literally standing up for herself becomes a triumph for women everywhere.
BRAVA, VIVIANE AMSALEM! KOL HA KAVOD!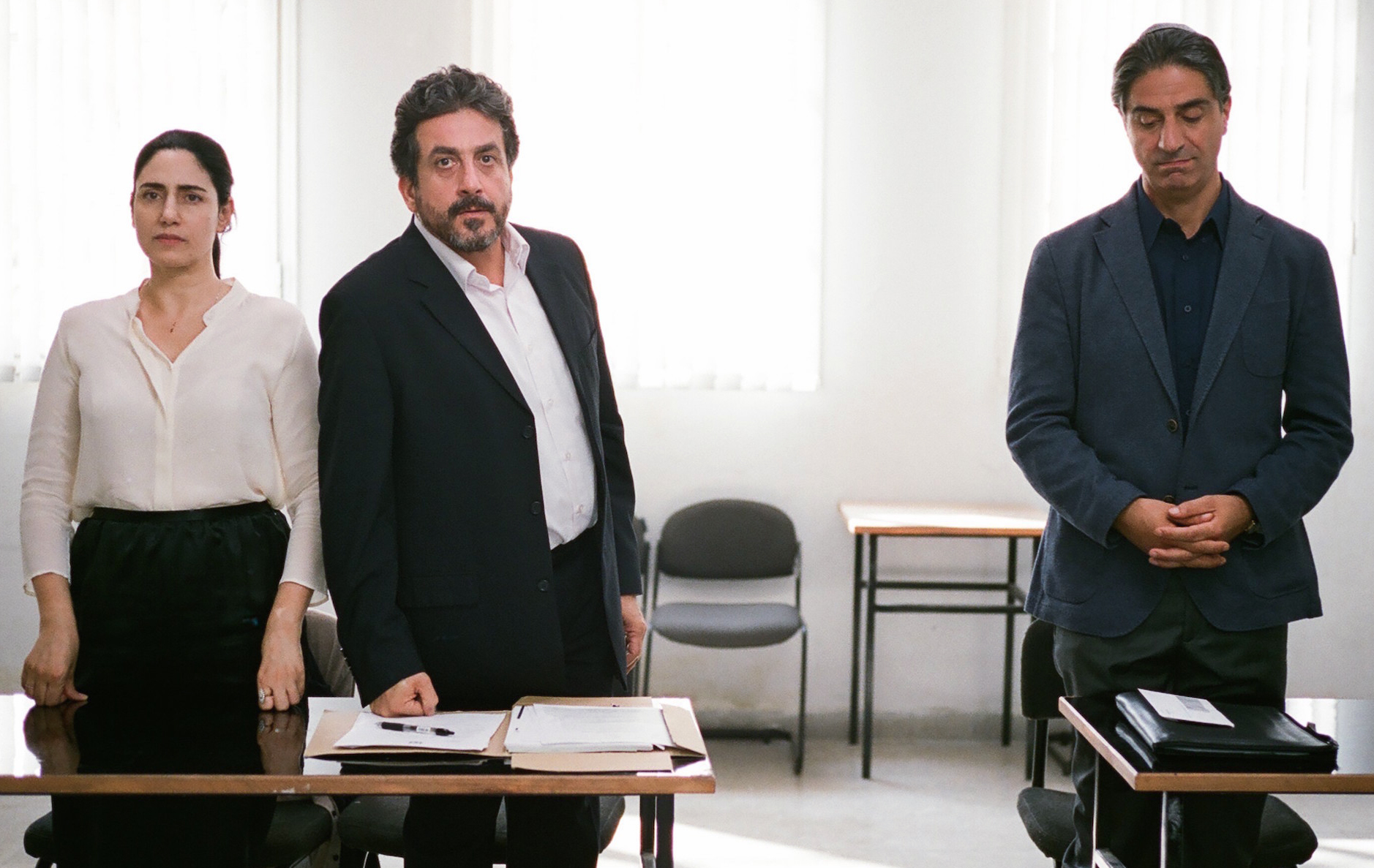 Top Photo: Ronit Elkabetz as "Viviane Amsalem" in To Take a Wife, the first film in "The Amsalem Trilogy." (2004)
Middle Photo: Elkabetz with Simon Abkarian (who co-stars as her husband) in Shiva, the second film in "The Amsalem Trilogy." (2008)
Bottom Photo: Elkabetz and Abkarian in Gett: The Trial of Viviane Amsalem, the third and final film in "The Amsalem Trilogy." Menashe Noy, the man standing between them, plays Viviane's attorney "Carmel Ben Tovim." (20014)