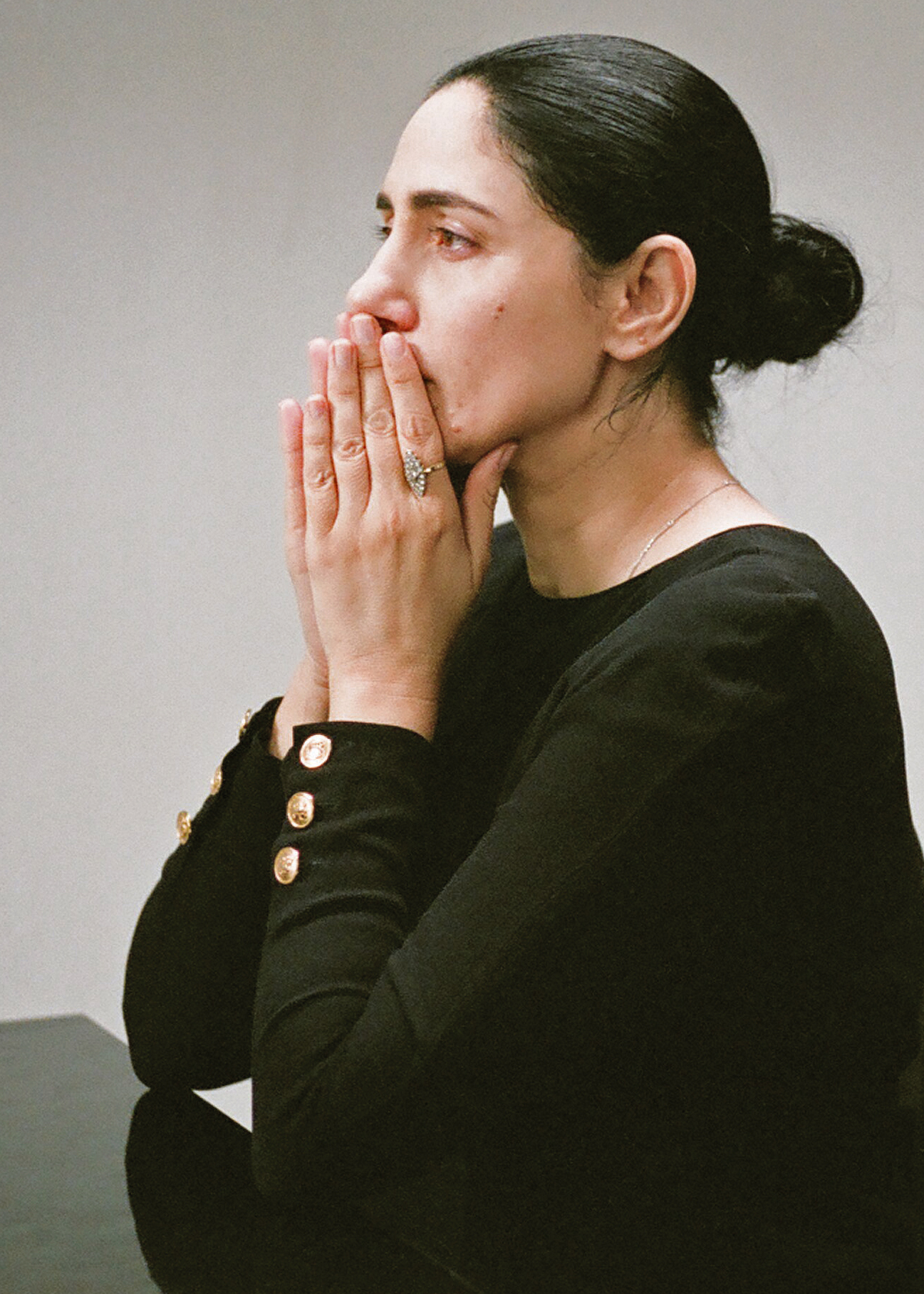 Blame it on the Law of Unintended Consequences. By all accounts, David Ben Gurion who was, after all, a secular Socialist, never realized he was giving religious authorities total control over the intimate personal lives of Israeli citizens. And yet, 68 years after the establishment of Israel as a Jewish state, religion plays an ever greater role in family life. And not just Judaism in general, but Orthodox Judaism (the least flexible of all current denominations).
Gett: The Trial of Viviane Amsalem is the story of a woman who is determined to obtain a divorce even though her husband is equally determined to prevent it. Because Viviane and Elisha are Israelis, they can only divorce in a ceremony presided over by the three Rabbis who comprise a Bet Din (religious court), and the Rabbis will only proceed if Elisha agrees to give his free and unfettered consent. And thus his wife–Viviane Amsalem–begins a five year ordeal which reveals the degree to which Israeli women are "chained" to their husbands not just by custom but also by law.
This is strong stuff, fully intended to galvanize public opinion by using the full power of artistic expression to create societal change. Does it succeed? Only time will tell, but the answer right now appears to be yes. When co-writer/co-director Shlomi Elkabetz did his Q&A after the January 15 screening of Gett at the 2015 New York Jewish Film Festival, he announced that Gett would be screened at the annual conference of rabbinical judges, and just today HaAretz reported that it actually happened. (See "Rabbis cry gewalt after watching Israeli film 'Gett'" by Yair Ettinger.)
So suffice it to say that you will want to see Gett yourself when it opens in Metro Chicago tomorrow (2/27/15) at the Landmark Century Centre Cinema in Lincoln Park and the Landmark Renaissance Plaza Cinema in Highland Park. Don't be intimidated by the fact that Gett is the third and final chapter in a trilogy of films which include To Take a Wife (2004) and Shiva (2008). I have seen all three films, and I can assure you that each one is free-standing and self-contained.
You do not need to know anything in advance to appreciate the drama inherent in Gett. However, regular readers will anticipate that I have already posted reviews of all three films, and I have also posted an overview of the complete trilogy on my Blog Second City Tzivi. So if you would like to do some homework before you go, START HERE.
Full Disclosure: The first time I saw Gett was when I watched it on my computer way back in September, right after I watched Zero Motivation (which I also watched on my computer). At the time, although I liked both films very much, I thought that Zero Motivation was just a little bit better than Gett. So when I wrote my Ophir Update post, I expressed surprised that Gett (which had received twelve Ophir Nominations from the Israel Film Academy but only won two) won Best Picture even though Zero Motivation (which had also received twelve Ophir Nominations) had won six (including Best Director, Best Actress, Best Screenplay, plus Best Casting, Best Editing, and Best Music).
Now that I have seen both films on big screens, however, I see that the members of the Israel Film Academy were correct: seen as intended—on a big screen—Gett is an overwhelming experience. You simply will not feel the claustrophobia of the courtroom as Viviane does unless you enter that cavernous space with her. And if you do, some thoughts and opinions you may never have questioned before, may well be forever changed.
For schedule information and links to online ticket purchase, visit the Landmark Theatre website.
For a brief overview of Ben Gurion's political bargain with the Orthodox Rabbinate, click here to read Stuart Schoffman's article "Raw Deal."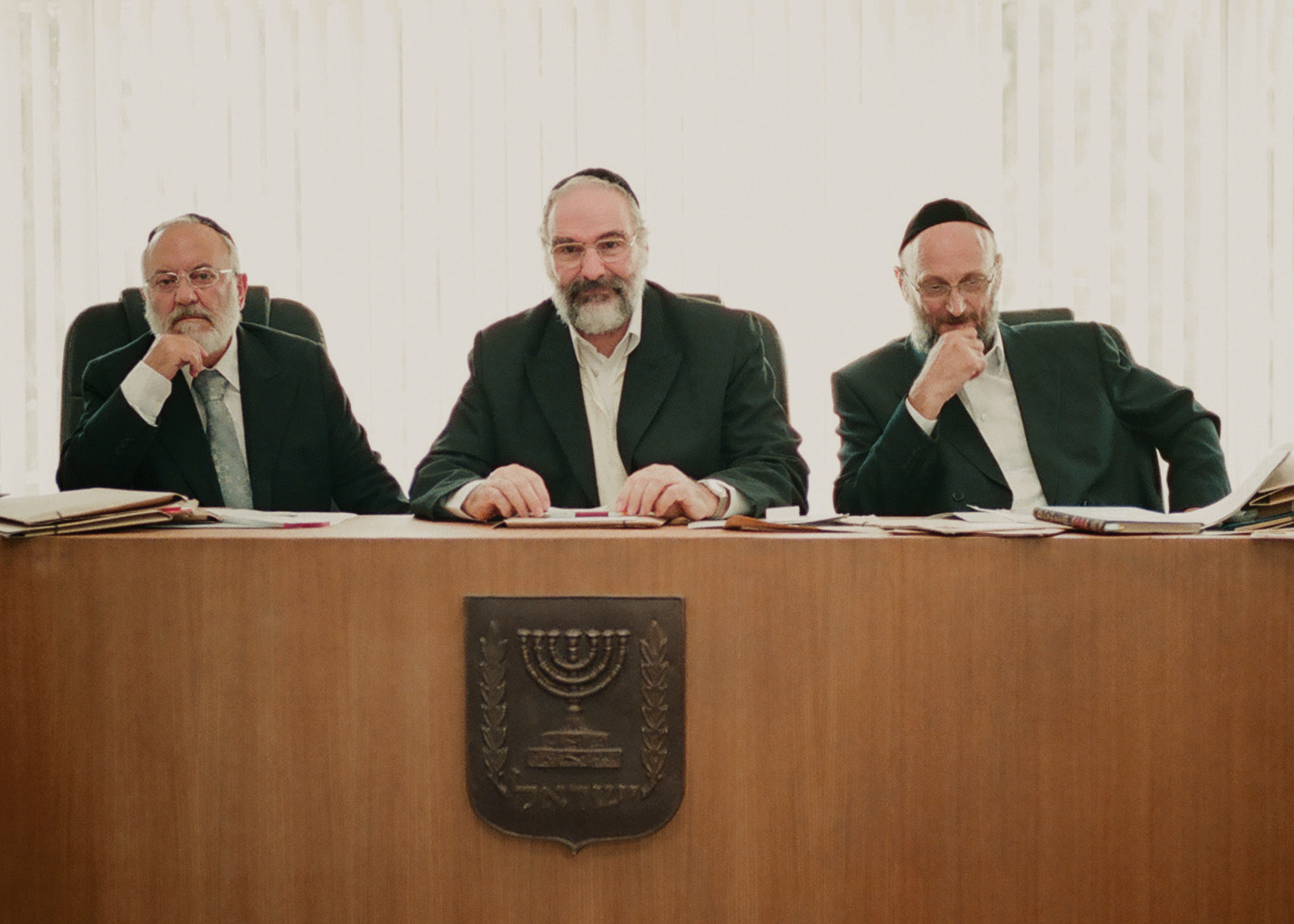 Top Photo: Ronit Elkabetz as "Viviane Amsalem" in Gett: The Trial of Viviane Amsalem. Photo courtesy of Music Box Films.
Bottom Photo: Members of the Bet Din from left = Rami Danon, Eli Gorstein, and Roberto Pollack. Photo courtesy of Music Box Films.
Posted 2/26/15 on JUF Online.