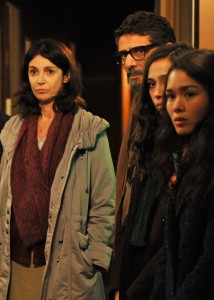 The harrowing but critically important French film 24 Days opens today in selected theatres including NYC & Chicago. Also available on iTunes. (JLH: 4/5)
*************************
When the 2014 Jerusalem Film Festival gave 24 Days their Lia Award celebrating films dealing with Jewish Heritage, they wrote: "This suspenseful drama manages to avoid clichés and intricately presents the experience of anti-Jewish violence in France. This is a film of great social significance that shows the tragic consequences that arise when violence is ignored and when racist stereotypes are accepted." This statement from the JFF was released last July, well before "Je Suis Charlie" and the four murders at the Hyper Cacher kosher market in January 2015. So even if you don't feel up to going, you know in your heart that you should go, if only to bare witness.
Director Alexandre Arcady wrote the screenplay with Emilie Frèche who helped write the source book 24 Days, The Truth about the Death of Ilan Halimi with Ruth Halimi (the mother of Ilan Halimi), so it is no surprise that the adaptation is told from Ruth Halimi's point of view. Nevertheless the filmmakers (who also include award-winning screenwriter Antoine Lacomblez) have done their best to adhere to the facts of the case, adamantly refusing to make their story anymore "sensational" than it already is.
Briefly stated, the facts of the case are as follows:
On January 20, 2006, Ilan Halimi, a 23 year old cell phone salesman, is abducted. After Shabbat Dinner at his mother's apartment, he leaves for a meet up with a young woman customer and never returns. Unbeknownst to him, she is working for a group calling itself "The Gang of Barbarians." Ilan is hustled into a car and spirited away to a vacant apartment in Bagneux (a slum on the southern edge of Paris).
On January 21, 2006, the next day, Ilan's family receives the first in a series of ransom demands. The first demand is for 450,000 Euros (approximately $500K) an amount incalculably greater than his family's ordinary middle class resources. The family contacts the Police. Working under the assumption that they are dealing with a routine case of extortion, the Police instruct the family to keep the abduction as quiet as possible while they pursue leads and zero in on the perpetrators.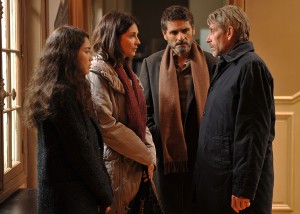 On January 29, 2006, nine days after his abduction, Ilan is moved from the apartment to the boiler room of a neighboring building. In the interim, Didier Halimi, Ilan's father, has become the voice of the family. Didier, extensively coached by a police psychologist, engages in numerous telephone negotiations with gang leader Youssouf Fofana. Ruth Halimi, on the other hand, is told to return to work and act in public as if everything is normal.
Unable to get money from Didier Halimi, Youssouf Fofana contacts a Rabbi who has had no prior relationship with the Halimi Family. When they demand ransom money from him, the Rabbi immediately contacts the Police. At this point, the Halimis realize their son was abducted because he was Jewish, but the Police continue to treat the case as extortion, rejecting any Anti-Semitic implications.
On February 13, 2006, twenty-four days after his abduction, Ilan is found in the woods near the train tracks at Sainte-Geneviève-des-Bois (about 15 miles south of Paris). He dies on route to the hospital.
On February 23, 2006, ten days after Ilan's death, Youssouf Fofana is arrested in Côte d'Ivoire (his parents' homeland). On March 4, 2006, Fofana is extradited to France.
On February 9, 2007, Ilan's body–exhumed from the Cimetière Parisien de Pantin near Paris at the request of his mother–is reburied on Har HaMenuchot in Jerusalem.
On February 18, 2008, Youssouf Fofana and twenty accomplices are brought before the Criminal Court. Fofana is sentenced to life in prison without possibility of parole for 22 years. Nineteen suspects receive prison sentences for kidnapping and assassination. Seven other suspects are sent to prison for obstruction of justice.
Rather than dwell on the gruesome physical details of Ilan's captivity, the filmmakers focus on the mental torture of those who are desperate to save him. Zabou Breitman is riveting in the central role of "Ruth Halimi," playing her most heartbreaking scenes with Pascal Elbé as "Didier Halimi" (an ex-husband from whom she has been divorced for decades) and Jacques Gamblin as "Commandant Delcour" (the skeptical head of the Police investigative team).
Elbé is also tasked with playing monkey-in-the-middle between Tony Harrison (blazing hot as "Youssouf Fofana") and Sylvie Testud (icy cold as police psychologist "Brigitte Farell"). The fact that Sylvie Testud—winner of multiple César Awards and the best-known member of this cast—is in such a small role adds to the subtext. Even the best of us may think we know more than we do, and resist explanations that fall outside our comfort zone.
Syrus Shahidi, cast as Ilan, is only seen at the very beginning, but establishes himself easily as a sweet and loveable son. What is most important, in context, is his convincing portrayal of an "Everyman." Ilan Halimi was just a guy with his whole life ahead of him, until that life was cut tragically short.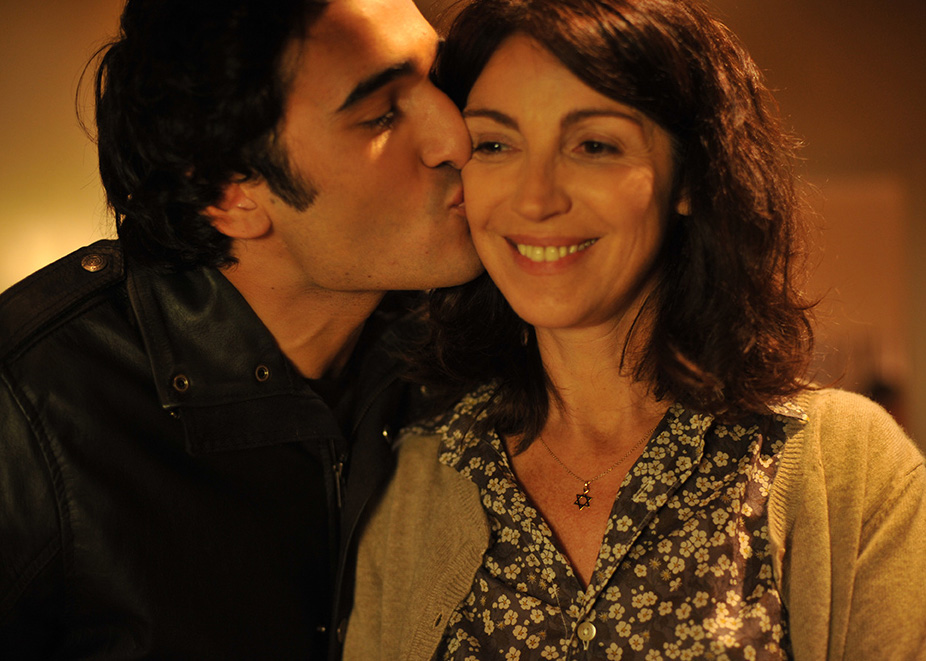 For addition locations in the USA plus VOD link to iTunes, visit the Menemsha Films website.
Top Photo:  Zabou Breitman as "Ruth Halimi" with Pascal Elbe as her ex-husband "Didier," plus Alka Balbir as their daughter "Yaël" and Audrey Giacomini as Ilan's friend "Mony."
Middle Photo: Halimi family members with"Commandant Delcour" (Jacques Gamblin) head of the Police investigative team.
Bottom Photo: Zabou Breitman as "Ruth Halimi" with Syrus Shahidi as her beloved son "Ilan." Photos courtesy of Menemsha Films.
Photos courtesy of Menemsha Films.
Posted on JUF Online on 4/28/15.

Was the murder of Ilan Halimi a case of Anti-Semitism? This may sound like a simple question with the obvious answer "Yes!," and this is undoubtedly Ruth Halimi's view. However, by bringing us inside the "Gang of Barbarians," the filmmakers add much-needed complexity to a very difficult subject.
There is no doubt that Ilan Halimi was a "target" because he was Jewish, but the filmmakers make the case that the "Gang of Barbarians" was motivated by pure greed without consideration of nefarious politics or supposed principle. And thinking that a cell phone salesman would come from a family able to pay a ransom of 450,000 Euros was pure stupidity. So is the assumption that "All Jews are Rich" anti-Semitic or just dumb? I am honestly not sure.
SPOILER ALERT! When the police finally identify Ilan's body, he looked much like a Holocaust victim and the Halimi family obviously made that association for very good reasons. But was that the intention of the "Gang of Barbarians"…? Did they torture Ilan because he was Jewish? Did they have in mind any images of their own of Holocaust victims? The filmmakers strongly suggest that the answer is no.
The "Gang of Barbarians" appears to have been a very loose association of petty thieves who wanted to make a few quick bucks. As the negotiations dragged on, some people fled  and other people became enraged by their own impotence. None of these people had any experience caring for a hostage, and their treatment of Ilan appear to have been more a case of neglectful avoidance rather than demonic intention.
Does this matter when the result is so horrific? Only insofar as we judge the activities of the Paris Police in hindsight. If we look at the film from the POV "What did they know and when did they know it?," then it becomes more difficult to blame them. "Commandant Delcour" (Jacques Gamblin) says: "If we pay the ransom, we will only encourage more kidnappings." And as hard as that is to bear in any individual case (most especially for the member of the victim's family), I am afraid that was–and is–the truth…
FINAL NOTE: At one point, "Commandant Delcour" (the skeptical head of the Police investigative team played by actor Jacques Gamblin) mentions "The Girl on the Train." This was a true incident somewhat parallel to the Tawana Brawley case which dominated American headlines in the late 1980s, but the French girl in question falsely claimed an Anti-Semitic attack (whereas Tawana Brawley, who is African-American, claimed her attack was racially motivated).
There is a very good film about this case–called The Girl on the Train–by director Andre Techine. It was released in France in 2009. Here is the link to what I wrote about The Girl on the Train in the JUF News when it played in Chicago.
These two films The Girl on the Train and 24 Days combine to make a very powerful statement about the position of Jews in France at the dawn of the 21st Century. Should Jews stay in France? Should they leave France and go to Israel? These are very difficult questions which must be asked.
For more on 24 Days from the Feminist POV, read my post on The Hot Pink Pen.