Congratulations to my friend David Chack for successfully shepherding the second annual Chicago Jewish Film Festival team. Below is my post for the JUF. This was the first post of mine–in almost 5 years–that hit the top position in the JUF's list of "Most Popular Articles," so I call this a win/win/win/win/win for the CJFF & the JUF, for David & for me, and–most important–Chicago's Jewish Community. Yasher Koach to All!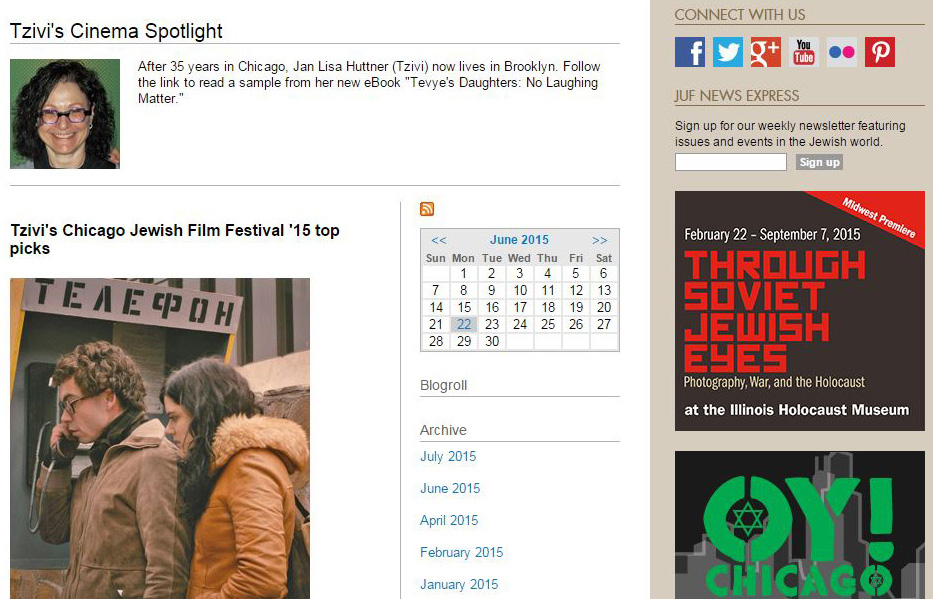 The second annual Chicago Jewish Film Festival opens tomorrow (6/20/15) at the Century/CineArts (in Evanston). Screenings run all week at Century/CineArts and three additional venues: Illinois Holocaust Museum and Education Center (in Skokie), and Landmark's Century Cinema and the Victory Gardens Theatre (both in Lincoln Park).
Just like last year's inaugural program, the 2015 CJFF offers a diverse and well-curated selection of narrative features and documentaries. Some of them have already played in local art houses and some are completely new to Metro Chicago. No matter! The schedule contains good options for everyone, and just because a film of interest already came and went once, that doesn't mean you should not jump at a new chance to see it on another go around.
The narrative features are 24 Days, The Dove Flyer, Friends from France, Mr. Kaplan, and Nora's Will, plus the short feature Moses on the Mesa.
The documentaries include Compass Cabaret 55, Havana Curveball, Invitation to Dance, Kabbalah Me, Little White Lie, Night Will Fall, Sammy: The Journey, The Outrageous Sophie Tucker, The Return, The Sturgeon Queens, and Theodore Bikel: In the Shoes of Sholem Aleichem.
Full Disclose: I have personally seen all of the features, but only about half of the documentaries. That said, my own picks are Friends from France (Top Feature) and Little White Lie (Top Doc).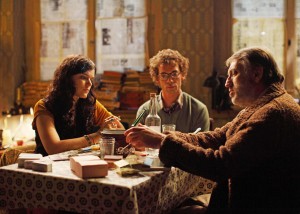 Friends from France returns us to the days when the former Soviet Union really was an "evil empire," and Jewish intellectuals were under constant surveillance. Two cousins from Paris travel to Moscow posing as newlyweds. "Carol" (Soko), a dedicated activist, has memorized the names of a list of Refuseniks. Every evening, they excuse themselves from their tour group and pretend to canoodle, but they are actual making contact.
Jerome (Jeremie Lippmann) calls name after name on Carol's list, announcing himself each time as "your friend from France." Then off they go to a clandestine meet-up. This is an unforgettable film about dignity and the human spirit that will make you proud to be Jewish, even more proud than you probably are already.
Little White Lie is a stunning film that I first saw last October at the Margaret Mead Film Festival at the American Museum of Natural History in Manhattan. Months later, when I saw it on the CJFF '15 schedule, I knew I would recommend it, but I frankly had no idea how relevant it would suddenly be.
A young girl named Lacey Schwartz grows up in a comfortable and supportive Jewish family in Woodstock, NY. Everyone knows her and loves her, and when she expresses vague anxieties about her curly hair and her skin color, they tell her not to worry. There are Sicilian ancestors in the family tree and she looks just like them… But when she begins classes at a new high school which is much larger and far more integrated than her primary school, all the African-American girls instantly recognize Lacey as African-American, and eventually her mother, Peggy, must reveal the truth about her own life and therefore about Lacey's life too.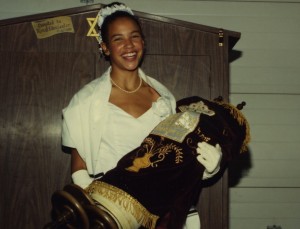 After a week of debate ad nauseam about Rachel Dolezal, the woman from Spokane who passed as African-American even though the parents who raised her were clearly white, you might think Little White Lie is the last thing you want to see, but that would be a mistake. Whoever her father is, Lacey Schwartz is a member of the mishpokhe, and the Jewish community needs to acknowledge her and what her life story tells us about ourselves as Jewish Americans.
Click here for more on Friends from France.
Click here for more on Little White Lie.
Click here for CNN's story "Who is Rachel Dolezal?"
For complete details on times and tickets, click here to visit the CJFF15 website.
*************************
BONUS POST: Read this excellent new article by Kelly Whitehead about issues addressed by Lacey Schwartz in Little White Lie. Kelly and her mother Emily Whitehead are my fellow congregants at Temple Beth Emeth in Brooklyn.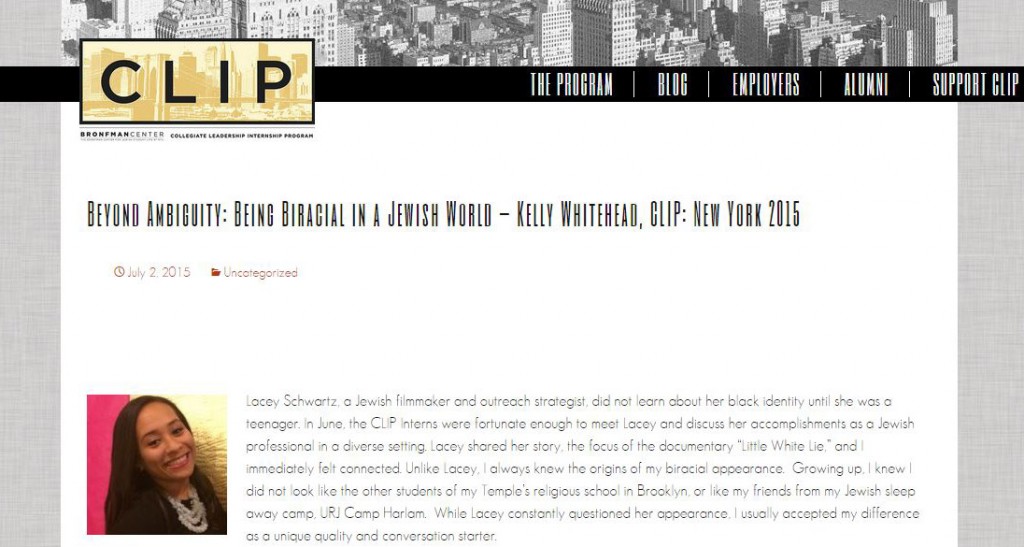 "Lacey Schwartz, a Jewish filmmaker and outreach strategist, did not learn about her black identity until she was a teenager. In June, the CLIP Interns were fortunate enough to meet Lacey and discuss her accomplishments as a Jewish professional in a diverse setting. Lacey shared her story, the focus of the documentary "Little White Lie," and I immediately felt connected. Unlike Lacey, I always knew the origins of my biracial appearance.  Growing up, I knew I did not look like the other students of my Temple's religious school in Brooklyn, or like my friends from my Jewish sleep away camp, URJ Camp Harlam.  While Lacey constantly questioned her appearance, I usually accepted my difference as a unique quality and conversation starter…"
Click HERE to read Kelly's article. Shout-Out to Kelly: Yasher Koach to you too!
CLIP is a program of the Edgar M. Bronfman Center for Jewish Student Life at NYU.