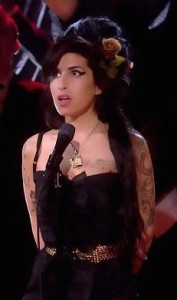 A moving and emotional documentary by Asif Kapadia about exceptionally talented jazz singer Amy Winehouse. The film follows her music and struggles, as her rise to fame ultimately becomes too much to handle. (JEP 3.5/5)
Review by Contributing Editor Jessica E. Perry
Directed by Asif Kapadia, Amy is artfully constructed using home video footage, photos, and television appearance footage, to weave the tragic story of Amy Winehouse's beginnings in the world of music through her tragic passing in 2011. Foregoing the standard talking heads format Amy includes interviews by prominent members of Winehouse's life as voice overs laid over both video and still photos.
The film opens with home footage of Amy celebrating with a small group of friends as she sings "Happy Birthday." One by one their voices begin to drop out, as her voice overpowers them all. In that moment Amy was all smiles and light, a young beautiful girl with so much life ahead of her. The film was sprinkled with moments like these, contrasted with footage and interviews from the dark times that had so much effect on her short life.
Amy Winehouse was undoubtably an incredible talent, but she never wanted fame. Only a few minutes into the film, her words rocked you. She expressed the feeling that she could not handle fame if she ever had it, that she would go mad. Sitting in the audience, you feel for her, because Amy is a film you know the ending to before you even enter the theater.
Through video footage and interviews Kapadia walks the audience through Amy's rise to fame and her much too soon passing; bringing us with her through times of happiness and great sadness. The ultimate takeaway is that for Amy, it was all about the music. Recording albums and singing jazz for small audiences was all that she wanted, and nothing more. But what everyone else around her wanted was very different.
Moments of this contrast were peppered throughout. At 15, Amy told her mother that she would eat her fill and throw it all back up to stay thin, and her mother brushed it off as a phase that would pass. Her father left the family when she was young, and took actions to capitalize financially on Amy's fame even when all she wanted was for the cameras to go away. Her team all but forced her to continue touring when she insisted she did not want to go, resulting in self -sabotage and getting booed off the stage. Blake–first her boyfriend then to become her husband–introduced her to hard drugs, and he himself could be called a drug to her as well.
In all honesty, Amy was a confusing viewing experience for me. I was fully engaged and moved the entire time, but was simultaneously checking the clock. The film felt extremely long, but leaving the theater, it was a story and film I was grateful to have experienced.
What the film director, Asif Kapadia, delivered was honest, and it was touching. Yes, the still photos sometimes stayed on the screen a little too long, and it was slightly confusing following the who's who with voiceover interviews instead of face-to-face as is customary. But see Amy for yourself, whether in theaters or later when it is released on DVD; it is a powerful story not to be missed.
© Jessica E. Perry FF2 Media (7/20/15)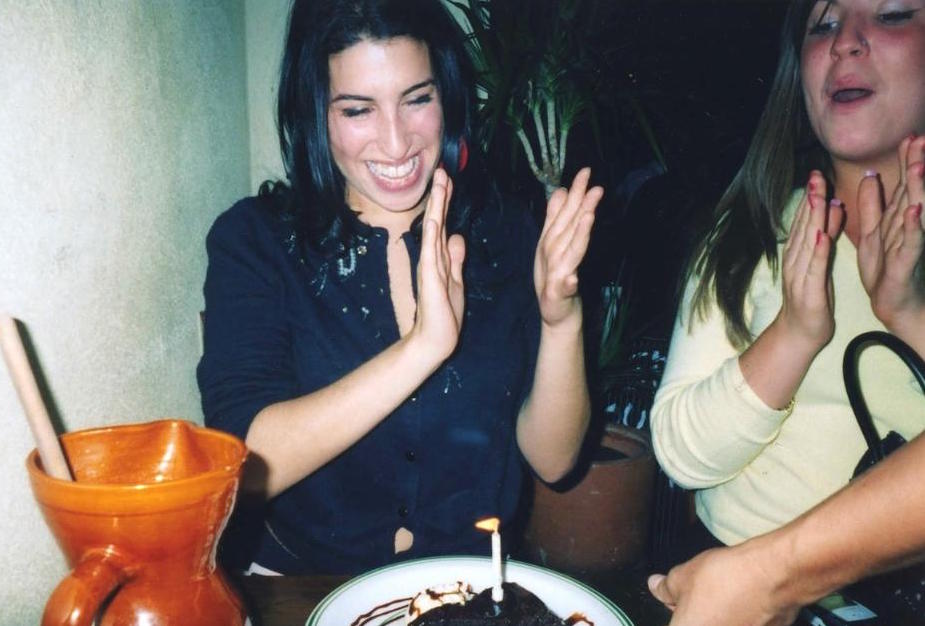 Top Photo: Amy's reaction when she hears Tony Bennett call her name announcing that she's won the Grammy for Record of the Year.
Bottom Photo: Young, pre-fame Amy with her two close, and always supportive, girlfriends.
Photo Credits: A24
Q: Does Amy pass the Bechdel Test?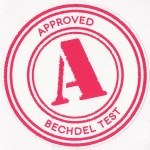 Yes, right from the start! In the opening scene Amy and her friends celebrate a birthday, laughing and chatting about what they have planned for the celebration night.