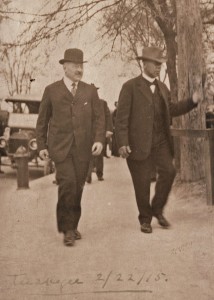 Award-winning documentary filmmaker Aviva Kempner's triumphant new BioDoc Rosenwald introduces us to a Jewish-American philanthropist who used the fortune he amassed as the CEO of Sears, Roebuck and Company to make a permanent impact on African-American life for generations past and generations to come.
Although many residents of Metro Chicago know the name Julius Rosenwald, most people outside Chicago have never heard of him… and yet the names of so many of the artists and intellectuals he sponsored early in their careers have become beloved names in American culture. (JLH: 5/5)
Quote from Rosenwald "Talking Head" Julian Bond: "You can look at the people who got grants from Julius Rosenwald, and say, these are the predecessor generation to the civil rights generation that I'm a part of. And I'm a predecessor generation to the Obama generation that resulted in the election of the first black president of the United States." 
Rosenwald, filmmaker Aviva Kempner's latest documentary, opens in Metro Chicago today. Kempner is already highly-respected for her award-winning films The Life and Times of Hank Greenberg and Yoo-Hoo, Mrs. Goldberg, but Rosenwald has special significance for members of Chicago's Jewish community because Julius Rosenwald was one of our own.
Although he was born and raised in Springfield–very close, in fact, to the residence of then President Abraham Lincoln—Rosenwald lived most of his life near the University of Chicago Campus where there is now a building built in his honor called Rosenwald Hall.
"All Gaul is divided into three parts," said Julius Caesar, and so is Kempner's film.
Part One provides an overview of how this child of German-Jewish immigrants became the logistical genius who turned Sears, Roebuck and Company into one of the most successful mercantile enterprises in the history of American Business. Far from dry, Part One is illuminated by ingenious graphics which show how the Sears catalog helped shape the American Dream.
Part Two explains how Rosenwald used his vast—and unexpected—resources to build Rosenwald Schools for African-American children all across the American South. At one point, there were approximately 5,000 Rosenwald Schools in the USA. A number of them have since been restored and are now listed on the National Register of Historic Places.
Part Three shows how Rosenwald went on to create the Rosenwald Fund which sponsored the early work of some of the USA's greatest African-American artists including photographer Gordon Parks Jr., sculptor Augusta Savage, dancer Katherine Dunham, writer Ralph Ellison, and poet Langston Hughes.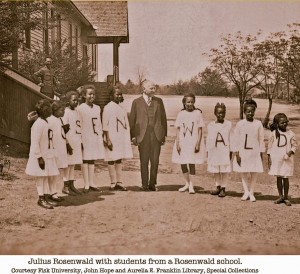 This film, which was in the making for over a decade, arrives in theatres at the perfect moment. Just as the USA is finally facing the enormity of the #BlackLivesMatter campaign, America's Jewish community is learning how many members of our own mishpokhe are biracial.
Given the enormous role Jewish-Americans played in the Civil Rights movement of the 1960s, this should not be a surprise, and yet it seems that it is. We know that many famously creative people such as Lani Guinier, Rashida Jones, James McBride, Rain Pryor, and Rebecca Walker are both Black and Jewish. These names are the tip of the iceberg. In fact, Julian Bond's wife Pamela Sue Horowitz, a former staff attorney at the Southern Poverty Law Center, is also a member of the Tribe.
Rosenwald helps us understand that the Jewish role in the history of the African-American experience did not begin or end with the murder of three Civil Rights workers—Andrew Goodman, James Chaney, and Mickey Schwerner—in 1964. The ties that bind the Jewish-American community and the African-American community were tied tight and tied forever by Chicago businessman, philanthropist, and mensch Julius Rosenwald.
Personal Note: I saw Rosenwald for the first time on July 9 at a private event for members of the Center for Jewish History in Manhattan. Filmmaker Aviva Kempner did a brief introduction before the screening and then participated in a panel discussion after the credits rolled with Julian Bond, NYU Professor Hasia Diner, former LBJ speechwriter Eli Evans, and Rabbi David Saperstein.
It was an unforgettable evening, made especially poignant in retrospect by the fact that it was one of Julian Bond's final public appearances. He died in Florida on August 15, barely one month later, at age 75. But you would never have predicted that on July 9. He was elegant, eloquent, and in full command of his faculties. Those few moments at the end, when I spoke with him one-on-one at the reception, were joyous. He was there to celebrate the life of Julius Rosenwald, and he worked the crowd—me included—like a champ.
**************************
Rosenwald opens in Metro Chicago today (9/4/15) at the Landmark Century Centre Cinema in Lincoln Park and the Landmark Renaissance Place in Highland Park. Kempner has planned Q&A sessions in Lincoln Park tonight (9/4/15) and in Highland Park tomorrow (9/5/15).
For schedule information and tickets purchases, visit Kempner's Rosenwald website.
You can also purchase tickets directly from the Landmark Theatres website.
Follow this link to read a related article by JUF Executive Editor Cindy Sher.
Posted 9/8/15 on JUF Online.
© Jan Lisa Huttner (FF2 Media)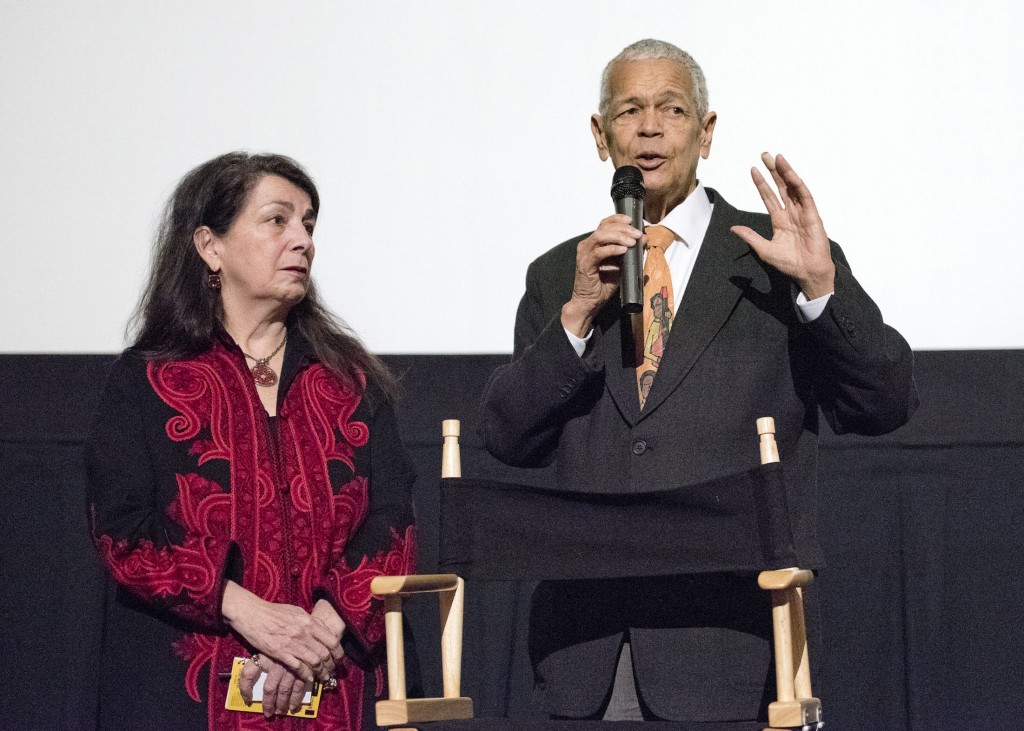 Top Photo: Julius Rosenwald and Booker T. Washington, Tuskegee Institute (1915) Courtesy of Special Collections Research Center, University of Chicago Library
Bottom Photo: Director Aviva Kempner with Julian Bond at the 2015 Washington Jewish Film Festival. Photo credit: Aryeh Schwartz (WJFF)