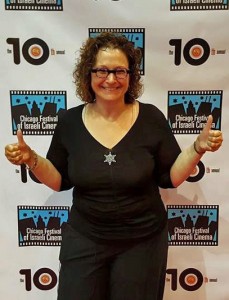 11/3/15: With Cindy Stern​ at the 2015 CFIC.
Taking a break during our marathon screening of "The Amsalem Trilogy" (To Take a Wife, Shiva and Gett).
Grueling, yes, but this was such a powerful experience that I can only hope to do it again someday 🙂
The audiences for all three screenings–even To Take a Wife at 4 PM–were surprisingly large. And from what we could tell when we asked for a show of hands, approximately 100 people came to watch all three films with us. Yowza!!!
Click HERE to read my post in JUF Online and learn why YOU should try to see all three parts of "The Amsalem Trilogy" someday too.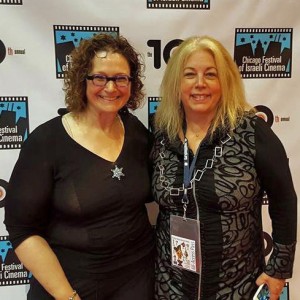 Huge thanks once again to CFIC Executive Director Cindy Stern & the Board of Directors of the 2015 Chicago Festival of Israeli Cinema for placing my photo on the same page with such superlative companions. What an honor!
Photo Credit: Bob Stern (Cindy's wonderful husband).
Finally, last but not least, please note my "two thumbs up" in tribute to Gene Siskel & Roger Ebert — the two incomparable critics who put the Chicago film scene on the international movie map. After three years in Brooklyn, it felt so great to be back in Sweet Home Chicago!