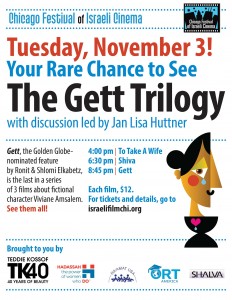 The 10th annual Chicago Festival of Israeli Cinema begins this week, and as regular readers already know, I will be flying in from Brooklyn to participate in a special screening of The Gett Trilogy on Tuesday, Nov. 3.
This is something of a high-risk venture for the CFIC, because the initial release of Gett: The Trial of Viviane Amsalem was a "2014 event" rather than a "2015 event." Gett received an Ophir Award as Best Picture of the Year from the Israel Film Academy in September 2014, and it received a Golden Globe nomination from the Hollywood Foreign Press Association in December 2014 in the Best Foreign Language Film category.
In between, Gett also made its first Chicago appearance at the 2014 Chicago International Film Festival in October, and then played at both local Landmark Theatres — the Century Center Cinema in Lincoln Park and the Renaissance Place Cinema in Highland Park — in February and March.
Nevertheless, even if you have already seen some — or all — of The Gett Trilogy already, I sincerely believe that the opportunity to see all three parts together should not be missed. I will go so far as to say this will be a cultural experience somewhat akin to signing up for one of the Lyric Opera's Ring Cycle weeks (an experience hubby and I both cherished).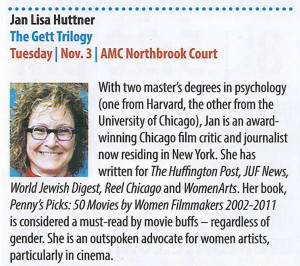 I will be with you all day on Nov. 3 to watch all three films in person, and that's really saying something because I have already seen Gett three times, and I have seen both To Take a Wife and Shiva twice. But great works of art are inherently open to multiple interpretations, and different facets often resonate based on changes in your own life. (For a wonderful analysis of this phenomenon, get yourself a copy of Nothing Remains the Same: Rereading and Remembering by Wendy Lesser.)
Just a few weeks back, I actually found myself arguing with another film critic here in NYC about our contrasting interpretations of Gett, so I will be looking with new eyes. Maybe she is right? Maybe I missed something? Who knows? As I always say: "You don't know until you go!"
Let me stop now and back-up, because even though I have written JUF posts about all of the 2014 events mentioned above, many of you reading now are probably new to The Gett Trilogy and are therefore thoroughly baffled.
Gett: The Trial of Viviane Amsalem is the third film in a trilogy about an Israeli woman named Viviane Amsalem who is seeking a divorce decree (a "gett") from the Bet Din (Rabbinical Court).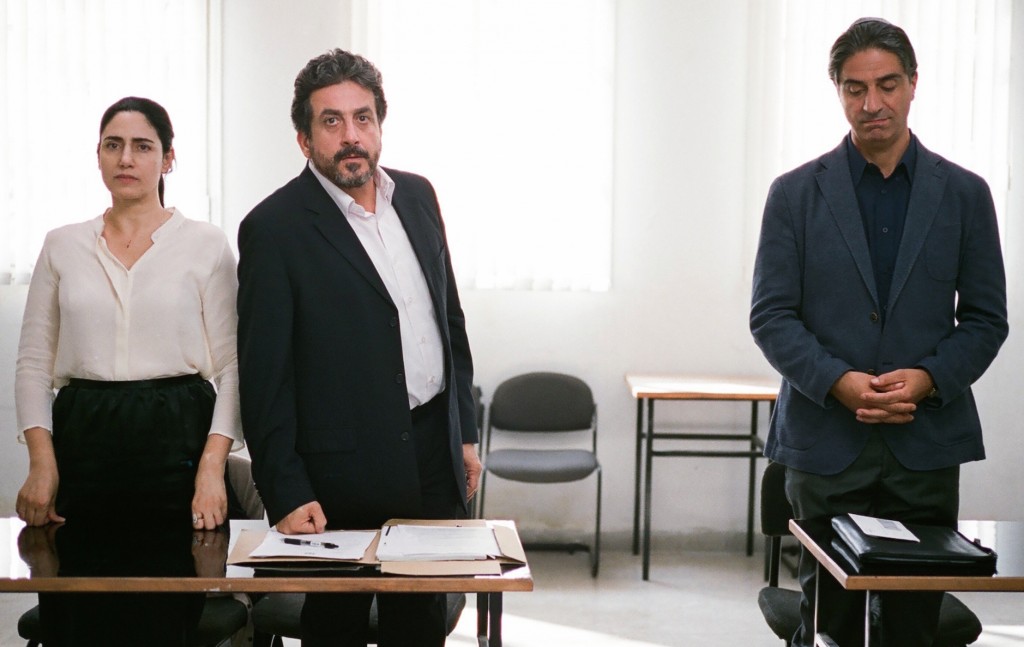 Viviane Amsalem is played by Ronit Elkabetz, one of Israel's most highly lauded actresses. She has also starred in well-known Israeli films such as Late Marriage and The Band's Visit, as well as high-profile French films including The Girl on the Train.
In addition to her starring role as Viviane, Elkabetz also co-wrote the screenplay and co-directed the production in collaboration with her brother Shlomi Elkabetz. The story is loosely based on the life of their parents. Together they collected awards from film festivals all around the world, including a "Silver Hugo" for Best Screenplay from the 2014 Chicago International Film Festival jury.
To Take a Wife, the first film in the series, was released in Israel in 2004. Although it was shown in various film festivals around the world, it was not widely available in the USA until a DVD was released in 2009.
Shiva, the second film in the series, premiered at the Cannes Film Festival in May 2008 was released in Israel a few months later. I saw it the following year at CFIC '09. (It appears on the "Highly Recommended" list at the end of my JUF post.) Yet once again, it was not widely available in the USA until the DVD release, also in 2009.
However, worldwide acclaim for Gett has fed interest in the first two parts of the trilogy, no doubt related to greater awareness of the agunot ("Chained Women") issue in the Jewish world at large since 2004.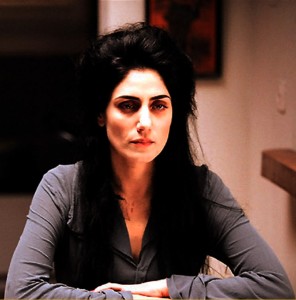 Let me cut to the chase: If you have only seen Gett, it will be almost impossible to feel one iota of respect for Viviane's husband, Elisha. It's very difficult to understand the motivations of a man who would treat any woman like this… for decades! But here I remind you that Ronit and Shlomi have based these characters on their own parents. So Elisha is not just a "monster" to them, he is a man presumably much like their own father.
Watch the entire trilogy, and you will see how actor Simon Abkarian wins our grudging sympathy for someone who knew his place growing up in Morocco, but cannot find his way after making aliyah. Elisha is not the first man in his position who tried to reclaim lost dignity by lording it over his family. And with so many displaced people now flooding the developed world, we should be more grateful than ever that Ronit and Shlomi have empathy for Elisha even though they are clearly rooting for Viviane.
Screenings on Nov. 3 are as follows:
To Take a Wife at 4 p.m. (runtime 97 minutes)
Shiva at 6:30 p.m. (runtime 103 minutes)
Gett: The Trial of Vivian Amsalem at 8:45 p.m. (runtime 115 minutes)
Remember: I will be watching with you, and I will be available to answer questions and provide continuity from beginning to end.
Note that there will also be a dessert buffet for sponsors at 2:30 p.m. at which I will present "Jan's Guide to Gett" (an overview of character arcs and major themes). If you would like to attend, please send me an e-mail message ASAP: tzivi (at) msn (dot) com.
Todah Rabah to CFIC Executive Director Cindy Stern for inviting me, and to the five sponsors — Hadassah, Na'Amat, ORT, Shalva, and Teddie Kossof Salon — who are making this extraordinary day possible.
I hope to see some of you there!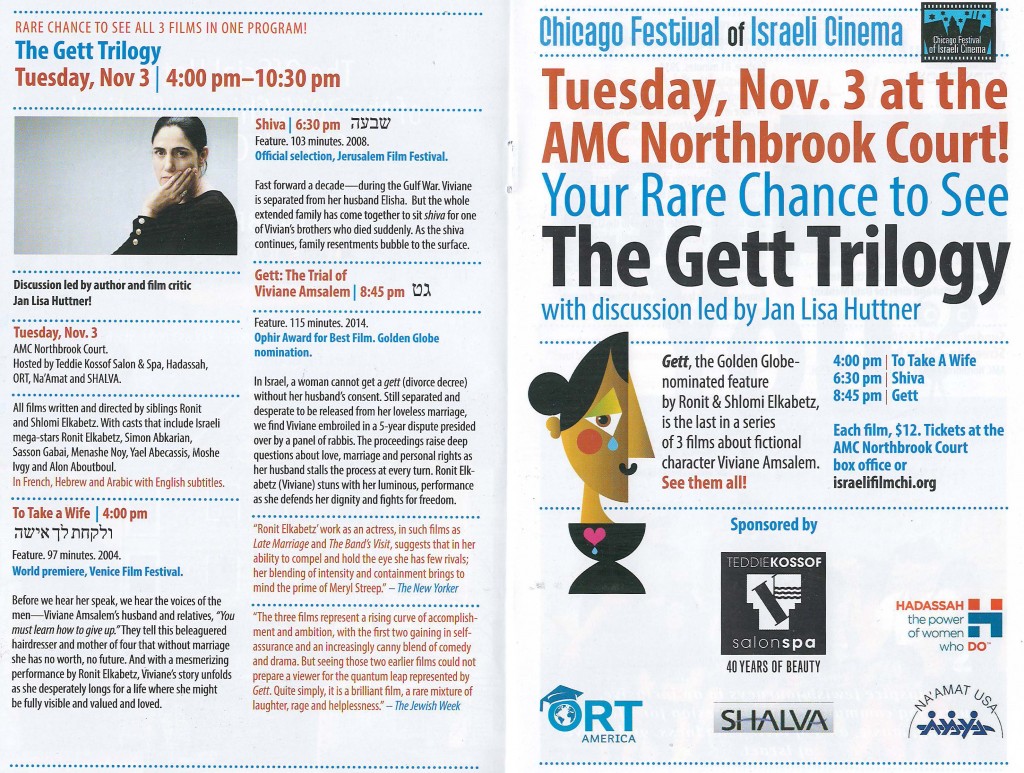 Click here to read my post "Tzivi's Guide to the 10th annual Chicago Festival of Israeli Cinema" for the October issue of the JUF News.
For a complete program schedule, visit the CFIC '15 website.
Click here to buy CFIC '15 tickets
Posted on JUF Online on 10/27/15.
Top Photo: Viviane Amsalem (Ronit Elkabetz) and her attorney (Menashe Noy) face off against her husband Elisha Amsalem (Simon Abkarian) in one of their innumerable appearances before the Rabbinical Court in Gett: The Trial of Viviane Amsalem.
Top Photo: Viviane Amsalem (Ronit Elkabetz) as she first appeared in To Take a Wife.
Photos courtesy of CFIC & Music Box Films.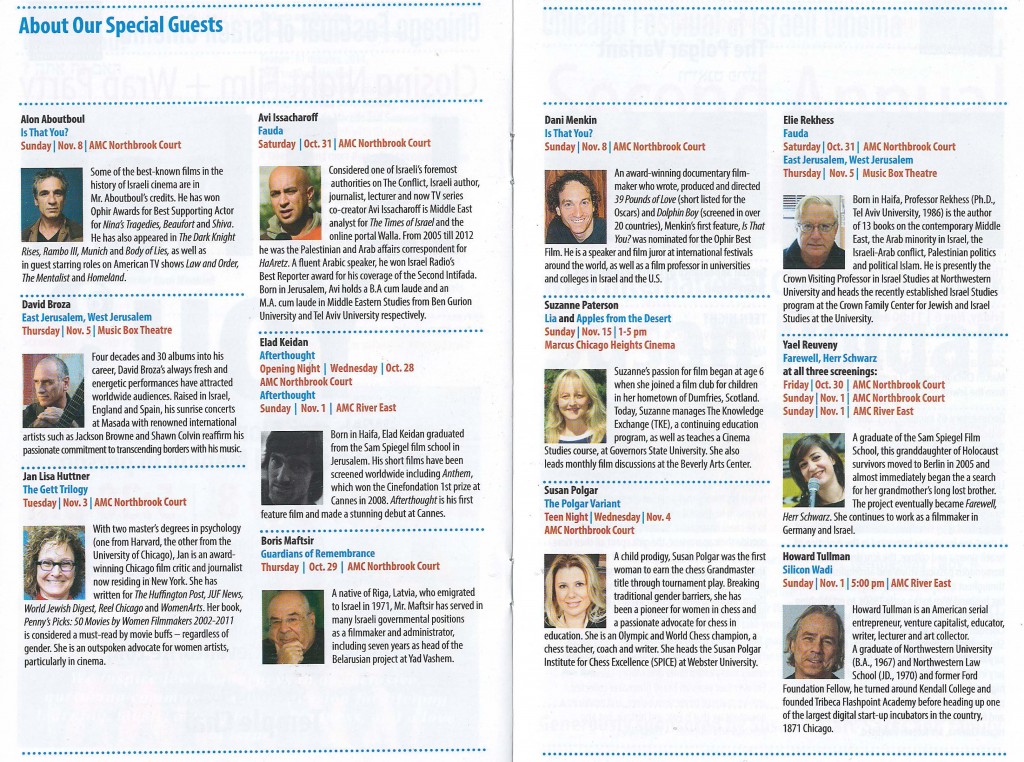 Final Note: Huge thanks once again to CFIC Executive Director Cindy Stern & the Board of Directors of the 2015 Chicago Festival of Israeli Cinema for placing my photo on the same page with such superlative companions. What an honor!