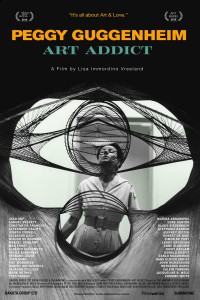 Full Title = Peggy Guggenheim: Art Addict
Director Lisa Immordino Vreeland examines the life of the great Peggy Guggenheim, an American Jewish woman at the forefront of both the European and American modern art movements. Told in chronological order, the film documents the journey of a woman ahead of her time, willing to risk everything in the interest of following her passion for discovering and sharing modern art. (EML: 3.5/5)
Review by FF2 Associate Eliana Levenson
Based on new interviews and featuring previously unheard tapes recorded by one of her many biographers (Jacqueline Bograd Weld), Peggy Guggenheim: Art Addict paint Peggy Guggenheim as a woman hungry to be a somebody and fearless in her methods for attaining that status.
Starting with Peggy's childhood, the film explores the difference between Peggy and the rest of her wealthy extended family.  As she ages, Peggy seeks out art and culture, moving to Paris in her twenties and growing close with many of the 20th Century's most notable artists, writers, and intellectuals.
The film is quick to point out that art wasn't the only thing Peggy was chasing, and her romantic trysts–despite her seeming lack of physical beauty–are part of her legacy. Known for discovering new artists–most especially Jackson Pollock–Peggy's insatiable appetite to be remembered pushed her to break the rules of 20th Century women.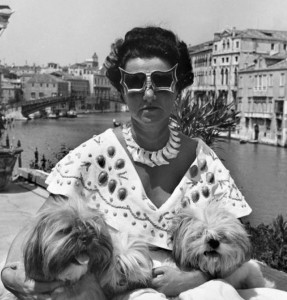 But where is Peggy's Jewishness? Though a member of two prominent Jewish American families–the Gugenheims and the Seligmans–there is no evidence in the film that Peggy practiced her faith either religiously or culturally. However, the hints of Peggy's relationship with her Jewishness can be seen in two areas.
Firstly, her reaction to the onset of World War II. Peggy Guggenheim: Art Addict points out that during the first years of the war–up until 1941–Peggy was living in Paris. Although in her own words she was "unafraid," Peggy certainly understood her precarious position as a Jew in Nazi-Occupied Europe. She used her prominence and her American citizenship to help persecuted artists–many of them Jews and/or the spouses of Jews–get to New York and thereby escape the threat of the Nazi takeover. It is these acts of bravery that demonstrate the deeply ingrained kinship that Peggy had to her Jewish heritage.
Secondly, Peggy's nose job, which is discussed only briefly, is indicative of a standard of beauty that often made Jewish women feel excluded. As the film does seem to heavily focus on Peggy's looks–and the number of lovers she managed to snag in spite of them–the fact that Peggy had a botched nose job seems incredibly relevant. While the documentary emphasizes the fact that Peggy was a promiscuous woman, unafraid to push the boundaries of what was acceptable for a woman of her status, the fact that this bold and brazen woman had attempted to improve her appearance with a nose job reminds you of the pressure Jewish women felt to look more like their gentile counterparts. Still, after the procedure was botched, Peggy's decision to live with the nose and make it part of her persona, demonstrates her willingness to push boundaries.
While the documentary itself feels more like an AP History powerpoint presentation than a film, the message of Peggy's lifestyle–both as a woman and a Jew are poignant–reminding us that being yourself can result in an incredible life.
© Eliana M. Levenson FF2 Media (11/9/15)
Top Photo: One of the posters for the theatrical release of Peggy Guggenheim: Art Addict
Middle Photo: Peggy Guggenheim showing off her unique style, a style she never lost.
Bottom Photo: Peggy amidst negotiations for her priceless collection of modern art in Venice.
Photo Credits: Dakota Group
Q: Does Peggy Guggenheim: Art Addict pass the Bechdel Test?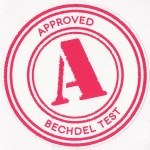 Yes!
Many women–artists and authors–are interviewed on camera, and extensive use is made of the Weld tapes (a one-on-on conversations between Peggy Guggenheim and Jacqueline Bograd Weld).