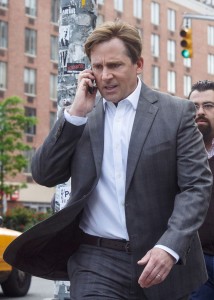 Steve Carell–in a transformative performance–stars as "Mark Baum," the moral center in a riveting story about the the "Subprime Mortgage Crisis" of 2008.
Director Adam McKay and his co-writer Charles Randolph have based their screenplay on The Big Short: Inside the Doomsday Machine (the non-fiction best-seller published by Michael Lewis in 2010). The result is an instant classic and the Best Film of 2015. (JLH: 5/5)
Review by Managing Editor Jan Lisa Huttner
The Big Short — the best film of 2015 — opens in limited release today in most major American markets including Chicago.
I say "the best" with confidence because I have now seen almost all of 2016's Oscar contenders. It's true! I have attended innumerable private screenings in the past two months as a member of New York Film Critics Online, and my Brooklyn apartment is flooded with "For Your Consideration" screeners from all the major distributors. When the Golden Globe nominations were announced yesterday, there was only one top film on the list that I hadn't seen — The Revenant — and that's only because I had the flu the night of my NYFCO screening.
Based on The Big Short: Inside the Doomsday Machine, the non-fiction best-seller published by Michael Lewis in 2010 which inspired the screenplay by director Adam McKay and his co-writer Charles Randolph, The Big Short uses bravura filmmaking techniques to tell one of the most important stories of our era: the collapse of worldwide financial markets in 2008.
We refer to this now as the "Subprime Mortgage Crisis," as if it were over and done. But reverberations are still evident in almost every country on this planet, especially our own (embroiled as we already are in one of the most contentious presidential elections in American history). When the dominoes began to fall midway through the film and one character said to another "This thing is hitting Europe. Greece and Iceland are finished. Spain is teetering," chills ran up and down my spine.
So it is important for us to strap ourselves into a careening car on this wild rollercoaster, and give ourselves over to those with the talent and skill to explain how we got here. Luckily, McKay and Randolph lay it out for us in bite-sized pieces, with tremendous support from film editor Hank Corwin (the MVP on their huge and phenomenal team).
The plot (the cast of which includes major stars like Christian Bale, Brad Pitt and Marisa Tomei as well as up-and-comers like Hamish Linklater, John Magaro, Rafe Spall, Jeremy Strong and Finn Wittrock) follows four sets of idiosyncratic outsiders, all of whom sensed that something was deeply wrong with the Housing Bubble. So they bought insurance on bonds everyone else considered totally secure. The title The Big Short refers to the fact that they "shorted" the market when everyone else went long, but hey, let Margot Robbie explain it!
Margot Robbie is the gorgeous actress who played Leonardo DiCaprio's trophy wife in The Wolf of Wall Street two years ago. "Here is Margot Robbie to explain," says narrator "Jared Vennett" (Ryan Gosling). Cut to Margot Robbie (the real Margot Robbie). Sipping champagne in a bathtub filled with bubbles, Robbie is the epitome of decadence (just as her character was in The Wolf of Wall Street). "Short means bet against. Got it? Now get lost."
This scene serves multiple purposes for the audience. It relaxes us and gives us a laugh, and it also cushions us from all the jargon to come. This is important because jargon was one of the primary weapons used to defraud investors like us and the people who were supposedly acting in our interest (like our pension fund managers). Acronyms like "CDO" buzzed around us like bees. Collateralized Debt Obligation? Say what?
But using Margot Robbie as the first of several celebrity explainers is also an arch way for McKay and Randolph to signal that "the wolf" in The Wolf of Wall Street turned out to be a chump, whereas the guys who looked like sheep were the ones who actually succeeded. In the end, as big-name financial institutions like AIG, Bear Stearns, and Lehman Brothers implode, the "insiders" who considered themselves "players" are all turned out.
Insofar as this mess has a moral center, it belongs to a Jewish guy introduced early on by his Rabbi. "Mark is an excellent student of the Torah and the Talmud," the Rabbi tells Mark's beaming mother. When she fails appreciate his concern, the Rabbi continues: "He's looking for inconsistencies in the word of God!"
Mark is a character named "Mark Baum" who is closely modeled on a real person named Steve Eisman, and this anecdote comes directly from Eisman's mother Lillian. It can be found in the first chapter of The Big Short: Inside the Doomsday Machine, almost verbatim.
"Mark Baum" (like Steve Eisman) was the head of a hedge fund called FrontPoint Partners. One day a guy from Deutsche Bank named "Jared Vennett" (the Ryan Gosling character based on another real person named Gregg Lippmann) called the wrong number and ended up making a pitch to Baum and his core team members, numbers guy Vinny Daniel (whose actual name really is Vincent Daniel) and trader Danny Moses (whose actual name really is Daniel Moses). This fluke leads to the beginning of FrontPoint Partners' involvement. They know Vennett is only looking out for "number one" — as Vennett later admits, "I never said I was the hero of this story" — but his mere appearance signals to them that the waters are far murkier than they realized.
Even though Baum is inherently skeptical, the more he learns, the more anxious he becomes. He sends his guys down to Miami in 2006 to look at a pricey new housing development, and it turns out to be a ghost town. He travels with them to the American Securitization Forum in 2007, and finds thousands of people partying with no thoughts of tomorrow. Breaking the fourth wall, Vennett tells us: "It was at that moment in that dumb restaurant in Las Vegas with that stupid look on his face that Mark Baum realized the whole world economy might collapse." Soon after, Baum says to his wife: "It's all so much uglier and more twisted than I could have imagined." "Stop trying to save the world," she says. But he can't.
Mark Baum is played by Steve Carell in a transformative performance that raises him to the rank of one of the greatest actors of his generation (a remarkable feat for someone who got his start as a Second Banana in "bromance" comedies). Carell totally owns the climactic scene in which Baum is invited to debate a bullish investor from Bear Stearns at the very moment Bear Stearns stock goes into freefall. While Vinny tracks the numbers on his BlackBerry, Baum puts the whole debacle in perspective: "For 15,000 years, fraud and short-sighted thinking have never, ever worked. Not once. Eventually people get caught. Things go south. When the hell did we forget all that?"
*************************
The Big Short opens today in limited release at the AMC River East and the Regal City North on Western Ave. Suburban locations include Bolingbrook, Crystal Lake, Elgin, Lake Zurich, Lincolnshire, Skokie, and Woodridge. The Big Short will expand to additional Metro Chicago theatres on Dec. 23.
© Jan Lisa Huttner/Posted on JUF Online on 12/11/15.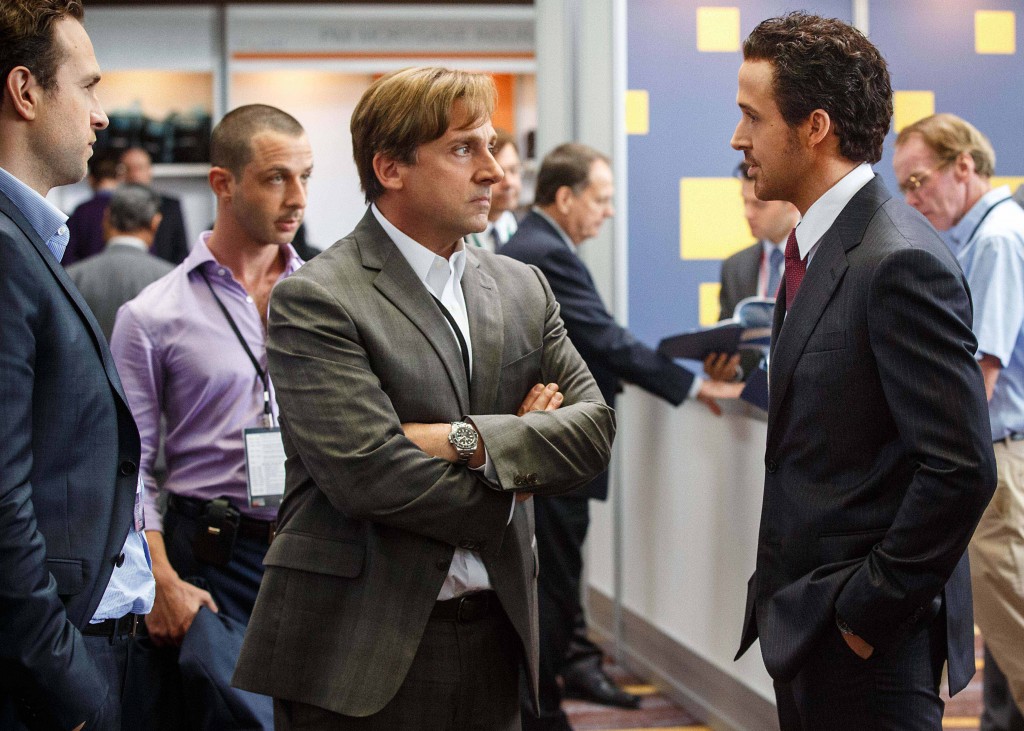 Top Photo: Steve Carell as Mark Baum.
Bottom Photo (from left): Rafe Spall as "Danny Moses," Jeremy Strong as "Vinny Daniel," Steve Carell as "Mark Baum," and Ryan Gosling as "Jared Vennett."
Photos Credit:  Jaap Buitendijk/Courtesy of Paramount Pictures.
Posted on JUF Online on 12/11/15.
Q: Does The Big Short pass the Bechdel Test?
No!
Although Oscar-winning actress Marisa Tomei plays Mark Baum's wife, and award-winning actress Melissa Leo has a key scene as a bond rater, these are both bit parts. There are a few more female characters around the edges–including, of course, celebrity "explainers" Margot Robbie and Selena Gomez–but they all have minimal dialogue and they certainly never speak with one another.
Me? I think one of the reasons the Subprime Mortgage Crisis became so catastrophic is that a "Boys Will Be Boys" mentality not only pervaded Wall Street… but all the other international stock markets as well (and even more so).
Folks, this is what happens when men–and only men–rule the world 🙁

Although the film version of The Big Short is an extremely faithful adaptation of Michael Lewis's 2010 best-seller The Big Short: Inside the Doomsday Machine, director Adam McKay and his co-screenwriter Charles Randolph do take some liberties with the personal stories of some of the main characters. Most significantly, there is no historical person named "Mark Baum" (the Steve Carell character), and there is no historical person named "Ben Ricket" (the Brad Pitt character).
As explained above, the Mark Baum character is based on a real person named Steve Eisman. Similarly, the Ben Ricket character is based on a real person named Ben Hackett. Although some of the personal details in the lives of both men have been changed in the film, the professional details of both lives are spot on. And what they told Michael Lewis about their professional activities come directly from them and their closest associates. Ditto for "Jamie Shipley" (who's real name is Jamie Mai) and "Charlie Geller" (who's real name is Charlie Ledley).
In the acknowledgements section of The Big Short: Inside the Doomsday Machine, Lewis thanks the following individuals by name (in the following order): Steve Eisman, Michael Burry, Charlie Ledley, Jamie Mai, Vincent Daniel, Danny Moses, Porter Collins, and Ben Hackett.
The only major name missing on Lewis's interview list is Greg Lippman, the historical person broadly played by Ryan Gosling and called "Jared Vennett" in the film. Information about most of the situations in which Lippman/Vennett figured has been supplied–in great detail–by the people Lewis spoke with, however McKay and Randolph also use Jared Vennett as a narrator who pierces the fourth wall and acts as something of a "Master of Ceremonies," so I'm not sure how closely Jared Vennett and Greg Lippman actually overlap as personalities.
On the other hand, all of the information about Dr. Michael Burry (the Christian Bale character) seems to be totally accurate and directly "from the horse's mouth" (so to speak).
For those who sneer that all these guys did was make money for themselves, allow me to point out that Steve Eisman appears to be genuine mensch who has now turned his attention–and much of his money–to the shonda of for-profit colleges that are exploiting people–especially military veterans–with the help of the same US Congress which turned a blind eye to the excesses of the financial markets. He is also a Board Member of an organization called Footsteps "which supports people the process of leaving ultra-Orthodoxy." Just sayin'