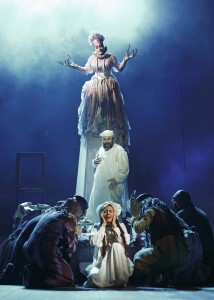 After a month of previews, Broadway's fifth Fiddler on the Roof premiered today at the Broadway Theatre at 1681 Broadway (on the corner of 53rd Street).
This is the final event – some might even say the culminating event – in the worldwide celebration of the 50th anniversary of Fiddler's first Broadway performance in 1964. So nu, what's new?
First of all, Fiddler on the Roof is indestructible! There is no way not to fall in love all over again the moment the Fiddler begins to play that haunting opening melody on his solo violin. Composer Jerry Bock – who died in 2010 – brought forth these twenty-four pure notes from the depths of our collective experience as Jews, and no matter how many times you hear the wordless "Fiddler's Theme" that opens and closes every performance, tears will spring to your eyes. (I say this as someone who has now seen over two dozen live performances of Fiddler on the Roof – of every size and scale – in the past decade alone.)
But this Anatevka has an altogether very different feel than the one conjured up on Broadway for the 40th anniversary. In 2004, Tevye and his family lived at the edge of an elegant blue and beige birch forest, with actual musicians in the far right corner of the stage playing their instruments in a permanently star-filled twilight. The resulting air of melancholy has been replaced in 2015 with a robust, earthy look that provides a solid frame for the characters as the plot unfolds.
Most important, all the "buildings" – like Tevye's house and Motel's tailor shop – can be rolled offstage in an instant to make room for dancing. And wow, is there dancing!
Although the headliner is Danny Burstein as Tevye, the real star of this show is Hofesh Shechter. Born in Jerusalem in 1975, Shechter joined the Batsheva Dance Company at age 20 and quickly rose to become one of artistic director Ohad Naharin's go to choreographers. Those of us who have attended one of Batsheva Dance Company's many Chicago performances know what to expect. There is nothing "delicate" about the Batsheva Dance Company style. It is ferocious, defiant, and extremely athletic. Although he has clearly "based" his work on Jerome Robbins original choreography, Shechter transforms it into something entirely new. Do men still line up to do "The Bottle Dance" at Tzeitel's Wedding? Of course. Have they ever done it like this before? Never!
Unfortunately, there is a downside: Shechter's dances – especially the dancing to To Life! in the tavern – are literally show-stoppers, meaning they stop the dramatic action rather than enhance it. Some familiar elements have also been trimmed to accommodate them, which has a noticeable effect on the plot. The Rabbi no longer dances at Tzeitel's Wedding (which is always a crowd-pleaser). And Act Two's ethereal Little Chavele ballet is now a shadow of its former self, so what should be a profoundly human moment for Tevye as a father has been robbed of its power.
But these are the quibbles of someone who has made the analysis of subtle little Fiddler details her life's work. As I said at the beginning, Fiddler on the Roof is indestructible. Each new team must have the freedom to make its own creative decisions and find its own balance between the old and the new. Continuously updating "tradition" is exactly what keeps Fiddler on the Roof so fresh at fifty and beyond!
Fiddler on the Roof is now playing at the Broadway Theatre at 1681 Broadway (between 52nd and 53rd Streets). To order tickets, call the box office at (212) 239-6200, or visit the website: http://fiddlermusical.com/. (But if you are putting together a group, then contact GroupSales@Telecharge.com.)
© Jan Lisa Huttner. Posted on JUF Online on 12/21/15.

Per above, I am definitely recommending the 5th Broadway Revival, but for the record, here are some of my concerns (in order of importance).
1.) I did not like Michael Yeargan's set design. Click on photo below to take a closer look at this scene set in Motel's Tailor Shop: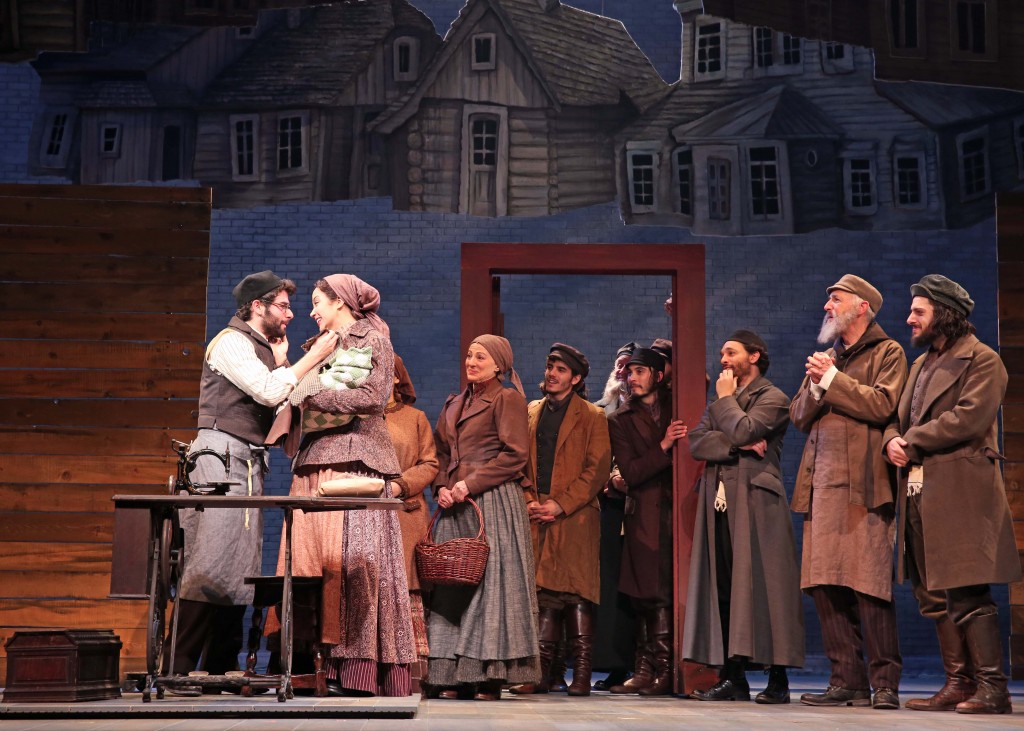 First, notice how everything on stage happens in front of a white brick wall. Second, notice how the town of Anatevka seems to sit on top of the characters. I don't understand this set design at all. The white brick wall calls attention to itself. What does it represent? Is it a foreshadowing of the Warsaw Ghetto and other Holocaust locations? If so, why? And why are the houses so big and stolid? They feel too dense; these houses seem to be weighing the people down, blocking their view of the sky and trapping them inside Anatevka.
I know most people don't notice the set design, but nevertheless, it conveys a feel, and the feel in this case is very earth-bound. Gone are all of the luminous references to the spiritual world Boris Aronson created for Jerome Robbins. The only hint of Chagall left on stage are the masks worn by various characters in the Dream scene. People familiar with Chagall's work will notice specific faces in the crowd (such as the face of The Red Jew), otherwise Chagall has gone MIA (Missing in Action).
2.) Another thing to notice about this scene set in Motel's Tailor Shop is how many men are onstage… and how few women. To generate excitement in his big dance numbers (most specifically at the tavern and at the beginning of Tzeitel's Wedding), Hofesh Shechter needs lots of dancers, and all of these dancers are costumed and presented as men. The two dance numbers that feature women–specifically at the end of Tzeitel's wedding and during the Little Chavele ballet–are both truncated. That means Bartlett Sher has more male figures in his cast than female figures, and this imbalance is palpable in all the crowd scenes (even though some of the dancers costumed as men are actually women).
3.) Tevye's daughters–especially Tzeitel, Hodel, and Chava–should be the drivers of the action, and yet after the Matchmaker, Matchmaker scene at the very beginning, they are practically pushed to the sidelines. The Hodel/Perchik duet Now I Have Everything is also staged much too much like Miracle of Miracles, with Hodel basically applauding Perchik (just as Tzeitel applauds Motel), rather than participating in the decision-making as Perchik's equal.
The music in Now I Have Everything is written so that Hodel and Perchik literally finish each other's sentences ("Who knows tomorrow where our home will be? I'll be with you and that's home enough for me. Everything is right at hand. Simple and clear/Simple and clear.") Rush it, and that magic is lost…
ON THE OTHER HAND…
Bartlett Sher has added a subtle but significant framing story.
In the opening moments, Danny Burstein as Tevye walks on stage wearing a red parka that looks like something to be found in a Land's End catalogue. The stage is completely bare except for a ancient railway sign reading "Anatevka" (in Cyrillic characters). Burstein is carrying a book, and he reads aloud from the book: "A fiddler on the roof. Sounds crazy, no?" These words, words typically spoken by an early 20th Century character named "Tevye" directly to his audience, are now read by a 21st Century character. But what book is he reading from?
I am sure most people think they know. I am sure most people will immediately answer: "Tevye is reading from Sholem Aleichem!" But these people will be wrong. The words that most closely approximate these words were in fact written by Marc Chagall and they appear on the final page of his autobiography My Life:
"These pages [of this autobiography] have the same meaning as a painted surface. If there were a hiding place in my pictures, I would slip them into it… Or perhaps they would cling to the back of one of my characters or maybe to the trousers of the 'Musician' in my mural painting?… Who can know what is written on his back?… And were not the forewarnings in our plastic art right–since we are truly up in the air and suffer from one malady only–the hankering for stability."
(Although Chagall has added "Moscow, 1922" at the very bottom of this last page, the book itself was published decades later, in Russian in 1947, in French in 1957, and in English–translated from the French by Elisabeth Abbott–in 1960.)
And, in fact, Sher has directed costume designer Catherine Zuber to dress his 2015 Fiddler in a vibrant purple coat that echoes Chagall's canvases–both the original Music mural from 1920 referred to above by Chagall himself (which is now in the State Tretyakov Gallery in Moscow) and the copy Chagall did a few years later called Green Violinist (which has long been owned by the Guggenheim Museum in Manhattan).
As Burstein continues with Tevye's prologue, he slowly changes from the red parka to a more traditional Tevye costume. Then "The Fiddler" (Jesse Kovarsky) flies across the stage like Peter Pan, summoning the rest of the cast as if from the mists of time, and Tevye joins them in the center of the stage for the opening number "Tradition!"
Three plus hours later–at the very end–Tevye reappears in his red parka as the Jews of Anatevka begin their exile. (See this photo by Sara Krulwich of the New York Times .) These displaced people–Tevye among them–now remind us of all the refugees in 2015 who are also searching for safe new homes. And The Fiddler is there with them–still in his purple coat–to play those magical twenty-four notes one last time…
Addendum © Jan Lisa Huttner FF2 Media (12/22/15)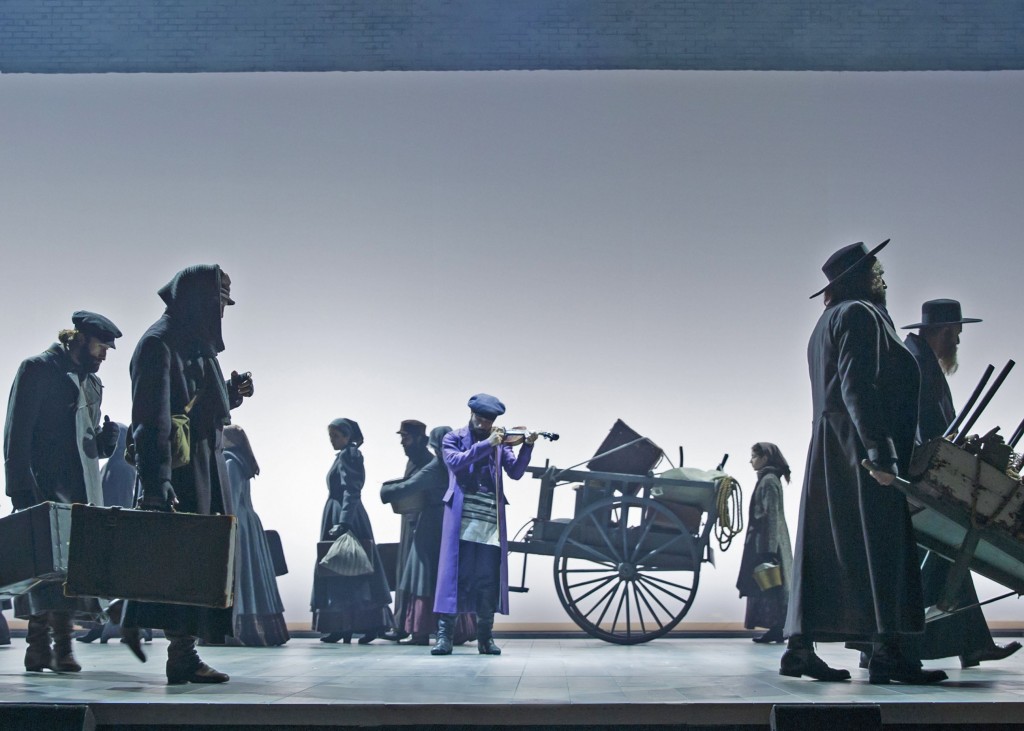 Top Photo: Tevye (Danny Burstein) and Golde (Jessica Hecht) are haunted by Fruma Sarah (Jessica Vosk) in the Dream scene.
Middle Photo: Motel (Adam Kantor) and Tzeitel (Alexandra Silber) in the scene celebrating the arrival of Motel's new sewing machine.
Bottom Photo: Jesse Kovarsky as "The Fiddler" in the finale.
Photo Credits © Joan Marcus. ALL RIGHTS RESERVED.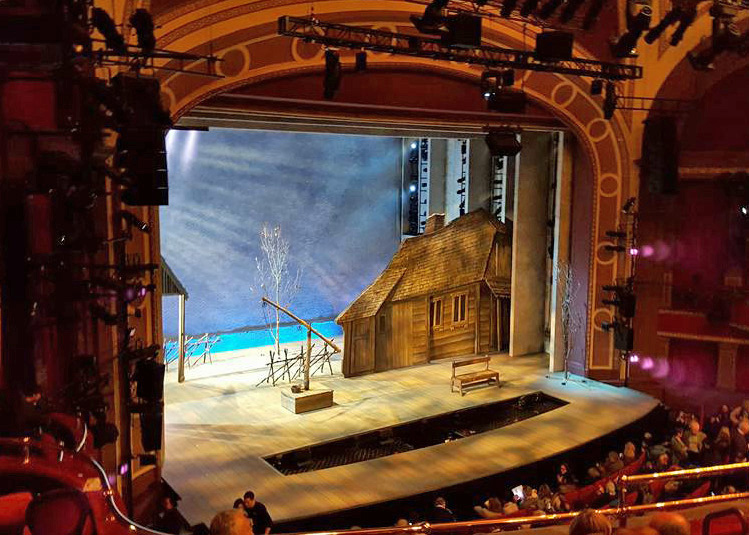 PS: I took this photo on 12/9/15 at the Broadway Theatre during the intermission between Act One & Act Two… It's a huge theatre and every seat was filled 🙂