Full Title = Peggy Guggenheim: Art Addict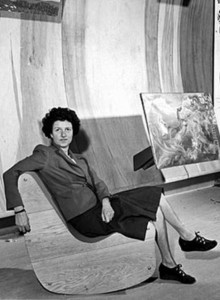 For all the books written about her since her death in 1979–and even despite the two books she wrote about herself–Peggy Guggenheim remains an elusive subject.
Filmmaker Lisa Immordino Vreeland's great contribution to PG's legacy is twofold. First, she shows us the depth and breadth of the physical objects PG collected. Second, she literally walks us through the sublime spaces PG designed to display them.
No book–now matter how beautifully produced–can equal this intimate audience experience. Peggy Guggenheim: Art Addict is one of my Top Docs of 2015! (JLH: 4.5/5)
Review by FF2 Managing Editor Jan Lisa Huttner
Who won World War II? As we prepare to commemorate the 71st anniversary of the liberation of the Auschwitz-Birkenau Complex on January 27, 2016, I would like to make the case that one of the big winners of World War II was Peggy Guggenheim. Say what?
In her superlative new documentary Peggy Guggenheim: Art Addict, filmmaker Lisa Immordino Vreeland introduces her subject with quotes from talking heads who are often quite snide and yet 95 minutes later, her heroine has triumphed. Despite all who would doubt or demean her, in spite of all who would endanger her wealth, her well-being and even her life, Peggy Guggenheim proved herself to be invincible.
We hear the name "Guggenheim" today, and we picture a world of people born with silver spoons. But Vreeland shows with a brief overview of PG's family tree that the wealth of the Guggenheims (on her father's side) like the wealth of the Seligmans (on her mother's side) was entirely new money, all of which was made in America.
PG's Seligman great-grandfather—Joseph Seligman—was born in Baiersdorf, Germany in 1819. At age 17, Joseph Seligman boarded a steamer at Bremen and sailed to America, where he worked as peddler in rural Pennsylvania. But by the time he died at age 60 in 1880, Joseph Seligman had amassed a fortune and founded a dynasty.
Meyer Guggenheim, PG's paternal grandfather, was also born in the Old Country. He left Switzerland in 1847 at age 19, and started his new life in America in the import business. Then he saved his money, went west, and invested in Colorado mines. When Meyer Guggenheim died in 1905, he was the patriarch of one of the wealthiest families in late 19th Century America.
Barbara and Meyer Guggenheim raised ten children (seven sons and three daughters). Babet and Joseph Seligman raised nine children (five sons and four daughters). But PG's parents were both a bit rebellious, and when Florette Seligman married Benjamin Guggenheim in 1894, they began to distance themselves from their birth families. They set themselves up in grand style in Manhattan, yet by the time Florette gave birth to their third daughter in 1903, they had also grown distant from one another. Then Benjamin went off the Paris, where instead of achieving independence he ended up squandering much of his inheritance in ill-advised investments.
Truth being stranger than fiction, Benjamin Guggenheim literally sank with the Titanic on April 15, 1912, leaving Florette alone with her daughters in somewhat precarious financial circumstances. Benjamin's brothers—all of whom were extremely wealthy—tried to keep them in the style to which they were accustomed, but as soon as Florette found out, she began downsizing. Perhaps some of the Seligmans also tried to help her, but if so, there is no record of it. So while PG carried a name that seemed to imply great good fortune, she actually had a childhood filled with tragedy and she grew up knowing she would always be thought of as an object of pity.
To everyone's surprise, PG embraced her fate and turned it into a badge of honor. Rather than live as a "poor relation," PG cast herself as a "black sheep," and moved to Paris in 1920 at age 22. For the next twenty years, PG lived at the edge of Europe's avant-garde. Name almost any famous person who passed through Paris in those years—artists and writers, intellectuals and gadflies—and it's likely he or she supped at PG's table. She loved their creative energy; they loved her money. It may not have been much money from her relatives' perspective, but from a bohemian's point of view, PG had it all.
And so, as the Nazis began their "rape of Europe" in 1939, PG was perfectly positioned to achieve her destiny as the savior of Modern Art. By the time of her death in 1979, PG had amassed one of the world's greatest collections of 20th Century paintings, sculptures, and other works of "fine art." Along with her purchases, she also provided direct financial support to those once-famous who had fallen on hard times (e.g., Emma Goldman) and those who might never have become famous without her (e.g., Jackson Pollock).
And in the end, she also healed strained family relations by donating her collection—The Peggy Guggenheim Collection—to the Solomon R. Guggenheim Foundation. For its part, the Foundation affirmed in a recent press release that it "has worked to make the name of Peggy Guggenheim and the renown of her achievements more celebrated than ever before and will continue to ensure that Peggy Guggenheim's collection is honored and preserved."
Peggy Guggenheim: Art Addict is one of my favorite documentary films of 2015. Once I was introduced to her by filmmaker Lisa Immordino Vreeland, I couldn't get enough. I ended up reading both versions of her autobiography (the randy original from 1946 and the cleaned-up version released in 1960), the new biography Peggy Guggenheim – The Shock of the Modern by Francine Prose (published last year in Yale University Press's prestigious "Jewish Lives" series), "The Cicerone" (a short story published in a Mary McCarthy collection called Cast a Cold Eye in which a fictionalized Peggy appears), and A Not So Still Life (the memoir published by her step-son Jimmy Ernst in 1984 in which a very real Peggy appears).
Then I re-watched Pollock (the film released by Ed Harris in 2000 in which he plays Jackson Pollock, Amy Madigan plays Peggy Guggenheim, and Marcia Gay Harden plays Pollock's very Jewish wife Lee Krasner). Then I re-watched Peggy Guggenheim: Art Addict a second time, and knowing so much more about her, I loved Vreeland's film even more.
In her own way, PG—the granddaughter and great-granddaughter of German-speaking Jewish immigrants from Europe—lived in defiance of Hitler and his murderous assault on everything precious to Western Civilization. He lost. She won. And through her, countless cultural treasures have been preserved for future generations. May her memory be for blessing.
Peggy Guggenheim: Art Addict opens Friday, Jan. 8 at the Music Box Theatre on Southport. For showtimes, call (773) 871-6604. To purchase tickets, click HERE to visit the Music Box website.
© Jan Lisa Huttner for JUF Online (1/8/16)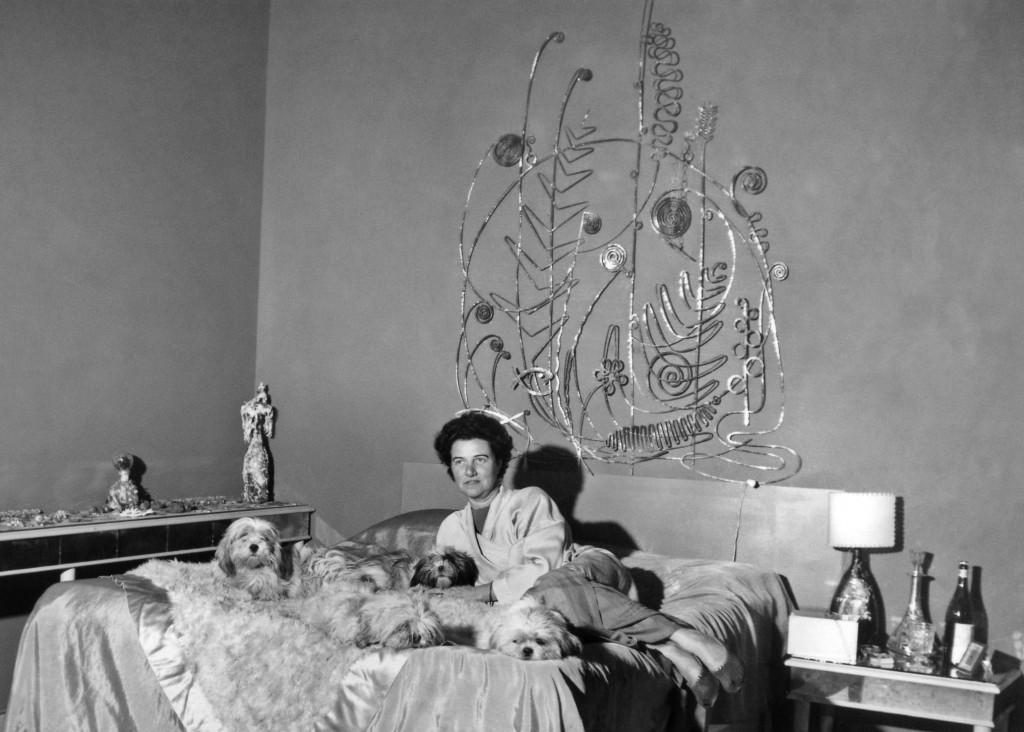 Top Photo: Peggy Guggenheim at her New York Gallery Art of This Century.
Middle Photo #1: Peggy in her bedroom in Venice with some of her dogs. Note "headboard" designed for her by Alexander Calder.
Middle Photo #2: Peggy today–laid to rest with her dogs–in Venice. (This JPG was found on Wiki Commons.)
Bottom Photo: Marguerite "Peggy" Guggenheim (1898-1979) and her first husband Lawrence Vail (1891-1968) with their children Pegeen Vail Hélion Rumney (1925-1967) and Michael C. Vail aka Sindbad (1923-1986).
Photos courtesy of filmmaker Lisa Immordino Vreeland.

Peggy Guggenheim's personal life was filled with tragedy, so much so that the writer in me cannot resist pointing out the obvious: her father's death on the Titanic was merely the tip of the iceberg.
Her mother Florette–who married a man she loved only to have him abandon her less than a decade later–seems to have withdrawn herself as an active presence in family life thereafter. Her older sister Benita–who seems to have provided the only source of warmth she knew as a child–died (in childbirth) in 1927. Her younger sister–who seems to have been mentally ill–was unable to offer any consolation.
So PG turned instead to a series of men who collectively exemplified an era aptly named "The Roaring 20s." Every one of them drank to excess and then betrayed her with other lovers and even physically assaulted her. Her first marriage–to Lawrence Vail–was a disaster which produced two children with whom she never quite bonded. Her second marriage–to Max Ernst–was even worse, but did bring a step-son into her life–Jimmy Ernst–who seems to have been one of the few people who had genuine affection for her as a person. In the end, she surrounded herself with dogs, and asked to be buried alongside them when she died.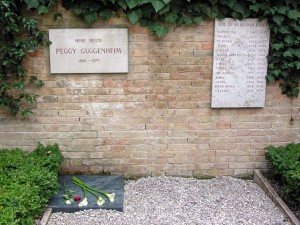 But from my POV, all these personal facts made PG who she was, and ironically gave her the fortitude to be who she needed to be when she finally came into her own after her mother's death in 1937 (when PG was ~ 40). No matter what anyone says about her–no matter what she says about herself–the proof is in her remarkable legacy.
Lisa Immordino Vreeland's great contribution to this legacy is twofold. First, she shows us the depth and breadth of the physical objects PG collected (from paintings and sculptures to earrings and other "fine art" tchotchkes like her Calder headboard). Second, she literally walks us through the sublime spaces PG designed to display them, most especially her Manhattan gallery Art of This Century on West 57th Street, her Manhattan apartment on East 61st Street (the place for which Jackson Pollock painted his famously odd-sized mural in 1943), and her Venice palazzo. No book–no matter how beautifully produced–can equal this intimate audience experience.
AND NOW A FEW WORDS ABOUT THE HOLOCAUST
In addition to her great assemblage of "talking heads," Vreeland also allows PG to speak for herself in extensive excerpts from the tapes Jacqueline Bograd Weld made when she interviewed PG for her 1986 biography Peggy: The Wayward Guggenheim. But beware: PG is very cagey and she is an extremely unreliable narrator!
Easy enough to sound blasé about the Nazi Terror in the 1980s–when it was all "ancient" history–but her actions during the war years indicate that she was fully aware of the danger to herself, her family, and her world (which was composed of many Jews as well as people married to Jews and people parented by Jews). She may not have made "a Jewish home" as the wife of Lawrence Vail, but she certainly knew that from the Nazi POV her children were Jewish because she was Jewish, and she was careful to get everyone she could back to the USA in the summer of 1941 (that is after the fall of Paris in June 1940 but well before the USA entered WWII as a combatant in December 1941).
And although Vreeland doesn't mention this, Prose discusses the fact that PG worked directly with Varian Fry to rescue artists like Marc Chagall who had made their way to Marseille. My guess is that it is no accident that she bonded with Jimmy Ernst later in part because he had lost his own mother in Auschwitz.
AND NOW A FEW WORDS ABOUT FEMINISM
PG lived most of her life in a pre-Feminist era, and I don't know if she ever spoke out on the subject directly. But part of her legacy is the direct financial support she gave to women writers. Next to Emma Goldman, the most famous of them now is Djuna Barnes (who–like Mary McCarthy–had scathing things to say about PG later but actually dedicated Nightwood to her at the time of its publication in 1937).
And as Vreeland certainly notes in her film, when the Art of This Century gallery did an exhibit devoted to women (the most famous of whom now are Leonora Carrington and Frida Kahlo), it was the first of its kind. There's even a nice little interview with Robert De Niro who remembers traveling to Venice to see the paintings by his mother–Virginia Admiral–in PG's collection. PG welcomed him in because he was Virginia's son long before the world came to know him as an Oscar-winning actor.
Performance artist Marina Abramović is also on hand to tell Vreeland just how unique and important this support for women artists was at a time when when most women artists were disparaged by arbiters with the power to make and break careers (almost every one of whom–of course–was male).
AND NOW THE LAST "LAST WORDS" GO TO LEE KRASNER
PG did not have an easy relationship with Lee Krasner, and as far as I know, there are no paintings by Krasner in PG's collection. They were two intensely passionate and extraordinarily intelligent Jewish women–both underestimated by the world in which they lived–who probably had more in common than either of them would ever have admitted. And yet, they somehow pooled their talents and resources to make Jackson Pollock–mentally ill and often hopelessly drunk–into the "bridge figure" of 20th Century Modernism.
So it's fitting that, in the end, it is Lee Krasner who says it best in the epigram which appears after the title page of Francine Prose's book Peggy Guggenheim – The Shock of the Modern:
"In writing about Peggy, it's important to listen to one's own instincts. Don't listen to critics. What do they know? What one should say about Peggy is, simply, that she did it. That no matter what her motivations were, she did it."
Real-to-Reel Addendum © Jan Lisa Huttner FF2 Media (1/11/16)