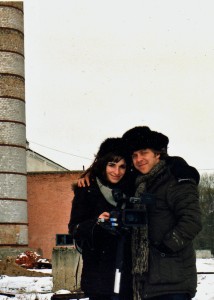 Tzivi's Sneak Peek: Seen on screener for JUF News post for February 2016.
Delightfully quirky film about a Brit from Northern Ireland who discovers that his family once owned a now defunct sugar factory in Douboviazovka, Ukraine. And it gets better! Turns out that the family's wealth really came from the vodka distillery next door!
Kudos to Dan Edelstyn and his remarkably patient wife Hillary Powell for their commitment to the dual project: bringing the vodka to new markets in the West and creating such an engaging chronicle of their adventures.
Yasher Koach!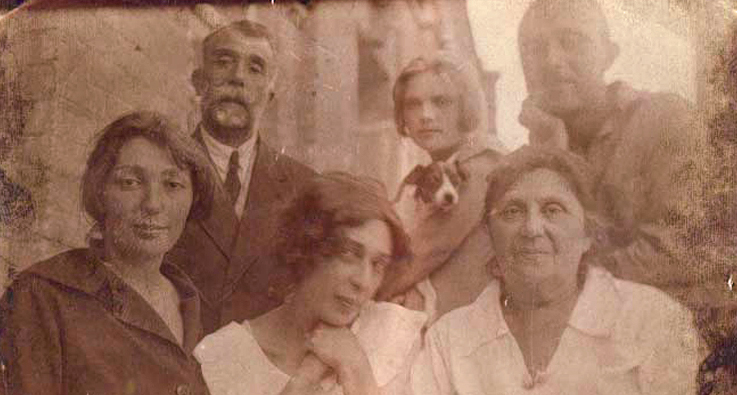 Top Photo: Dan and Hillary in Douboviazovka.
Bottom Photo: Dan's grandmother Maroussia Zorokovich (center) in good times before the Russian Revolution bankrupted her family and forced her to flee.
Edelstyn, who was three when his father died, grew up in a non-Jewish household in Northern Ireland. Before discovering his dead grandmother's memoir he was only remotely aware of this side of his heritage but the snippets he did hear led to the harbouring of a long-term childhood fantasy of 'returning' to reclaim lost riches and set things right. Grandmother Maroussia Zorokovich's story stands out from the predominant experience of east European Jewery in and around the first World War. Voicing the experiences of a highly educated cosmopolitan Jew it contrasts with the dominant narratives of the Shtetl, and the Jew as the downtrodden victim and represents a rare social strata inhabited by a merchant Jewish family fully integrated with the aristocracy of the day, living in the romantic tradition of 19th century European landed gentry oblivious to the imminent collapse of that world. As an adult, this world discovered through his grandmother's manuscript acted as a powerful call to action for Dan to enact the long held desire for return. The ensuing adventure explores and reveals the inner feelings connected to this heritage in an open and brutally frank manner.