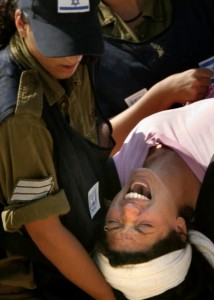 3/25/16 Update (posted today on JUF Online): Colliding Dreams opens in Metro Chicago today (March 25) at the Music Box Theater on Southport and the Landmark Renaissance Center Cinema in Highland Park. For times and tickets, follow these links to the Music Box website, and the Landmark website.
Review by FF2 Managing Editor Jan Lisa Huttner
Colliding Dreams, a new documentary about the history of the Arab/Israeli Conflict from the Jewish-American point of view, comes to us from two filmmakers with superlative credentials. Joseph Dorman is best-known to us as the director of Sholem Aleichem: Laughing in the Darkness. Oren Rudavsky is the best-known to us as the director of Hiding and Seeking: Faith and Tolerance after the Holocaust. Together they have taken a leap of faith, crafting an epic drama worthy of its subject.
I first saw this film in Director' Cut form at the 2015 New York Jewish Film Festival. Back then it was called The Zionist Idea, and it was 160 minutes long (2 hours & 40 minutes). That was just fine with me, but clearly too long for some. So Dorman and Rudavsky locked themselves up with their editors to produce this new cut, which is "only" 134 minutes long (2 hours & 14 minutes). However, I am happy to report that Colliding Dreams is not only 26 minutes shorter than The Zionist Idea, it is also tighter and better focused. So all their travails were well worth the effort.
In a Q&A after the screening of Colliding Dreams that I attended at the Lincoln Plaza Cinema in Manhattan on 3/4/16, Dorman said: "Me, Oren, and our two editors, we fought a lot to be truthful to all points of view… But we didn't make a film about Palestine. We made a film about Zionism from the Jewish point of view, although we did try to capture the Palestinian point of view too."
But this relatively straightforward statement belies the complexity of their endeavor. There is no one "Jewish point of view," nor is there one "Palestinian point of view." So the attempt to "be truthful to all points of view" really means focusing on the differences within each group, in hopes of finding points on the continuum where most people find themselves closer to the midpoint than to either of the poles.
The filmmakers give this their all. Quoting Dorman in the Q&A again: "We have no 'political message' per se. We—Joe and Oren—believe in a Two-State Solution. A Jewish State must be democratic. So both attacks on Israel and self-righteous support for Israel are both wrong-headed… There will always be at least two narratives."
These twin narratives are presented chronologically—with voiceover by Michael Douglas—in five sections:
The Jewish Dilemma
One Land/Two Peoples
Another Zionism
Recognition
The Zionist Dilemma
The timespan is more than a century, from 1882 to the day before yesterday. Every major milestone and movement is described, with abundant historical footage prompting cheers and tears. The long list of speakers include the famous and the infamous. (Which talking head should get which label will depend, of course, on your own point of view.) There are many politicians and religious leaders as well as artists and intellectuals. There are also citizen voices, people in the flow of daily life who are interviewed on the sidewalks of Tel Aviv and Ramallah.
This is a complex, demanding film, and I will not attempt to summarize further. All I can really do is urge you to see it for yourself, your children, and Jews everywhere.
© Jan Lisa Huttner (3/5/16) FF2 Media with rating = 4.5/5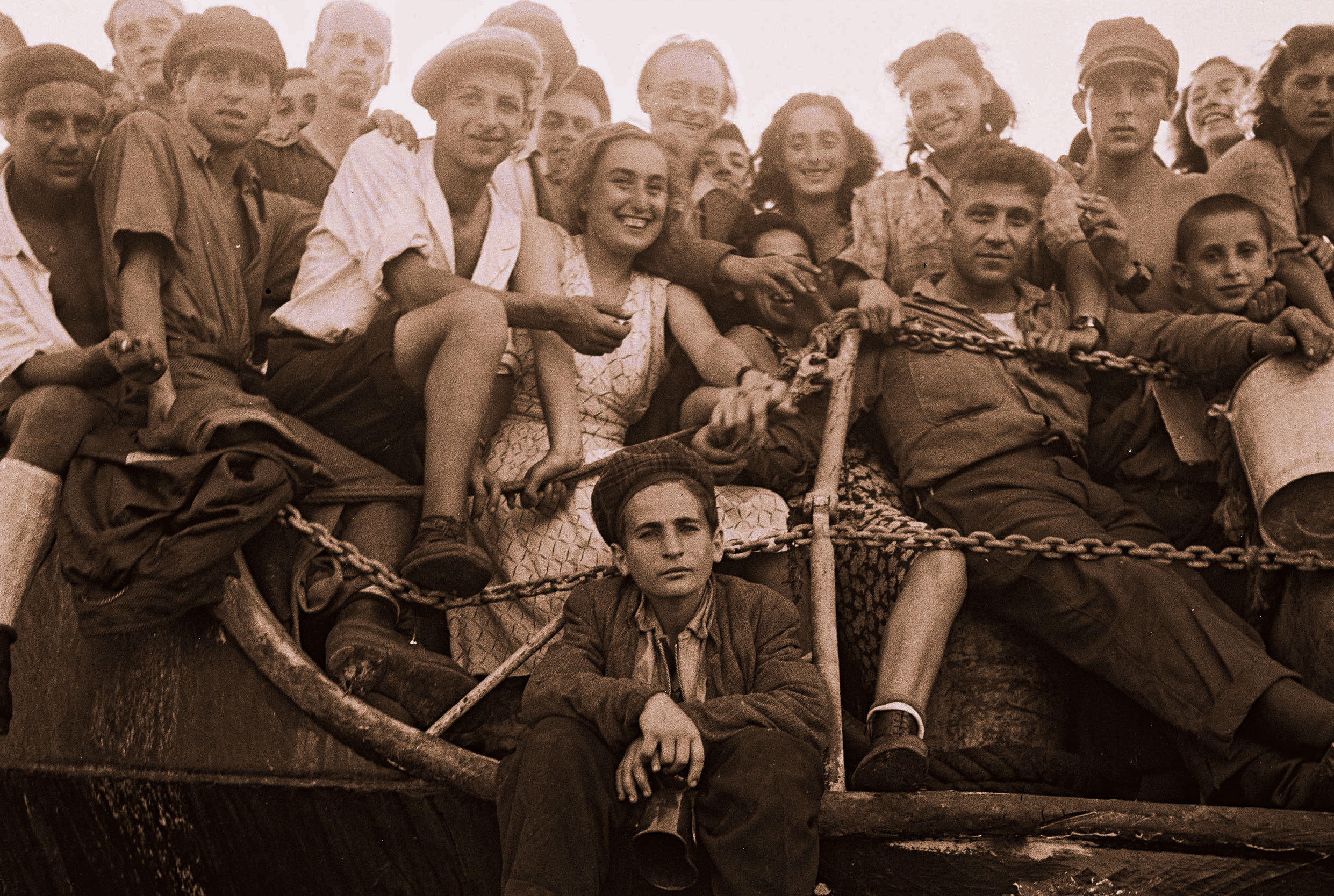 Click HERE to read my review of Joe Dorman's film Sholem Aleichem: Laughing in the Darkness.
Note that in this review–for the JUF News–I expressed concern about Dorman's  very male-oriented POV: "almost all of the 'talking heads' Dorman interviews are men." So I am delighted to report that Colliding Dreams is extremely well-balanced. Many prominent women–including Hanah Ashrawi, Geula Cohen, Ruth Gavison, Anita Shapira, Yuli Tamir–are given ample time to speak on camera, and women are included in the sidewalk interviews as well. Thank You, Joe!
Colliding Dreams also contains many revealing personal moments with playwright Motti Lerner, who is well-known in Metro Chicago. Here is what I wrote–also for the JUF News–about a lecture Lerner gave at Knox College in 2006, and here is my post about a production of Lerner's play Hard Love at the Victory Gardens. I also saw Silk Road Rising productions of Lerner's plays Pangs of the Messiah and Paulus in Chicago before my move to Brooklyn in 2012.
Click HERE to read my review of Oren Rudavsky's film Hiding and Seeking: Faith and Tolerance after the Holocaust.
TWO CENTS FROM FF2 ASSOCIATE ELIANA LEVENSON
Though I grew up incredibly culturally Jewish, I spent most of my life with what can nicely be called an apathetic view of Israel. Often times it felt like too taboo of a subject, too controversial, to bring up in conversation. And to be honest, defending Israel's right to exist as a Jew meant being written off as too biased before people even really listened to what you had to say. So, I wasn't the advocate for Israel that I needed to be. I allowed myself to fall prey to the silence of the controversy, afraid to look deeper into the conflict for the fear that I may discover that the Jews were the enemy and that I was going to find myself rooting against my own people. Then, I visited the homeland, my homeland, and as a person who is not a fan of traveling to new places, there was something so familiar, so comfortable, a sense of returning.
Suddenly, I found myself wanting to find a way to explain my love for Israel, its importance to me as a Jew, its place in my culture and my history. I found myself wanting to shout every time a western publication used a clearly biased, click-baiting headline encouraging a skewed perspective of the violence that plagues Israel's existence. But how would I prove my position without being told that I was just thinking of the conflict as a Jew? How could I prove to those that couldn't possibly understand the significance of a Jewish state, what that means, what that feels like to a group who exists elsewhere only as a minority, in the face of insurmountable "evidence" that the Jews were the aggressors and not, at the very least, equal victims? 
This is why Colliding Dreams matters so much to me. In a sea of sensationalism, this film truly works to create an honest portrait of the conflict, not only its current status, but its complex history. Though not necessarily unbiased, the film does attempt to demonstrate the intricacies that have led to two peoples, each with a deep history, each with a strong sense of nationalism, each seeking and needing a place to call their own, to have settled on the same plot of land. Through its integration of history and modern perspectives, the film succeeds where the media has failed, it creates a conversation. 
Perhaps the key component to this conversation is the slight disconnect between the talking head interviews and those done on the street. The film is primarily filled with the articulate commentary of educated elites from both sides. These people speak with clear authority, well structured and well thought out arguments. They know their history and their passion stems from, at least what appears to be, a nuanced and educated understanding of the conflict. Though they don't necessarily arrive at the same conclusions, there is a sense of their opinions being based in a deeper knowledge of each side and an attempt to find a reasonable and, if possible, fair solution. In contrast, the on the street interviews take the temperature of the average Israeli and Palestinian, illuminating a personal passion that oftentimes seems to overpower an educated position. By using both of these interviewing styles, the film creates this conversation between the elitist concepts of fairness, sharing, and morality and the personal emotions that drive the current citizens of this conflict.
Colliding Dreams is a must-see for those that seek to find more than the headlines and the bloody photographs. At its core, Colliding Dreams wants to educate, wants to create a climate for true conversation and hopefully inspire those who see it to look deeper into the sources of the conflict, rather than focusing on the seeming endlessness of the current violence.
© Eliana M. Levenson FF2 Media (3/28/16)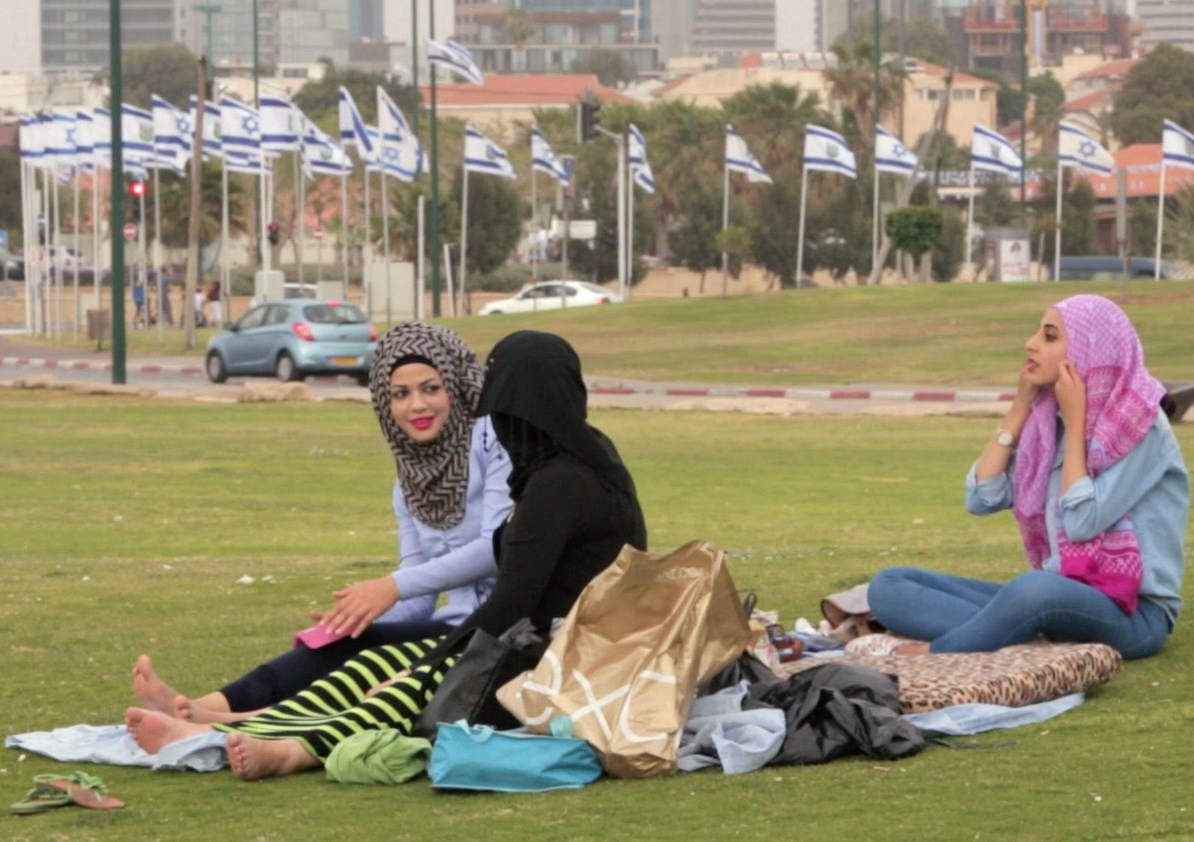 Top Photo: IDF soldiers remove a protester during the evacuation of an Israeli settlement.
Middle Photo: A group of young "illegal" immigrants on board the Hagana ship "Jewish State" arrive in the port of Haifa.
(JLH Note: I took the liberty of converting this photo from black & white to sepia so that the wonderful expressions on these precious faces would show better online.)
Bottom Photo: Three Arab women at home in Israel.
Photo Credits: Courtesy of the Colliding Dreams website. See more on the "Gallery" page.