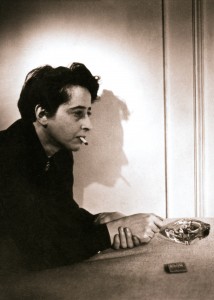 Ada Ushpiz's brilliant new documentary Vita Activa: The Spirit of Hannah Arendt is an audacious attempt to completely reframe the legacy of Hannah Arendt.
Hannah Arendt is best-known today for Eichmann in Jerusalem: A Report on the Banality of Evil, her coverage of the trial of Adolph Eichmann. Arendt was in Jerusalem on April 11, 1961 (the day the trial began) because she had arranged to cover it for The New Yorker magazine. The result was a highly controversial series of articles in The New Yorker,which were later republished in book form by Viking Press in 1963.
One result of this close association between the names Hannah Arendt and Adolph Eichmann is that we are inclined to think of Arendt now as a "Holocaust survivor." But as Ushpiz makes clear, Arendt was already safe in America by 1941, long before the infamous Wannsee Conference (on January 20, 1942) during which those at the table—including Eichmann—planned the details of what they hoped would be "the final solution" to the "Jewish problem."
In fact, Arendt learned about the true horrors of the Holocaust second and third hand (like most Americans did). So even though it is probably unconscious, we are wrong to make the assumption that the course of either her life or her work were directly determined by the Holocaust.
To the contrary, what Ushpiz shows is that the formative experience of Arendt's own life was not annihilation, but exile and displacement, what Arendt herself called "statelessness." No doubt Ushpiz, who is Israeli, felt this acutely when she began to do her research for this film five years ago. But surely even she is somewhat dismayed to see how au courant this makes Arendt's work. As new waves of refugees settle in camps all around the borders of Israel and flood ever further into Europe, perhaps Arendt's work is even more relevant today—in 2016—than ever before.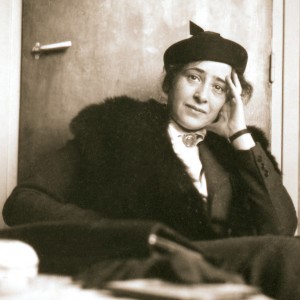 The centerpiece of Vita Activa: The Spirit of Hannah Arendt is a long interview she did on German television in 1964. As abhorrent as much of the content is, listen carefully and her conclusions about Adolph Eichmann are chillingly prescient. "I really thought Adolph Eichmann was a clown and I laughed out loud when I read the transcript…" He was "intelligent but dumb…" "Evil is thought-defying. Clichés are its comfort."
Wrapped around this interview are a birth-to-death biography with excerpts from her mother Martha's diary ("Hannah turned four in October… She has an intellectual side to her, loves books."), followed by extensive quotes from many letters read by actress Alison Darcy.
(Hannah Arendt was a prodigious letter-writer who maintained innumerable relationships with many people across the twin distances of miles and years.)
There are also long passages from several of her books, most especially The Origins of Totalitarianism (published in English by Schocken Books in 1951).
"The Rights of Man, after all, had been defined as 'inalienable' because they were supposed to be independent of all governments; but it turned out that the moment human beings lacked their own government and had to fall back upon their minimum rights, no authority was left to protect them and no institution was willing to guarantee them…
With the emergence of the minorities of Eastern and Southern Europe and with the stateless people driven into Central and Western Europe, a complete new element of disintegration was introduced into post-WWI Europe. Denationalization became a powerful weapon of totalitarian politics… Those whom the persecutor had singled out as scum of the earth—Jews, Trotskyites, etc.—were received as scum of the earth everywhere."
This is what Hannah Arendt knew firsthand, and articulating the condition of statelessness—as well as its dire legal, moral and political consequences—is her true legacy.
Almost a half century after her death in 1975 (at the age of 69), it is still difficult to stick a label on her. Was Arendt a philosopher? Was she a political theorist? Was she a public intellectual? Ushpiz includes some interviews with prominent talking heads in Israel and the USA to debate all of this, but the fact is Arendt is difficult to label precisely because she refused to be labeled.
As Ushpiz makes clear in the course of her film, Arendt was committed to a life spent in essential dialogue with herself, so she defined herself more through the act of thinking in itself than in the results of any particular thoughts articulated at any specific points in time. This makes Ushpiz's film dense and draining, but I urge you to stick with it. Ushpiz certainly convinced me, thereby making my own emotional investment in this difficult subject matter well worth the effort.
In the Q and A I attended the night Vita Activaopened at the Film Forum in Manhattan, Ushpiz said: "Thinking independently, and deeply, and provocatively… is the only way to fight our conditioned state."
Vita Activa: The Spirit of Hannah Arendt is currently playing at the Gene Siskel Film Center on State and Randolph. For times and tickets, visit their website.
For more photos from Vita Activa as well as more quotes from the April 6, 2016 Q and A at the Film Forum, visit my blog.
Read my review of Hannah Arendt (Margarethe von Trotta's 2012 BioPic)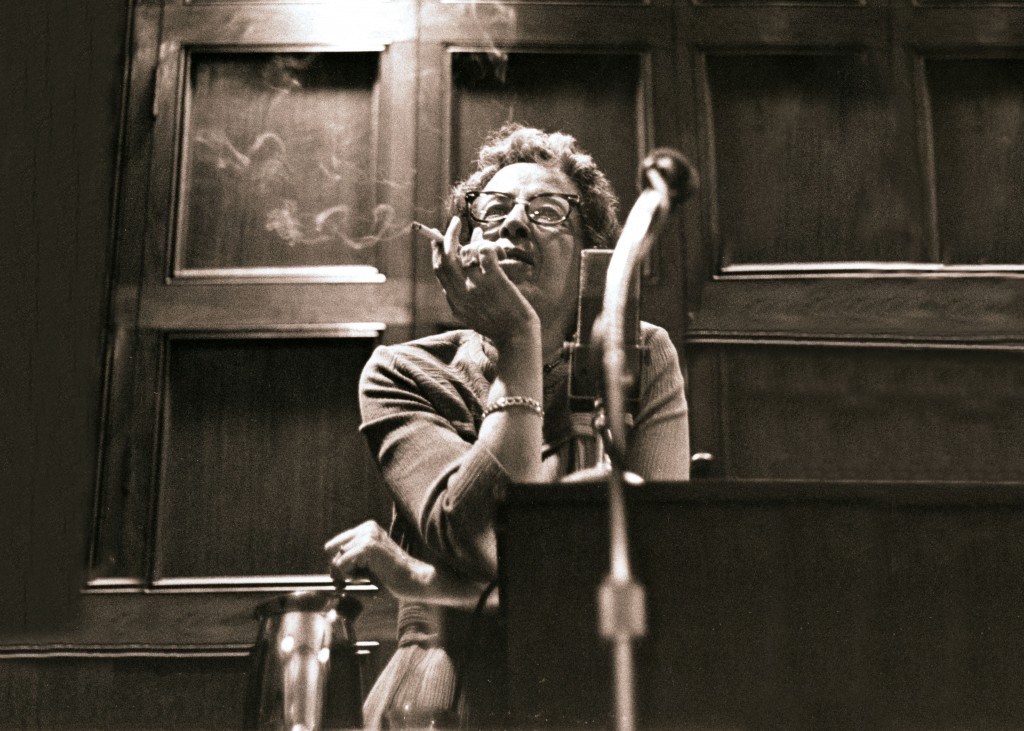 Photos: Hannah Arendt, subject of Ada Ushpiz's documentary Vita Activa: The Spirit of Hannah Arendt. Courtesy of Zeitgeist Films. Note that I have converted photos from black & white to sepia to make them easier to see online.
Posted on 4/25/16 on JUF Online.