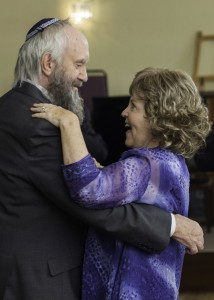 A struggling Jewish baker tries to keep his family business afloat and hires a young African Muslim boy, whose pot-dealing side business starts causing bakery sales to skyrocket.  Against this backdrop, a moving story about releasing prejudices and accepting differences is created through the collaboration of filmmakers and actors. (EML: 4/5)
Review by FF2 Associate Eliana M. Levenson
"Nat" (Jonathan Pryce) is a Jewish baker, struggling to keep his small family-owned bakery in operation amidst the introduction of a larger, commercial kosher bakery to the community. When his apprentice quits unexpectedly to join the better paying commercial operation, Nat is left to run the bakery all on his own as he attempts to find a replacement. "Joanna" (Pauline Collins), a widow and benefactor of the bakery, shows clear interest in helping Nat, both professionally and personally, but Nat is too wrapped up in his own life to notice. Still distraught over the death of his wife two years earlier, Nat is blind to Joanna's need for companionship as well.
Meanwhile, the teenage "Ayyash" (Jerome Holder), flees a nightclub with two of his friends, losing his pants and cellphone in the process. As an African Muslim immigrant, Ayyash and his mother are living in poverty, waiting for his father's arrival. Ayyash wants to do whatever it takes to escape his situation, and has made connections with a pot dealer but needs a cover job before the dealer will let him into the business. When Ayyash's mother tries his cellphone and the police answer instead, it is the last straw. She drags Ayyash to Nat's bakery, where she works as the cleaning lady, and demands that he take the apprentice job. Neither Nat nor Ayyash are thrilled by the idea, both harboring prejudices about the other as a Jew and a Muslim, but Nat has no other options and Ayyash needs a cover job anyway.

The two begin working together, demonstrating a fair number of religious similarities, such as morning prayer, though neither wants to admit it. With his new job, Ayyash doesn't have enough free time to d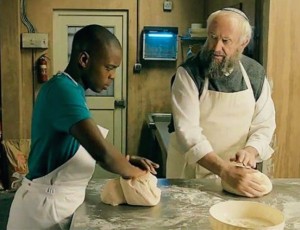 eal, so one of his friends suggests that he should deal out of the bakery. Ayyash does, at first just adding baggies of pot with regular orders, but eventually adding the cannabis directly into the dough.
Suddenly, sales start to soar, and Nat takes Ayyash under his wing, assuming that Ayyash must be a gifted baker to be bringing in so much new business. Despite prejudices in the Jewish community, Nat even allows Ayyash and his mother to move in with him when the two are kicked out of their home.
But, can the bakery continue to thrive under these auspicious circumstances, or will it all come burning down?
Dough is at its core a story of colliding worlds, demonstrating the differences and similarities between old and young, Jews and Muslims, natives and immigrants. Director John Goldschmidt interweaves the two narratives masterfully, crosscutting between their similar religious rituals, their shared poverty, their mutual desire for connection and belonging. Co-writers, Jez Freeman and Jonathan Benson create well rounded, realistic characters, giving fresh life to this somewhat trivial and silly overarching plot.
Though the backdrop of pot-dealing from a bakery doesn't seem like the setup for a heartfelt drama, the filmmakers achieve depth of emotion and a powerful message about letting go of our prejudices. In a climate in which Judaism and Islam are perceived as uncompromising and diametrically opposed, Dough is able to demonstrate, through strong character work and smart storytelling, how similar the two faiths are, without making it feel like it's lecturing you. Both men use their religion to help them through hard times and both faiths are shown to be positive influences on their lives, allowing them to be better people.
© Eliana M. Levenson FF2 Media (4/29/16)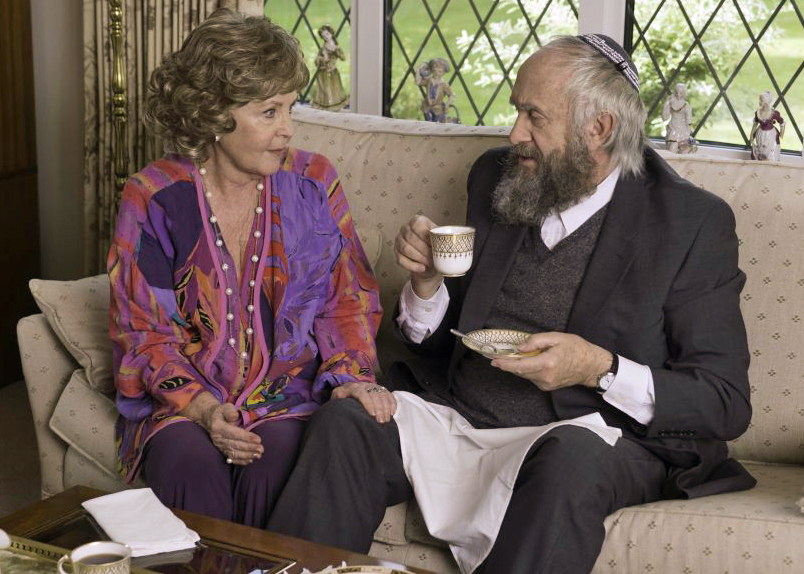 Top Photo: Nat finally lets go and is able to enjoy a dance with Joanna.
Middle Photo: Nat teaches Ayyash how to roll challah dough.
Bottom Photo: Joanna shows her interest in Nat on one of his many tea visits, though Nat seems oblivious to her intentions.
Photo Credits: Menemsha Films