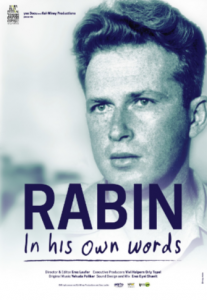 Told using personal letters, interview footage, and home videos, Rabin, In His Own Words explores the life of Yithak Rabin in a semi-autobiographical fashion. Director Erez Laufer, creates a feeling for the audience that Rabin himself is recounting his life, allowing a rare glimpse into the man behind the legendary figure.  (EML: 3.5/5)
Review by FF2 Associate Eliana M. Levenson
Leaving the theater, I overhear a woman tell her friend in a nostalgic, wistful way, "they don't make people like that anymore." She is, of course, referring to the Israeli titan, Yitzhak Rabin, who was assassinated at a peace rally by a discontented Jewish Israeli in 1995 while serving his second term as Israeli Prime Minister. The woman's sentiment seems to be shared by director Erez Laufer of Rabin, In His Own Words.
Set chronologically, Rabin, In His Own Words opens with Rabin's modest, working class beginnings. He discusses his strict upbringing, his activist mother and father often being absentee type parents. Raised amongst laborers, Rabin had no political or military aspirations. Rather, Rabin planned on becoming a farmer and was offered the opportunity to study water engineering in the United States upon completion of high school. However, with the outbreak of World War II, Rabin decided to stay in Israel and began his military career.
Rabin rose through the military swiftly and by the 1960s was the Chief of Staff for the IDF. His role in the Israeli military weighed heavily on him as he sought to reconcile his desire for a peaceful existence with Israel's neighbors and his charge to serve and protect Israeli citizens. It is this conflict that permeates into his later political life and informs his future decision making.
Following his position in the IDF, he served as the Israeli ambassador to the US. In an interesting exchange between then US President Nixon and Rabin, Nixon seeks advice from Rabin regarding the Vietnam War. Rabin's response is simple: what does victory look like? Nixon's answer, however, is less concrete. For Nixon, victory is ridding the Vietcong of its will to fight, squashing the very hunger that causes them to take up arms and rebel. Rabin is quick in his response: it cannot be done. His answer is poignant, speaking not simply to the war that Nixon is currently engaged in, but relating back to the issues Rabin will face as Prime Minister.
In this exchange, Rabin reveals his reasoning behind peace negotiations, his willingness to recognize the PLO, his desire to try and find a compromise. For Rabin, the path to peace is not brute force because force cannot stamp out a people's desire for nationhood, for recognition. Rather, Rabin's journey for peace is paved through understanding, recognizing the humanity of the "enemy" and acknowledging their struggle as valid. From this exchange with Nixon, though completely unrelated to the Middle Eastern conflict, Rabin explains his philosophy for peace, the philosophy that informed his Prime Ministership and the philosophy that led to his assassination.
Though Laufer does a brilliant job of allowing Rabin's voice to be the main script, this leads to moments of confusion for those less familiar with Israeli history and politics. Since major events are often just announced by a title card and not given context, it leaves the under educated audience member with a desire to press pause and reach for their phone so that they can learn about the event before learning how it affected Rabin's journey.
Still, Laufer does achieve the creation of a portrait of Rabin as a true hero who, despite those that opposed him, truly believed that his way was the only possible path for peace. Towards the end of the film, Laufer focuses on Rabin's response to the Israeli populus that called him a traitor, that sought his death as retribution for his decision to negotiate with the PLO, which they felt directly resulted in increased terrorist attacks in Israel in 1994 and 1995. Even in the face of these threats, Rabin remains absolute in his resolve that recognizing the PLO and the Oslo Accords were the necessary steps towards genuinely seeking Middle Eastern peace.
Rather than letting the gunshot be the end of the film, Laufer chooses to show Rabin at the rally, shaking hands with the public, unafraid of what may happen. Rabin's death is relayed to the audience simply as words across the screen. Born March 1, 1922. Murdered November 5, 1995. The choice of murdered, not assassinated, feels like a rare moment of clear director bias, aimed at ensuring the audience leaves with a specific message and perhaps even a new charge: Rabin's death was for nothing if we don't continue to strive for peace.
© Eliana M. Levenson FF2 Media (5/31/16)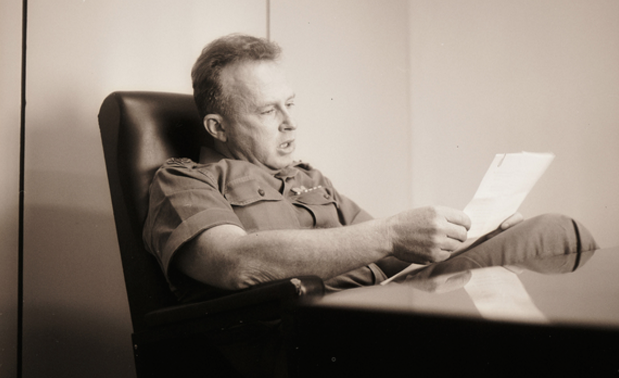 Top Photo: Movie Poster for Rabin, In His Own Words
Bottom Photo: Rabin in his role as politician, reading a document
Photo Credits: Menemsha Films