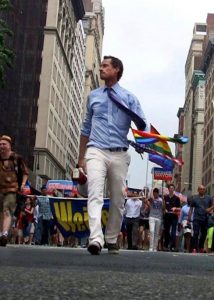 That Anthony Weiner should have been brought low by something as petty as a sexting scandal is a national tragedy. And yet, this documentary arrives in theatres at the perfect time, just as we are at the midst of a Presidential contest that is already consumed by "reality show" antics. Let the buyer beware! (JLH: 4.5/5)
Review by FF2 Managing Editor Jan Lisa Huttner. Posted in JUF Online on 5/27/16 (All Updates Mine)
Anthony Weiner is back! Three years after his campaign for Mayor of New York City degenerated into a ludicrous tabloid scandal, Weiner is suddenly everywhere again. But this time he has no independent ability to shape the story. He is an object of scrutiny rather than an agent of change, and his public demise—brilliantly captured in the award-winning new documentary Weiner—is a tawdry tale of our times.
A Brief Refresher: Anthony Weiner is the Brooklyn-born son of a Jewish lawyer named Mort Weiner and a high-school math teacher named Frances Finkelstein Weiner. The second of three brothers, Anthony majored in Political Science in college, and after graduation, he started working for his mentor Chuck Schumer (who was the Congressman from Brooklyn at the time).
After three years in Schumer's Washington, DC office, Weiner moved back to Brooklyn so he could build his own base in local politics. He worked for Schumer for another three years, and then ran for New York City Council. By age twenty-seven, Weiner had climbed the first rung, entering the record books as the youngest councilman in New York City history. In 1998, when Schumer moved up to the Senate, Weiner replaced him in the House of Representatives where he quickly established himself as one of the tigers of the Democratic Party's Progressive wing.
In 2010, Weiner married Huma Abedin who had started her own political life in college as a White House intern assigned to then-First Lady Hillary Clinton. Abedin and Clinton clicked, and Abedin followed Clinton back to New York when Clinton ran for the Senate in 2000. Abedin then worked for Clinton when she was a Senator, served as Chief of Staff when she ran for President in 2008, and became a key part of her team when Clinton was Secretary of State. Bill Clinton personally officiated at the Abedin/Weiner wedding. They were a golden couple with unlimited potential.
And then…
Weiner (the documentary) begins with a rueful Anthony Weiner reflecting on his failed bid for City Hall. He appears to be alone in a small room, speaking personally to co-director Josh Kriegman. Perhaps there are other crew members in the room, but even so this interview is extraordinarily intimate. Kriegman worked for Weiner before making the leap into filmmaking, and their prior relationship no doubt helps to explain his "upfront and personal" access. (According to LinkedIn, Kriegman served as Weiner's Senior Aide from 2004 to 2005, and was Chief of Staff in his District Office from 2005 to 2006.)
But Weiner has achieved its acclaim as a film because of the way Kriegman and his co-director Elyse Steinberg use their footage, leaping back and forth in time, seamlessly melding historical clips with footage from the campaign trail, while repeatedly returning to that culminating interview. Every time Anthony Weiner appears in close-up, wearing a blue shirt, grey sweater vest, and navy jacket, Kriegman and Steinberg have looped the audience back, yet again, to that claustrophobic room in which sits a man whose hopes and dreams have been dashed.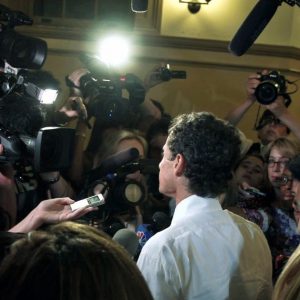 The essence of the personal tragedy lies in the contrast between the forlorn private citizen of 2015 versus the fiery orator fighting for 9-11 First Responders in 2010, and the ebullient politician—whipping crowds into frenzy during the Israel Day Parade in May, the Gay Pride Parade in June, and the West Indian Day Parade in August—during his run for Mayor in 2013.
Weiner's promise was great. His sin was small. And yet, the details were so titillating that even longtime, highly-placed media friends like Bill Maher, Lawrence O'Donnell, and Jon Stewart could not resist the feeding frenzy.
I am sure they convinced themselves that attacking Weiner was proof of their political impartiality, but watching them ridicule Weiner on television is a particularly painful reminder of how real people look when transformed into tasty snacks fed to a voracious media monster.
In one scene, someone points out that Weiner was never even in the same room as his willing "victims." So it is ludicrous to compare him to actual perpetrators like Bill Cosby, Dennis Hastert, and Roman Polansky, not to mention Woody Allen (who, regardless of his relationship with his daughter Dylan was known to have had sex with underage girls). And I say this as someone who thinks Bill Clinton should have resigned in 1998 because Monica Lewinsky was an employee at the time of their affair (even though I never believed the impeachment trial itself was anything more than a witch hunt).
That Anthony Weiner should have been brought low by something as petty as a sexting scandal is a national tragedy. When Kriegman and Steinberg decided to make this film, they had no idea how the race for mayor of New York would unfold. And yet, it arrives in theatres at the perfect time, just as we are at the midst of a Presidential contest that is already consumed by the "reality show" antics of Donald Trump.
Let the buyer beware!
Weiner opens in Metro Chicago on May 27, 2016 at the Music Box Theatre on Southport and the Landmark Renaissance Place Cinema in Highland Park.
For times and tickets at the Music Box, visit http://www.musicboxtheatre.com/
For times and tickets at the Landmark, visit: https://www.landmarktheatres.com/chicago/renaissance-place-cinema
For additional links and photos, read the Weiner post on my Penny Blog.
© Jan Lisa Huttner (5/26/15) FF2 Media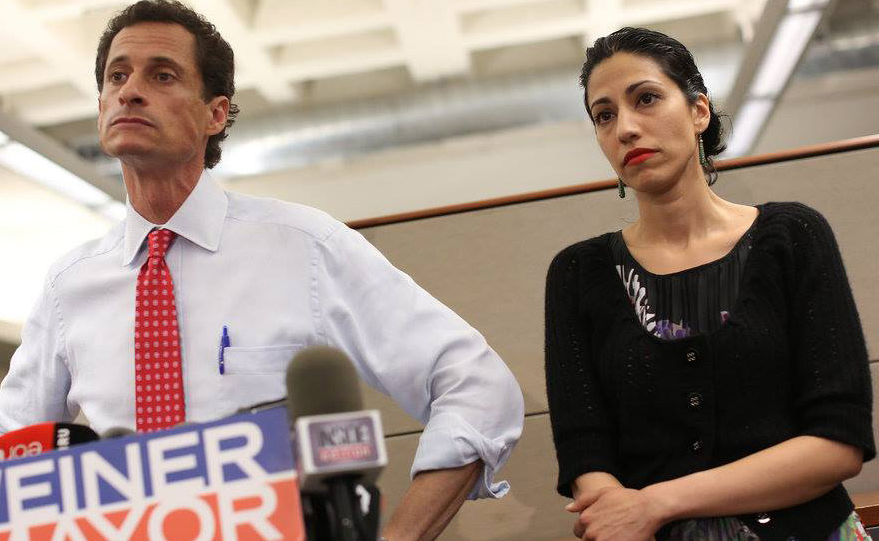 Top Photo: Anthony Weiner marches in the Gay Pride Parade (June 2013).
Middle Photo: Anthony Weiner surrounded by press piranhas (July 2013).
Bottom Photo: Weiner and his wife Huma Abedin at a press conference (July 2013).
Photo Credits: edgelinefilms.com