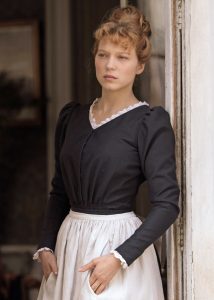 Director Benoît Jacquot's new adaptation of Octave Mirbeau's novel (co-written Hélène Zimmer) is likely the most faithful to date, but that doesn't make it much fun to watch. Although Mirbeau's fin de siècle concerns are highly applicable to today's economic inequality and the global disarray in the wake of the Great Recession, Jacquot and Zimmer fail to achieve their aims. Their Célestine (Léa Seydoux) is too light, their Joseph (Vincent Lindon) is too dark, and none of the details are sufficiently coherent. (JLH: 3/5)
Review by FF2 Managing Editor Jan Lisa Huttner
I'm not sure exactly what I was expecting when I went to see Diary of a Chambermaid for the first time, but I am quite sure I was not expecting such a dark, brutal, and overtly anti-Semitic film.
From the posters and trailers, Diary of a Chambermaid appears to be a gorgeously produced film from France, and that is exactly what it is… on the outside. What a shock then that actually watching it–at least if you go in as unprepared as I was the first time–is a bit like biting into a sinfully rich chocolate truffle only to find yourself chewing worms.
Diary of a Chambermaid–released in France in 2015, but just opening now in the USA–is the fourth cinematic adaptation of Octave Mirbeau's novel Le Journal d'une femme de chambre (originally published in French in 1900).
The narrator is a woman named "Célestine" (Léa Seydoux) who is already in mid-career when we first meet her. In this new 2015 version, director Benoît Jacquot and his co-writer Hélène Zimmer begin at an upscale employment agency in Paris. Célestine, dressed to the nines, climbs a tall, narrow staircase, and after blowing air kisses to the other women in the waiting room (all of whom seem to know her), she enters the private office of the woman who holds power over her next placement. This woman never gets a name. In the credits, she is "La Placeuse" (Dominique Reymond), but with deference and respect, Célestine humbly calls her "Madame."
Madame is in a bit of a pickle. She knows Célestine has already left numerous placements under questionable circumstances, but she also knows Célestine is pretty, saucy, and knows how to handle men, all of which make her a valuable commodity. Perhaps with a cooling off period in the countryside, Célestine will sort herself out?  Célestine pleads with Madame, promising obedience with her eyes, and somewhat despite her better judgment, Madame agrees to send her to her next post.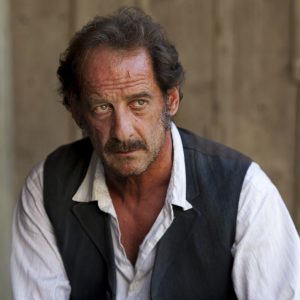 After a journey by train that is of indeterminate duration, Célestine is met at the station by a workman named "Joseph" (Vincent Lindon). He places her trunk in a rough, horse-drawn cart then proceeds to bounce her along country roads until they finally arrive at the chateau of  Madame and Monsieur Lanlaire.
Madame Lanlaire (Clotilde Mollet) is a petty tyrant with prized possessions all of which must be dusted and arranged just so. Monsieur Lanlaire (Hervé Pierre) is a lecherous boor who clearly has no money of his own. But with nowhere else to be and no other way to make a living, Célestine is determined to make a go of it.
One of my chief complaints about Diary of a Chambermaid is the filmmakers' complete lack of concern about space and time. Where is this place and how long is Célestine there? I have now watched Diary of a Chambermaid twice, and I still have no idea. Scenes are choppy and episodic, with poor continuity. Suddenly Célestine has a flashback set in some other time and place, but even though the backstory details are illuminating in themselves, they pull Célestine away from the conversations in which she is currently engaged, and she never gets back to them.
The filmmakers are equally lacksidasical about money. Célestine dresses for church in improbably luxurious outfits–full ensembles complete with large hats–that she could never have fit into the trunk Joseph brought from the train station. And how on earth did she pay for them on the salary of a domestic? And yet, household staff at Chez Lanlaire seems to consist of three. Just Célestine, Joseph, and a plump cook named "Marianne" (Mélodie Valemberg), no one else to clean the rooms or tend the gardens. Not likely!
Frustrated by my first encounter, I went back to the earlier films to learn more about Mirbeau's intentions. The first adaptation was released in Russian in 1916. No luck getting a hold of that. But the second version released by Jean Renoir in English in 1946 and the third version released by Louis Bunuel in French in 1964 were both mine for viewing at the click of a mouse. However, although most of the names are the same, these three films–1946, 1964, and 2015–are all completely different in tone and there are remarkably few convergent plot points. Furthermore, both Renoir and Bunuel managed to construct surprisingly happy endings in which Célestine triumphs.
At that point, I went back to see the Jacquot/Zimmer version on a big screen once again, and although I saw nothing new in Célestine, I was mesmerized by Vincent Lindon's slow burn as Joseph. Consumed by hate for everyone on the "higher rungs" of the social ladder, Joseph embodies the rage of so many voters all across the world in the wake of the Great Recession. If he were alive today and living in the USA, I am sure Joseph would be voting for Donald Trump.
If Jacquot and Zimmer had had the courage of their convictions, they would have devoted more screen time to Joseph. From my POV, the attempt to camouflage their intentions by wrapping their anti-heroine in improbably beautiful costumes and other eye-candy accoutrement is cheating. Whatever the flaws of their films–both of which are now quite dated and not really worth the effort–at least Renoir and Bunuel were honest about their own commercial goals. But regardless of how much more "faithful" their own screenplay may be, by failing its audience, Jacquot and Zimmer have failed Octave Mirbeau too.
© Jan Lisa Huttner (6/13/16) FF2 Media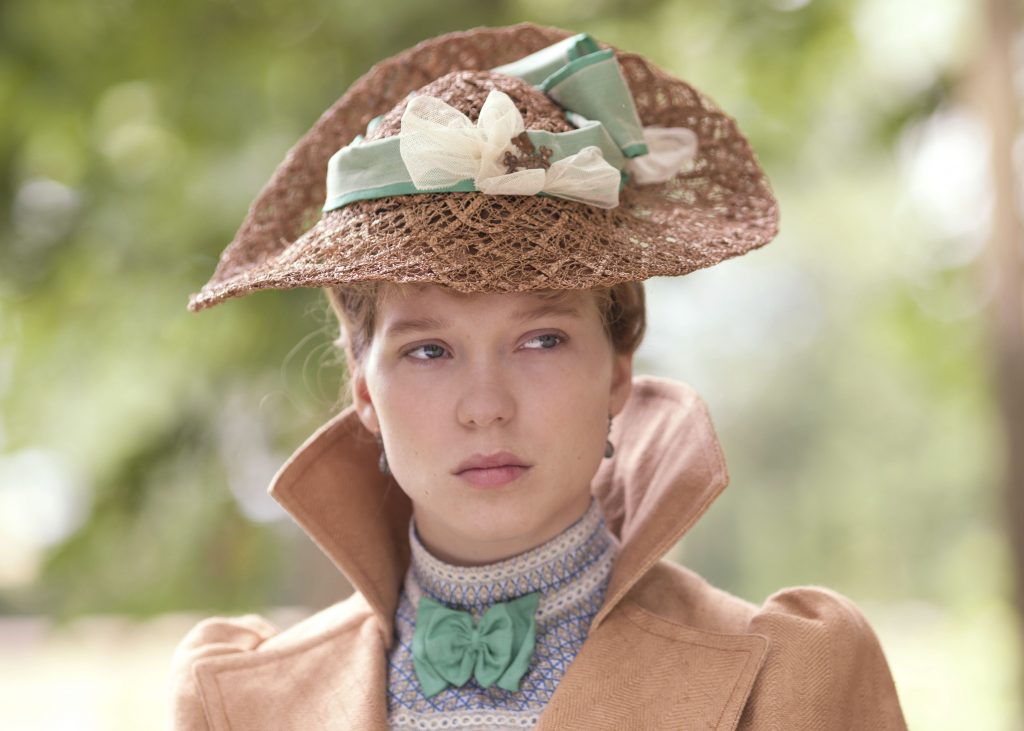 Top & Bottom Photos: Léa Seydoux as "Célestine."
Middle Photo: Vincent Lindon as "Joseph."
Photo Credits: Carole Bethuel/Photos courtesy of Cohen Media Group.
Q #1: Does pass the Bechdel-Wallace Test?
Absolutely!
Beginning with the very first scene, Jacquot and Zimmer make it clear that Célestine's relationships with women are at least as import as her relationships with men. In fact, it may be exhaustion with being the slave of other women that finally drives her into Joseph's arms.
Q #2: Where does this story take place?
Although Célestine is on her way to Cherbourg at the end, most of the story takes place somewhere in "the countryside." I don't recall any specific place names, however, for what it's worth, the location used for Chez Lanlaire is the Château des Grands-Ambésis in Le Mesnil-Saint-Denis (slightly south west of Versailles).