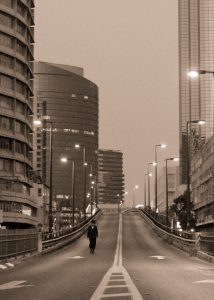 An ascetic Haredi student living with his parents in Jerusalem devotes himself to ritual, until God Himself literally strikes him down in a freak accident.
The Hebrew word "Tikkun" means improvement or rectification. Jewish Americans usually combine it to create "Tikkun Olam" (repair the word) as an injunction for social justice. But in this case, the filmmaker's theme is "transgression," as if we didn't already know that our world needs to be improved, rectified, and repaired.
Maybe I missed something, but I doubt it. The cinematography is beautiful but the story is empty. (JLH: 2.5/5)
Review by FF2 Media Managing Editor Jan Lisa Huttner
When is an "art house film" just too damn "arty" for its own good?
Even though it has won a slew of film festival awards in a surprising number of places (not just Jerusalem, but also Romania, Singapore, Spain, Stockholm and Switzerland), for me, Avishai Sivan's new film Tikkun goes too far.
It is a great deal more interesting to discuss Tikkun than to actually watch it. And  I suspect some people–especially men–will convince themselves that they liked it in order to congratulating themselves for actually sitting through it from beginning to end.
Sivan's narrative hangs on a slim thread: "Haim-Aaron" (Aharon Traitel) is a Haredi student on the cusp of maturity. Devoted to ritual, he spends almost every waking hour at the Yeshiva. He barely eats, rarely drinks, and sleeps so little that he is totally alone at odd hours when the rest of the world is elsewhere. Is this devotion or an attempt to flee from maturity and the inevitable responsibilities of adulthood?
One day, hurrying back to the Jerusalem apartment in which he still lives with his parents and younger siblings, Haim-Aaron passes a young woman on a narrow street in Mea Sharim (one of Israel's oldest and most insular neighborhoods). The sight of her triggers lustful thoughts that most young men his age would consider normal, but for Haim-Aaron this physical imperative is just one more need he is determined to suppress.
Haim-Aaron's father is a shochet. In fact, the first scene in Tikkun is a close-up of the slaughtering of a cow in the prescribed way in extreme close-up and complete detail. This man who spends his days in a torrent of blood and guts  gets no name of his own. In the credits, he is simply identified as "Haim-Aaron's Father" (Khalifa Natour). Oddly, the only person in the cast who gets a name is Haim-Aaron's brother "Yanke" (Gur Sheinberg). Otherwise his mother is "Haim-Aaron's Mother" (Riki Blich), and everyone else is identified by his or her role in the plot (e.g., "Yeshiva Colleague," "Young Female Driver," etc).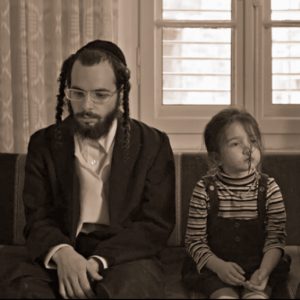 Back in the apartment, Haim-Aaron teaches Yanke how to brush his teeth, and after putting Yanke to bed, he takes a shower. This moment of intimacy and genuine human connection between two brothers is followed by a literal bolt from the blue. Haim-Aaron hits his head on the rim of the tub, where his parents find him, unconscious and close to death.
These scenes in the bathroom–from the point at which Haim-Aaron and Yanke are brushing their teeth to the point at which Haim-Aaron's Father is dragging his son from the tub while Haim-Aaron's Mother desperately calls for emergency assistance–are the last linear moments in Tikkun. The next hour is a blur of silent images and weird metaphors.
Despite the obvious Jewish references, I could find no actual Jewish feeling in Tikkun. This man–Haim-Aaron–who speaks mostly in Hebrew (but sometimes in Yiddish at home), could be any Fundamentalist from any ethnic group who uses religious purity as an excuse to separate himself from activities of daily living (most especially those that require a female partner).
In the end, the "Young Female Driver" is slaughtered much the same as the cows (who are presumably females too), and then the camera follows Haim-Aaron's fingers as he slowly probes the once secret orifices of her body.
It felt like a test. A filmmaker lusting for fame had chosen "transgression" as his theme, then dared the audience to walk out midway, already disgusted but still thinking they had "missed something."
I am a good student. I stayed in my seat and watched it all. But I did not applaud.
© Jan Lisa Huttner (6/14/16) FF2 Media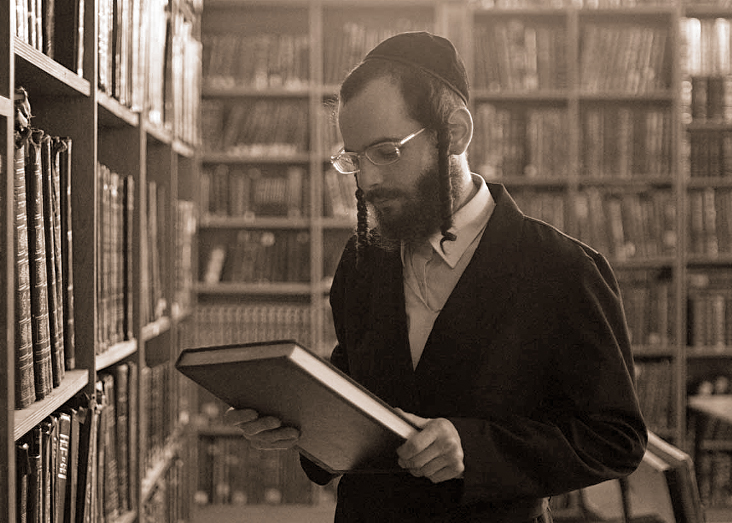 Top Photo: After he recovers from his accident, "Haim-Aaron" (Aharon Traitel) wanders the streets from dusk until dawn.
Middle Photo: Haim-Aaron at home with one of his unnamed sisters.
Bottom Photo: Haim-Aaron alone in the Study House.
Photo Credits: Kino Lorber (USA)/United King Films (Israel)
JLH Note: I have converted these jpgs from black & white to sepia to make them easier to see online. The entire film is in black & white, which is presumably a key part of its metaphorical intent from the director's POV.
Q: Does Tikkun (2015) pass the Bechdel-Wallace Test?
Absolutely not. The cows have more verbal ability than any of the women in this film 🙁