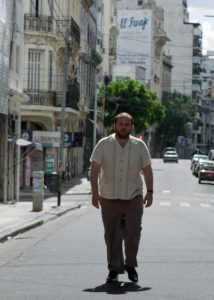 When his father expressly requests a visit, a Jewish man from Buenos Aires returns home after decades abroad.
Daniel Burman's new film The Tenth Man opens in NYC and LA this Friday (August 12th). This wonderful news will likely be received differently depending on whether or not you have seen any of Burman's prior films.
Since I myself have seen almost all of Burman's prior films, I will address both audiences in this review. (JLH: 4.5/5)
Review by FF2 Editor-in-Chief Jan Lisa Huttner
Dear Newbees: If you live in NYC or LA, then you have the opportunity to see one of the best films of the year this weekend!
Daniel Burman has often been compared to Woody Allen, but for me he is the antithesis of Allen. True, they are both Jewish men and they both make personal films, but Burman's films are filled with affection, whereas Allen's films are so sour that I cringe every time a new PR barrage begins (which is, alas, an annual occurrence).
The first Burman film I saw was Lost Embrace. My [mostly male] film critic colleagues compared it to a Woody Allen film, but I argued it was much closer in spirit to Zach Braff's very popular film Garden State. Sorry to say, Braff has not done much in the interim, whereas Burman has created a highly-esteemed body of work. But, if you're a newbee, the first thing I will tell you is that if you have fond memories of Garden State and would like to see another Zach Braff(ish) type film, then go see The Tenth Man.
(Note too that Burman was born in 1973 and Braff was born in 1975. Woody Allen, on the other hand, was born in 1935… Just sayin'.)
Garden State, a semi-autobiographical film released in 2004, was about a young man in his 20s named "Andrew Largeman." Lost Embrace, also released in 2004, was also about a young man in his 20s. In Lost Embrace, the name of the character is "Ariel Makaroff." I honestly have no idea how autobiographical Lost Embrace is, but I suspect quite a bit.
In Lost Embrace, Ariel was desperate to escape the crushingly tight familial boundaries of Once (pronounced own-say), the "Lower East Side" of Buenos Aires. In The Tenth Man, another man named "Ariel" is called back to Once after decades abroad.
This new Ariel is no longer young and handsome. This new Ariel (who is not given a last name) has become a successful professional in the USA, so he is not at all happy about being called home. But he is still his father's son, and when his father expressly requests that he visit, Ariel–played to perfection by schlubby Alan Sabbagh–complies.
Philip Roth can never return to the Newark of his youth because that Newark is as lost to time as most of the shtetls of Eastern Europe. But when Daniel Burman–now an internationally-respected, award-winning filmmaker–brings Ariel back to Once, it seems much the same. The main difference is that it is a much more religious place than it used to be. The old people cling to their traditions, drawing strength from their community and its ritual observances, while the younger people who are still there (including those who have come home "only" to visit) cater to them.
But you don't have to be religious to love The Tenth Man. You don't have to recognize any of the liturgy, know the words to any Hebrew songs, or care about "the right way" to wrap tefillin. In fact, you don't even have to be Jewish!
A worldwide religious revival is underway. To opine on the whys or wherefores of this would be way above my pay grade, so suffice it to say, this is just how the Jews of Once make it through life by day-by-day, week-by-week, and year-by-year. So let Ariel be your guide, and by the end, I promise you will understand what that might mean for you in your own life as well.
Click here to read my review of Garden State & click here to read my review of Lost Embrace. Both reviews were written during my tenure as film critic for the World Jewish Digest (superbly edited at that time by the eagle-eyed Simona Fuma Weinglass).
Dear Daniel Burman Fans: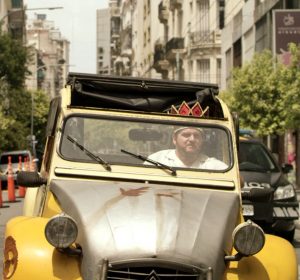 If you love Daniel Burman's films half as much as I do and you live near NYC or LA, then you will definitely want to see The Tenth Man on a big screen this weekend!

The title The Tenth Man refers to the fact that Jewish Law requires ten men to make up a minyan. Therefore, if you want "the show to go on," you need to round up a minimum of ten guys.
In my own life, I have come to value the minyan concept way more than I ever expected to when I was younger. I now understand that it is an essential part of the glue that has kept Jewish communities together through-out the millennia. And of course it helps that in my world, women have become part of the minyan (something that doesn't seem to be true in Once… at least on screen).
The Spanish title El Rey del Once (The King of Once) is equally evocative, since the entire film is set right before Purim.
© Jan Lisa Huttner (8/2/16) FF2 Media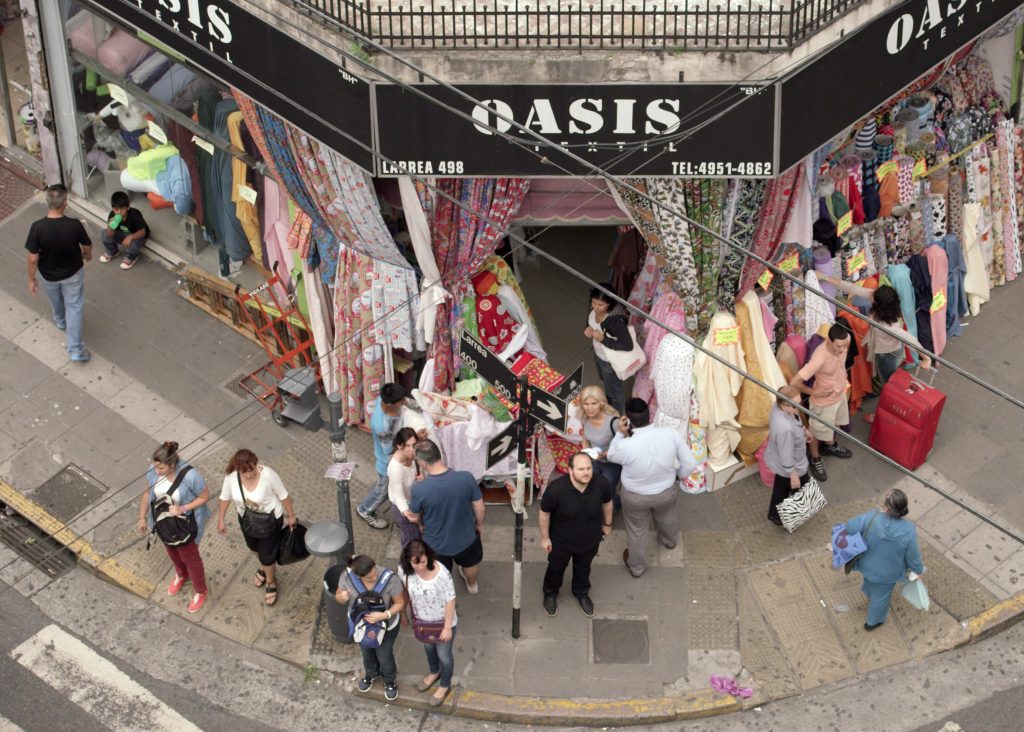 Top Photo: Back in Once (pronounced own-say) after decades abroad, "Ariel" (Alan Sabbagh) finds himself a fish out of water in a place that used to be his home.
Middle Photo: Ariel, dressed up for Purim, searches the streets of Once for his elusive father.
Bottom Photo: It doesn't take long before Once begins to close in around Ariel (in the middle in black), triggering the same old claustrophobia.
Photo Credits: Courtesy of Kino Lorber Inc.
Q: Does The Tenth Man pass the Bechdel-Wallace Test?
No.
This is a film focused on father/son stuff. Although there is an aunt who is presumably his father's sister, Ariel's mother is mysteriously absent. We don't know where she went and we don't know if she is even still alive.
And Eva, the woman with whom Ariel begins a tentative new relationship, is a solitary type who seems to have no friends (male or female). Even when she goes into the mikvah, she is alone. There is no attendant on hand to validate her ritual observance.