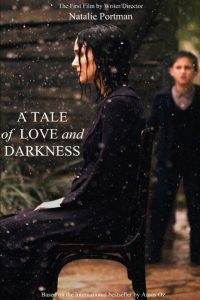 Natalie Portman's directorial debut, A Tale of Love and Darkness explores the psychological toll on those who find life to fall short of their expectations. Utilizing language, location and raw emotional acting performances, Portman creates an atmosphere as much as she tells a story, leaving the audience with a sense of longing and a thirst for questioning by the film's end. (EML: 4.5/5)
Review by FF2 Associate Eliana M. Levenson
Set against the backdrop of the formation of the state of Israel,  A Tale of Love and Darkness explores the relationship between hopes and actualities. Told from a reflective perspective, Natalie Portman's directorial debut follows the young "Amos Oz" (Amir Tessler) as he watches his mother, "Fania" (Natalie Portman) struggle with crippling depression.
Fania, a Holocaust survivor who always dreamed of living in the land of Israel, finds herself disappointed with the reality of her life in the Promised Land. Rather than finding love with the idealized farmer / poet / rebel that she had envisioned, Fania finds herself married to an aspiring writer, "Arieh" (Gilad Kahana). Rather than living a glamorous, happy life, far from the hellish experiences of her upbringing in Eastern Europe during World War II, Fania finds herself surrounded by the horrors of war once again as Israel fights for its independence. Fania's struggle to accept her reality in spite of her expectations, lead her to experience both physical and psychological pain.
Amos watches as Fania becomes more and more despondent, wracked with headaches that leave her silent and stoic, staring out the window. The woman who once told him bedtime stories, now can barely get out of bed. Meanwhile, Amos struggles with his own coming of age and finds himself beginning to notice the cracks in the perfect facade of dreams.
At its core, A Tale of Love and Darkness asks us to question the nature of wishing, of hoping, of dreaming. Each of the characters struggles, in their own w
ay, to reconcile what they had hoped would be true for themselves with what is actually true. While Fania's break is the most severe, Amos' journey demonstrates those early instances of discrepancy between expectation and reality. For instance, while at a family friend's office, Amos sees the copies of his father's first book, which Arieh had recently celebrated selling out of, on the bookshelf. In that moment, Amos is forced to, in a small way, understand that life does not always turn out as expected, and even when things seem to be going well, it may all be a lie.
Though there are some moments where Portman's newness to directing shows, predominantly in the constant and abrupt fades to black, the film is visually stunning and delivers an emotional rawness that enhances the storytelling. This is not just the story of a mother and son, or the story of hardships of creating the nation of Israel. This is a story about the fears that lay within all of us that life will not be what we had hoped it will be and that we will not be able to cope.
One of the stronger, deliberate choices in Portman's filmmaking comes in the choice of language. While the film perhaps would've felt more universal delivered in English, the use of Hebrew creates an additional character to the narrative that parallels the struggles played out by the actors on the screen.
For thousands of years, Hebrew served purely as a religious language, used for reciting prayer and Torah. With the establishment of the state of Israel, suddenly Hebrew needed to develop into a conversational language. As words were created to describe the mundane, Hebrew became both the language to speak to G-d and the language to speak to your neighbor. The language itself became both the heightened and the mundane, the promise and the reality.
A Tale of Love and Darkness is a movie that makes you think and makes you dream. Though Amos seems to assert that fulfilling a dream will only lead to disappointment, there is no denying that dreams themselves are often what keep us going. In a modern world where Israel remains at the forefront of international news, often in a negative light, A Tale of Love and Darkness reminds us that though the dream of the land of Israel may not be perfect, it is still a dream worth believing in and fighting for.
© Eliana M. Levenson FF2 Media (8/31/16)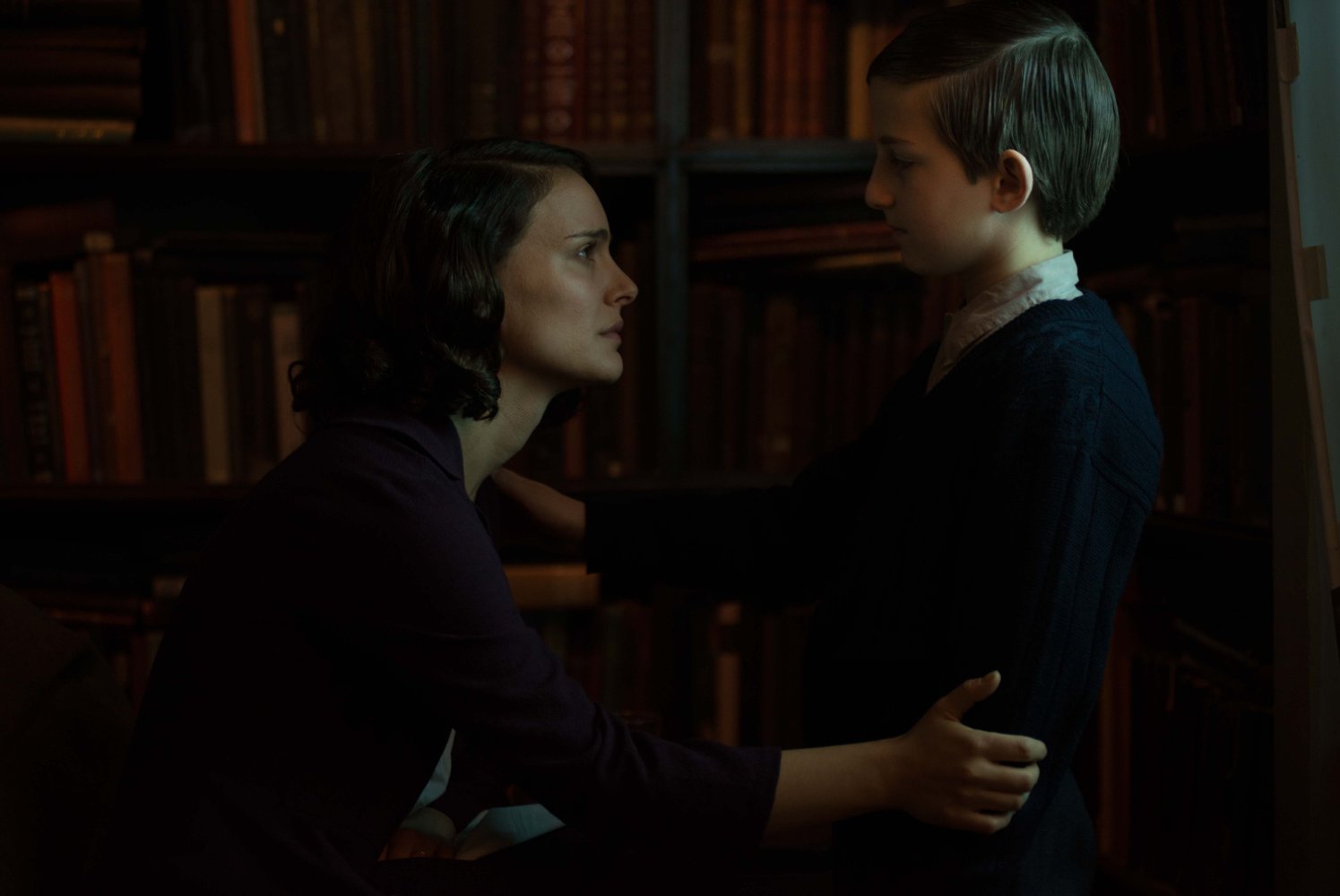 Top Photo: A poster for A Tale of Love and Darkness, Natalie Portman's directorial debut.
Middle Photo: Fania (Portman), Arieh (Gilad Kahana), and Amos (Amir Tessler), wait in the crowd as the UN votes on the establishment of the state of Israel.
Bottom Photo: A tortured Fania tries to reassure her young son Amos (Amir Tessler).
Photo Credits: Ran Mendleson (via Focus World)
Q: Does A Tale of Love and Darkness pass the Bechdel-Wallace Test?
Yes, but…