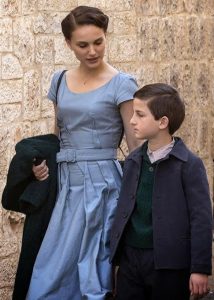 A Tale of Love and Darkness is Natalie Portman's adaptation of the memoir Amos Oz published in 2004.
I consider this film a masterpiece… but you probably won't hear many other film critics say that. This is no doubt the consequence of two major decisions Portman made as a first-time filmmaker. First, she decided to focus her film on Oz's mother Fania (casting herself in the role of a beautiful woman who killed herself when her young son was barely twelve years old). Second, she decided to use Hebrew–the language of the Amos Oz original–rather than film in English.
Again, I applaud both of these decisions… but most audience members may well disagree. One story of displacement–in an era of mass migration–has been documented with precision because this one woman had a son committed to telling it. But as the title makes clear, it is very tough stuff. (JLH: 4.5/5)
Review by FF2 Editor-in-Chief Jan Lisa Huttner
A Tale of Love and Darkness is Natalie Portman's adaptation of the memoir Amos Oz published in 2004. Portman wrote, directed, and stars as Fania Mussman, the mother of a boy originally named Amos Klausner who would grow up to become one of the 20th century's greatest writers.
After a world premiere in May 2015 at the prestigious Cannes Film Festival, A Tale of Love and Darkness opened in Israel, and then played at multiple international film festivals (including Beijing, Nashville, and Toronto). I saw it for the first time in January (2016) at the New York Jewish Film Festival. I saw it a second time at a critics screening here in New York last month.
I consider this film a masterpiece… but you probably won't hear many other film critics say that. I am sure it is opening in theaters in the USA now because the distributors are hoping for Oscar nominations, but I doubt there will be any. Even though it was filmed in Hebrew with a predominately Israeli cast, it was not especially well-received by the Israel Film Academy which announced nominees for the 2016 Ophir Awards (aka "the Israeli Oscar") last week.
As the title makes clear, this is a very downbeat story. The narrator is an old man (Amos Oz himself as played by actor Alexander Peleg) who has spent a lifetime trying to understand the still incomprehensible fact that his beautiful mother killed herself when he was barely twelve years old.
From the many strands of this dense book, Portman has braided together three. The first is the story of two people – a woman from Poland and a man from Lithuania – who both moved to Mandate Palestine just before the start of World War II, only to learn soon after that almost everyone and everything they knew had been obliterated in the Holocaust. The second is the related story of their attempt to build a new life together in the Promised Land, only to discover that their "land of milk and honey" was a rainy, chilly, embattled Jerusalem, quickly engulfed by the flames of Israel's War of Independence. The third focuses on one boy who had these parents and lived at this time, seeking to ferret out the earliest indications of the artist he would one day become.
Since the memoir is well over 500 pages in length, A Tale of Love and Darkness could have been adapted for the screen in many different ways, but this was clearly something of an obsession for Portman. Like Oz himself, she wanted to know why Fania killed herself. I suspect the answer to this question will always be elusive in every case, but I was deeply moved by the depths to which Portman plunged, and I say this as someone who was dismayed by the plot-driven suicides of female Holocaust survivors in three recent films from Europe (Ida, Phoenix, and Sarah's Key).
Fania Mussman was raised in a prominent Polish family, so even though she was Jewish, she expected a genteel life. As the prettiest of three sisters, she assumed she would always be cared for and protected. Arriving in the Yishuv as a teenager, she was filled with romantic idealism. But learning that everyone she had grown up with was now gone trapped her in an emotional vise. On the one hand Fania knew she was lucky to be alive, but on the other hand, she also knew that just being alive did not, in itself, make her as "happy" like she always thought she would be.
Fania tries so hard. The strain of her constant effort to be "normal" is exhausting to watch. But that is all her young son Amos (Amir Tessler) can do, watch helplessly as his fragile mother struggles day-by-day to keep going. No one else will even acknowledge the problem, certainly not his father Arieh (Gilad Kahana) or any of the family members on either side. The only person who appears to have any empathy for this family of three is his father's friend Israel Zarchi (Ohad Knoller). But since Zarchi was a novelist/poet also afflicted with melancholia, his profession was to see what others were determined to avoid.
All of the technical elements of A Tale of Love and Darkness are superb. The cinematography by Slawomir Idziak is elegant, especially in the many sequences in which Fania weaves strange bedtime stories that transport her son to the edge of mysticism. The production design by Arad Sawat, and set design by Noa Roshovsky and Salim Shehade (who have worked on some of my favorite recent Israeli movies including A Place in Heaven, Footnote, and Restoration) combine to perfectly evoke both the mundane and the magical. Casting director Hila Yuval clearly knows everyone who is anyone, and highly-regarded Israeli actors who are used to playing major roles add depth to tiny parts for Portman's sake.
A Tale of Love and Darkness is one story of displacement, documented with precision because this one woman had a son who wanted to tell her story and was finally able to do so after years of inner torment. But now Fania speaks for displaced people everywhere. Stop and think for a moment about how it might feel to lose everything you know, end up on some foreign shore, and then try to keep living "your" life. This is clearly one of the most important issues of our era, and something with which we—as Jews—are intimately familiar. We have been displaced time and again. We know the benefits, now we must also acknowledge the costs.
As Portman says in her "Filmmaker Letter" on the Landmark website: "The immigrant experience of idealizing the place you're going to before you get there, and idealizing the place you've left once you're gone, is something many of us can relate to. And the way the young Amos translates that longing into art through storytelling, gives us something to aspire to."
A Tale of Love and Darkness opens at the Landmark Theatre at Renaissance Place in Highland Park on Friday August 19. I strongly urge you to ignore everything else you may hear about this film, listen only to me, see it on a big screen, and make up your own mind. For schedule information, visit the Landmark website.
Posted 8/18/16 in JUF Online.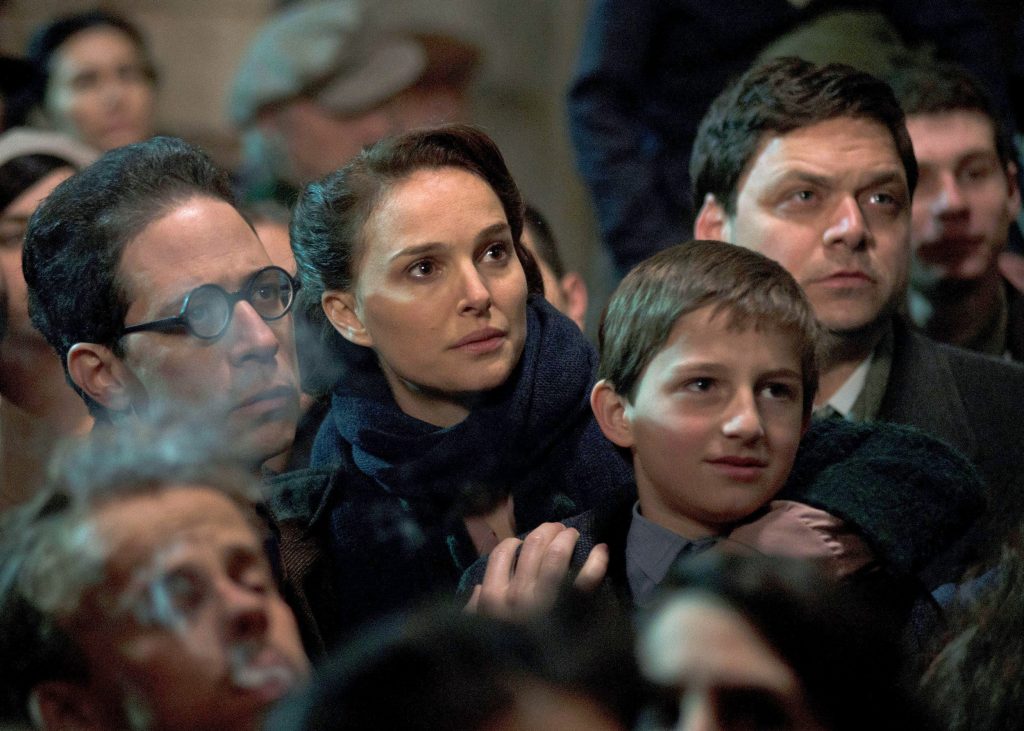 Q: Does A Time of Love and Darkness pass the Bechdel-Wallace Test?
Yes… but barely.
The film is constrained by Amos's POV, and he has minimal understanding of his mother's interactions with other women. However, we do come to understand that her relationships with both her mother and her mother-in-law were fraught, and her two sisters, though they clearly loved her, were unwilling to get overly involved in "her problems" (however severe they ultimately revealed themselves to be).
Most of the time, Fania is either stoic or silent. The only time she weeps openly is when a friend is shot by a sniper while hanging her laundry. These two scenes–of one woman cut down in a moment of such pure innocence and another woman bereft when she learns of the loss–are two of the most shocking and heart-rending scenes in the film. And yet, even then, life went on…
People in such dire situations–of war and displacement–have little patience with mental illness. If they tell themselves Fania is merely "spoiled," then they don't have to accept any personal responsibility for her fate. And really? Who can blame them?