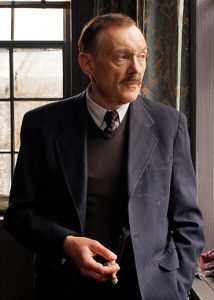 Artistry takes priority over substance in Maria Schrader's biographical film, Stefan Zweig: Farewell to Europe, which follows the life of Austrian-Jewish author Stefan Zweig during his exile from Europe during World War II. (EML: 3/5)
Review by FF2 Associate Eliana M. Levenson
The film opens with a long, still shot of a floral arrangement. As the camera pulls back, maids set an elaborate and decadent table, clearly for some sort of celebration. Waiters enter and line the ornate walls as the doors are opened and guests begin to pour in. It is unclear at first who to focus is on.
Snippets of conversations about nothing in particular alternate coming to the forefront. Finally, we meet "Stefan Zweig" (Josef Hader), an odd man in mannerisms but commanding in presence who is the guest of honor at the party. It becomes clear that Zweig is an author of great renown, visiting Brazil for a literary conference. However, his trip has a more sinister undertone as he has been rescued and now lives in exile from his home country. Zweig is from Austria–now "reunited" with Germany by Hitler–and World War II is in full swing.
Following the celebration, Zweig holds a private interview with selected media sources. One journalist in particular pushes Zweig to denounce Hitler and the Third Reich, but Zweig refuses. While Schrader does a good job of keeping the tension palpable in this scene, it is her protagonist who comes across poorly, the one on the wrong side of history. Though Zweig's eloquent rebuttal and refusal is poetic, as a Jewish audience member, this scene makes it difficult to side with, care for, and invest in the protagonist through the rest of the film.
The film continues to follow Zweig's adventures through Brazil with his young wife "Lotte Zweig" (Aenne Schwarz). They travel as tourists–exalted ones–rather than as refugees who are exiled from a home country that would have murdered them alongside their fellow Jews. In fact, despite a brief car ride discussion of getting immigration papers for a friend's child in Europe, the Zweigs seem unaffected by the goings on in Europe and the weight of their exile is not felt.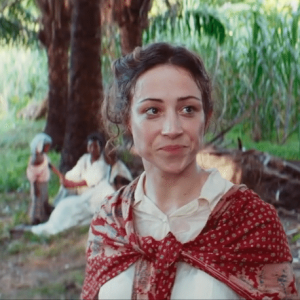 The true meat of the film, comes in the form of Zweig's ex-wife, "Friderike Zweig" (Barbara Sukowa). Although it takes a beat to realize who she is in relation to Zweig, her impact is by far the most emotional and palpable. Friderike serves as the "old world" force in the film, the character who brings the full impact of what is happening in Europe upon Zweig and forces him to recognize his privilege and influence. She is the one who reads the letters sent to Zweig asking for his help, all the people begging him to use his position to save lives. She is the one who forces Zweig to remember where he came from and reminds him that he has an obligation to help. She is the one who brings the war to the film and adds an emotional beat to an otherwise floundering story.
Though Friderike's portion of the film takes place in a New York apartment (where she has landed after being rescued from France by Varian Fry), this is the only part that feels like a World War II film and, even more so, a Jewish film. Her discussions on the role of the Jewish community, even simply through the fact that they have the gorgeous safe house as a result of a Jew they'd only briefly met, is a cutting reminder of what is at stake. Not just the human lives, but the culture and community that those lives are a part of. Without Friderike's character (and Sukowa's striking portrayal), the film would be almost devoid of any emotional resonance.
Overall, Schrader's Stefan Zweig: Farewell to Europe seems more focused on creating visual beauty and imagery than telling a compelling story. Throughout the film, the visuals seem to overpower the narrative and seem to serve as an artistic presentation rather than a substantive character exploration. This lack of narrative focus causes the film to drag and makes it difficult to engage fully with the characters. Only exacerbated through the use of a vignette format, the story is hard to follow and the pieces feel haphazardly placed, often ending abruptly and without conclusion.
Schrader succeeds most in the quiet moments where the visuals alone can convey the story, particularly in the final scene, and there is a quiet confidence to her directing. However,  as far as Stefan Zweig: Farewell to Europe's place in the list of Jewish World War II films, sadly it falls short of truly expressing the seriousness of its own subject matter in favor of artistic visuals.
© Eliana M. Levenson FF2 Media (11/17/16)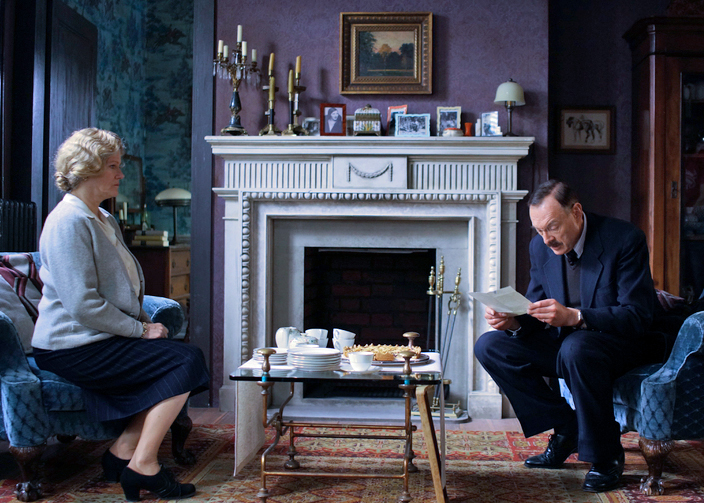 Top Photo: Josef Hader as "Stefan Zweig," a man in exile alone with his thoughts.
Middle Photo: Aenne Schwarz as "Lotte Zweig" making the best of it during a tour a sugarcane field in Brazil.
Bottom Photo: "Friderike Zweig" (Barbara Sukowa) sits across from her ex-husband as he reads one of the many letters from people desperate to leave Europe.
Photo Credits: Maria Schrader
Q: Does Stefan Zweig: Farewell to Europe pass the Bechdel-Wallace Test?
No. The focus is on Zweig. Others in his life, both male and female, have very limited interactions with one another.