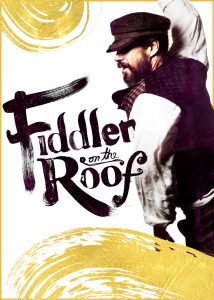 FF2 Media congratulates Editor-in-Chief Jan Lisa Huttner, who just won a 2nd place certificate in the Photographer/Writer category for her January JUF News feature "The Fiddler Returns."
The Fiddler Returns By Jan Lisa Huttner
The final event in the worldwide celebration of the 50th anniversary of the first Broadway performance of Fiddler on the Roof is immanent. By the time this issue of the JUF News arrives in your mail box, a new revival – the 5th  – will have opened on Broadway. So nu, what's new?
As I write – on December 6 – opening night – on December 20 – is a couple of weeks away. So no doubt the creative team is still fine-tuning the details. But I was at the first preview performance (on November 20), so there are a few things I can tell you now.
First of all, Fiddler on the Roof is indestructible! There is no way not to fall in love all over again the moment the fiddler begins to play that haunting opening melody on his solo violin. Composer Jerry Bock – who died in 2010 – brought forth these twenty-four pure notes from the depths of our collective experience as Jews, and no matter how many times you hear the wordless "Fiddler's Theme," tears will spring to your eyes. (I say this as someone who has now seen over two dozen live performances of Fiddler on the Roof – of every size and scale – in the past decade alone.)
But this Anatevka has an altogether very different feel than the one conjured up on Broadway for the 40th anniversary. In 2004, Tevye and his family lived at the edge of an elegant blue and beige birch forest, with actual musicians in the far right corner of the stage playing their instruments in a permanently star-filled twilight. The resulting air of melancholy has been replaced in 2015 with a robust, earthy look that provides a solid frame for the characters as the plot unfolds.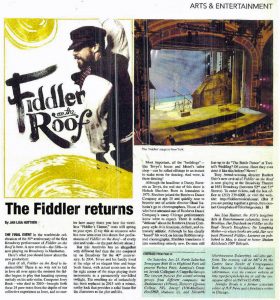 Most important, all the "buildings" – like Tevye's house and Motel's tailor shop – can be rolled offstage in an instant to make room for dancing. And wow, is there dancing!
Although the headliner is Danny Burstein as Tevye, the real star of this show is Hofesh Shechter. Born in Jerusalem in 1975, Shechter joined the Batsheva Dance Company at age 20 and quickly rose to become one of artistic director Ohad Naharin's go to choreographers. Those of us who have attended one of Batsheva Dance Company's many Chicago performances know what to expect. There is nothing "delicate" about the Batsheva Dance Company style. It is ferocious, defiant, and extremely athletic. Although he has clearly "based" his work on Jerome Robbins original choreography, Shechter transforms it into something entirely new. Do men still line up to do "The Bottle Dance" at Tzeitel's Wedding? Of course. Have they ever done it like this before? Never!
Tony Award-winning director Bartlett Sher's new revival of Fiddler on the Roof opens December 20 at the Broadway Theatre at 1681 Broadway (between 52nd and 53rd Streets). To order tickets, call the box office at (212) 239-6200, or visit the website: http://fiddlermusical.com/. (But if you are putting together a group, then contact GroupSales@Telecharge.com.)
My complete review will be posted online as soon as the embargo is lifted on December 19. Meanwhile, you can read my review of the 2004 Broadway revival on my website: http://www.films42.com/columns/columns_fiddler.asp.
Additional reviews of multiple Metro Chicago productions can be found on my Blog: https://secondcitytzivi.azurewebsites.net/?s=fiddler.
My new book Diamond Fiddler: Lectures on Fiddler on the Roof will be published in May, timed to honor Sholem Aleichem's 100th Yahrzeit.