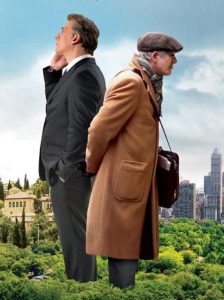 I am not just in love with Joseph Cedar's new film Norman: The Moderate Rise and Tragic Fall of a New York Fixer, I am ensnared and somewhat obsessed.
I have now seen Norman three times, first at a critic's screening in mid-March, then at the Lincoln Plaza Cinema on opening weekend in NYC (the night Joseph Cedar, Richard Gere and Lior Ashkenazi were all onsite for a post-screening Q&A), and then back to the Lincoln Plaza on a weekday to take notes under the "Exit" light before writing my review for Chicago's JUF News.
Why go a third time? First because I wanted to make sure I had all my quotes right. That's the kinda gal I am — a homework-doing, extra conscientious Jewish gal just like "Alex" (the character played in Norman by Charlotte Gainsbourg). But also because Norman is the kind of film that gets better every time you see it. Cedar's screenplay is so dense and the devils in the details are so compelling that all you can really absorb on the first go is the mere tip of the iceberg.
For example, I began my review of Norman with a quote from a story by Sholem Aleichem. In "On Account of a Hat," a rather pathetic wheeler-dealer finally negotiates a successful "transaction," but then it all goes so bad that he ends up as his town's laughing stock. I have no idea if Cedar has ever read this Sholem Aleichem story, let alone if he consciously planted bits of it in his screenplay. but the parallels are simply too close to ignore.
I also talk a great deal about Ferris Wheels in my review (even quoting whole from Act One's intensely moving final scene). But I did not have the space in my review to ask a pertinent question: Is this an allusion to the famous Ferris Wheel scene in The Third Man from 1949? Once again, the parallels are simply too close for me to ignore.
Cinefiles and most readers my age will know exactly which scene I mean. In our mind's eye, we will instantly be high above Vienna listening to "Harry Lime" (Orson Wells) trying to convince his friend "Holly Martins" (Joseph Cotten) that his black market machinations are simply "business as usual" in a corrupt world. Harry is so charming, of course, that Holly — despite all his common sense — wants to be convinced.
Micha: The big wheel in the amusement park? How do you say? Galgal anak?

Norman: The Ferris Wheel? 

Micha: Yes, yes, the Ferris Wheel. Sometimes you're up and sometimes you're down.

I just wanted to say I have that taste, you know? Being on top of everything? Once you've tasted it, you can't settle for anything else. Do you understand what I am saying?

Norman: I do.

Micha: I too do.
SPOILER ALERT: If you have not seen Norman: The Moderate Rise and Tragic Fall of a New York Fixer yet, then please stop reading this post now. I hope you will see Norman and then return to read on, but I do not want to risk spoiling the experience of "tasting" this terrific film for yourself. So please see it first, then come back and analyze it with me later.
With a tip of my hat to Nathan Englander, here are three things we must "Talk About When We Talk About" Norman:
1.) Corruption. We must talk about how insidious corruption is and how it often starts with little things, sometimes things so little that we barely notice them in the moment. In Norman, everyone is searching for the tiny key to a magic door. In the USA, this is called "networking;" in Israel (at least way back when when I lived in Israel) it is called "protexia."
"Micha Eshel"(Lior Ashkenazi) understands this, which is why he knows he cannot buy a high end Manhattan mogul suit — even if he were to use his own money to purchase it. Nevertheless, after Norman persuades him to try the suit on, Micha can not erase the memory of how he looks in it. The image of who he might be as the owner of such a suit burned itself into his brain the moment he looked at himself in the store's full length mirror.
This is the reason why Micha turns his back on his wife "Naomi" (Tali Sharon) when she tells him to stop answering calls from Norman. Micha knows that, having gotten what she wanted from Norman, Naomi will now conveniently erase Norman from her mind, and convince herself that Norman's connections had nothing to do with her son's admission to Harvard Business School. But, of course, HBS has its own aims too. No doubt they will be happy to publicize that one of their new students is the son of the Prime Minister of Israel. (Forget the part about going AWOL from the Texas Air National Guard, and just ask yourself how party-hardy George W. Bush was ever admitted to HBS in the first place?)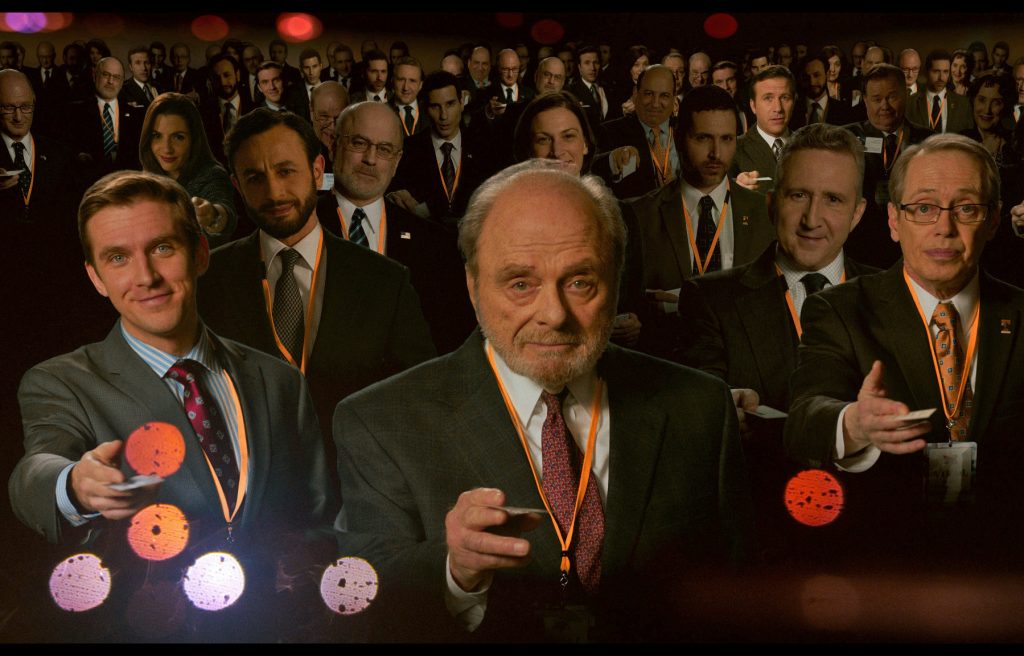 2.) The relationship between Israeli Jews and American Jews. The first Israeli film ever nominated for a Best Foreign Language Film Oscar was Sallah Shabati way back in 1965. The star of Sallah Shabati is Chaim Topol (who became internationally famous playing Tevye in Norman Jewison's film adaptation of Fiddler on the Roof in 1971). As Sallah, Topol plays a Mizrachi patriarch who emigrates to Israel with his large family some time in the '50s (that is, soon after Israel became a nation state).
In one hilarious scene, Sallah gets a job planting trees for the Jewish National Fund near his ma'abraot. (FYI, tree planting is still a JNF imperative.) As car after car filled with rich Americans pulls up, Sallah keeps replanting the same tree. "This is YOUR tree!," the tour guide tells them. Beaming with pride and self-satisfaction, the Americans get back in their car and drive away.
I know of no comparable scene in any Israel film in the fifty plus years since Sallah Shabati was released in the USA (and I have seen dozens of Israeli films in the interim). No one dares address the exchange of money (on the Jewish American side) for blood (on the Jewish Israeli side). Even now, this subject is too tender to the touch.  So I doubt Cedar will get the credit he deserves for opening this door anew, but I see this theme running through Norman and I applaud Cedar for his courage and artistic integrity.
By the way, Joseph Cedar is the only Israeli director ever nominated for two BFLF Oscars  — Beaufort in 2008 and Footnote in 2012. Ironically, there is no chance of a BFLF nomination in 2018 because Norman is a mix of Hebrew and English (Click HERE if you want to know why I use the term "ironically" in this context.)
3.) The differences between men and women Another thing Cedar doesn't get enough credit for is his astute understanding of how men and women relate to one another. With the exception of Campfire (in which the central character is a widow with two daughters), all of Cedar's protagonists have been men. But even in films like Footnote and Norman in which two men butt heads, women play critical roles on the sidelines.
All of the men in Norman (including the Rabbi) are so self-absorbed that they barely hear a word Norman says. The only person who actually listens to him is Alex, and because she engages with him and actually cares about what he is saying, she becomes the source of the tzuris in the grand finale.
The parallel scene in Footnote takes place at a performance of… can you believe it… Fiddler on the Roof! A son leans over and whispers a big secret in his mother's ear. Her eyes widen. Only she, Yehudit, truly understands what her son Uriel is telling her about Eliezer (her husband and his father). Yehudit's next scene, once she is alone with Eliezer, is cinematic perfection.
There is so much to say about all this. How to be succinct? Suffice it to say that men are so fixated on getting to the top of the Ferris Wheel that they experience the going down as a diminution. Women, on the other hand, are used to going around and around and around. A gross generalization with a kernel of truth!
By the way, Campfire is Cedar's least successful film. I may be the only critic who actually raved about it. Coincidence? I doubt it.
CONCLUSION? If you have yet to see Norman, then I hope you will see it soon. If you already saw Norman once, then I hope you will see it again with fresh eyes. It's a much-needed masterpiece!
© Jan Lisa Huttner (4/27/17) FF2 Media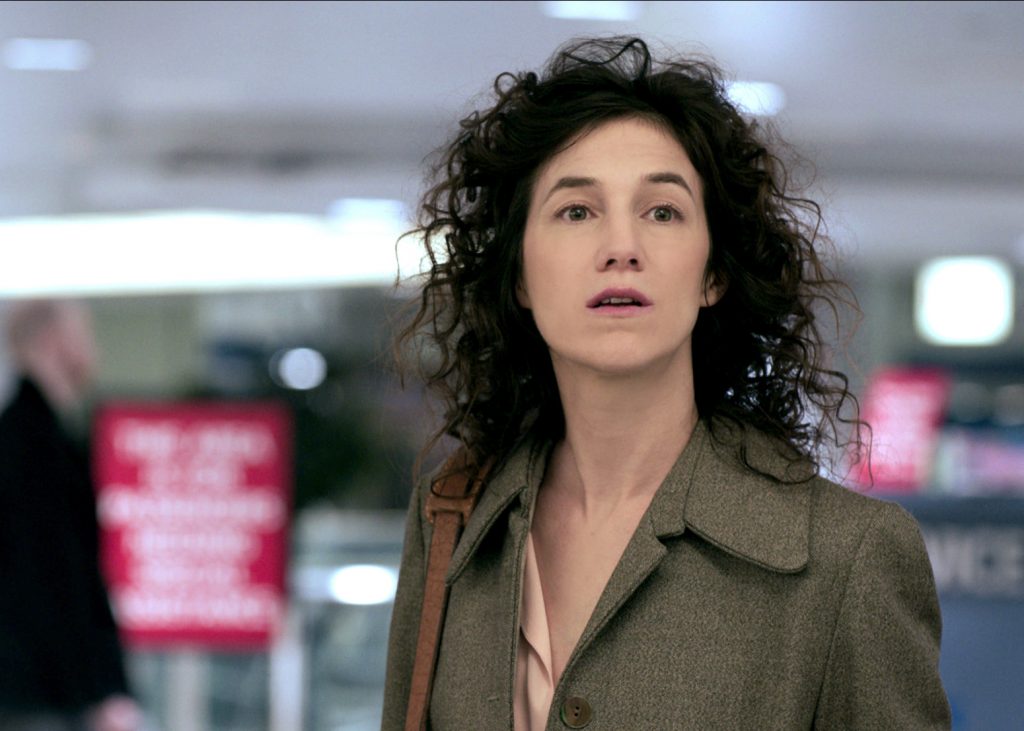 Top Photo from Left: Lior Ashkenazi as Micha Eshel (in Jerusalem) and Richard Gere as "Norman Oppenheimer" (in Manhattan). Image cropped from the Israeli poster.
Middle Photo: First row from left: Dan Stevens as "Bill Kavish," Harris Yulin as "Jo Wilf," and Steve Buscemi as "Rabbi Blumenthal" at the AIPAL Conference. Photo by Yaron Scharf.
Bottom Photo: Charlotte Gainsbourg as "Alex Green." Photo by Yaron Scharf.
Courtesy of Sony Pictures Classics.
Q: Does Norman pass the Bechdel-Wallace Test?
No.
The only woman who plays a central role in Norman is Charlotte Gainsbourg as "Alex Green." Israeli actresses Neta Riskin and Tali Sharon also have well-crafted supporting roles as Micha Eshel's aide "Hanna" and Eshel's wife "Naomi," but these three women never talk to one another.
Norman takes place in a male-dominated universe. That's part of the tragedy of the dramedy.
BONUS Click here to read Pam Powell's interview with Miranda Bailey, an American producer who worked with Joseph Cedar for the first time: "Joseph Cedar's work is filled with symbolism and innuendo that even I – having made the film – am still discovering. One thing I love is that I discover something new re-watching every scene."