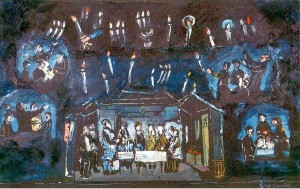 So a couple of weeks ago, I'm here working away at my desk when the phone rings.  It's my Rabbi.  She wants to know if I'd like to do one of the Meditations on Rosh Hashanah morning?
These honors are usually arranged months in advance, so I'm guessing she's in a bind.  Someone "important" must have backed out at the last minute.
I'm almost speechless, but words immediately begin filling my head.  "How long should it be?" I ask.  "About 250 words," she replies. "We usually tell people around 3 minutes & they always go long, but I'm guessing you'll know what '250 words' means."  And indeed I do.
The words pour out in a rush; then I polish & polish, & deliver "draft #6" on Sept 9th.  My heart tells me this little exercise is filled with meaning.  Fiddler on the Roof: From Lyrics to Liturgy! And here's how it starts: "Soon I'll be a stranger in a strange new place…"


Those really are the words that filled my head when I learned that Congregation Kol-Ami, our beloved little "Shul in the Sky," would close forever in March 2009.
Now Kol-Ami wasn't "exactly the garden of Eden," but it held a special place in my heart. When we suddenly lost my mother Helene in November '07, so soon after losing Richard's mother Juanita in December '06, Kol-Ami was there for us, anchoring us as we grieved. And at some point, without ever making a conscious decision, we decided to be there for Kol-Ami; we became regulars at Friday night services, and all too often, we completed the minion.
So how did we keep our balance during this tumultuous time? "That I can tell you in one word: Tradition!" We brought our core Jewish practices to KAM Isaiah Israel: worshipping on Friday nights; observing the annual yahrzeits of our four beloved parents; and sharing holidays and simkhas with the members of our new mishpokhe.
"Searching for an old familiar face," I looked across the Sanctuary last night and saw Eileen, Judy, Kathy, Karl and Lou from Kol-Ami, but also Dearborn Park neighbors Stephen and Susan, Hyde Park friends Linda, Mark and Michael, UCMC colleagues Dan and Ruth, and Peter and Rebecca (first met on assignment for the JUF News).
So many old friends! So many new friends: Alan, Joan, Lenore, Matt, and Rosalie; Rabbi Appel, Cantor Miriam and Tal!
And I know in my heart that I've found my new "Anatevka."
Jan Lisa Huttner
September 9. 2010
*************************
Click here to download my full Meditation as a pdf (with original lyrics from Fiddler on the Roof): 10Sept09MorningMeditation
Click here to dowload KAMII Oct '10 Bulletin (see my full Meditation in context  on page 11).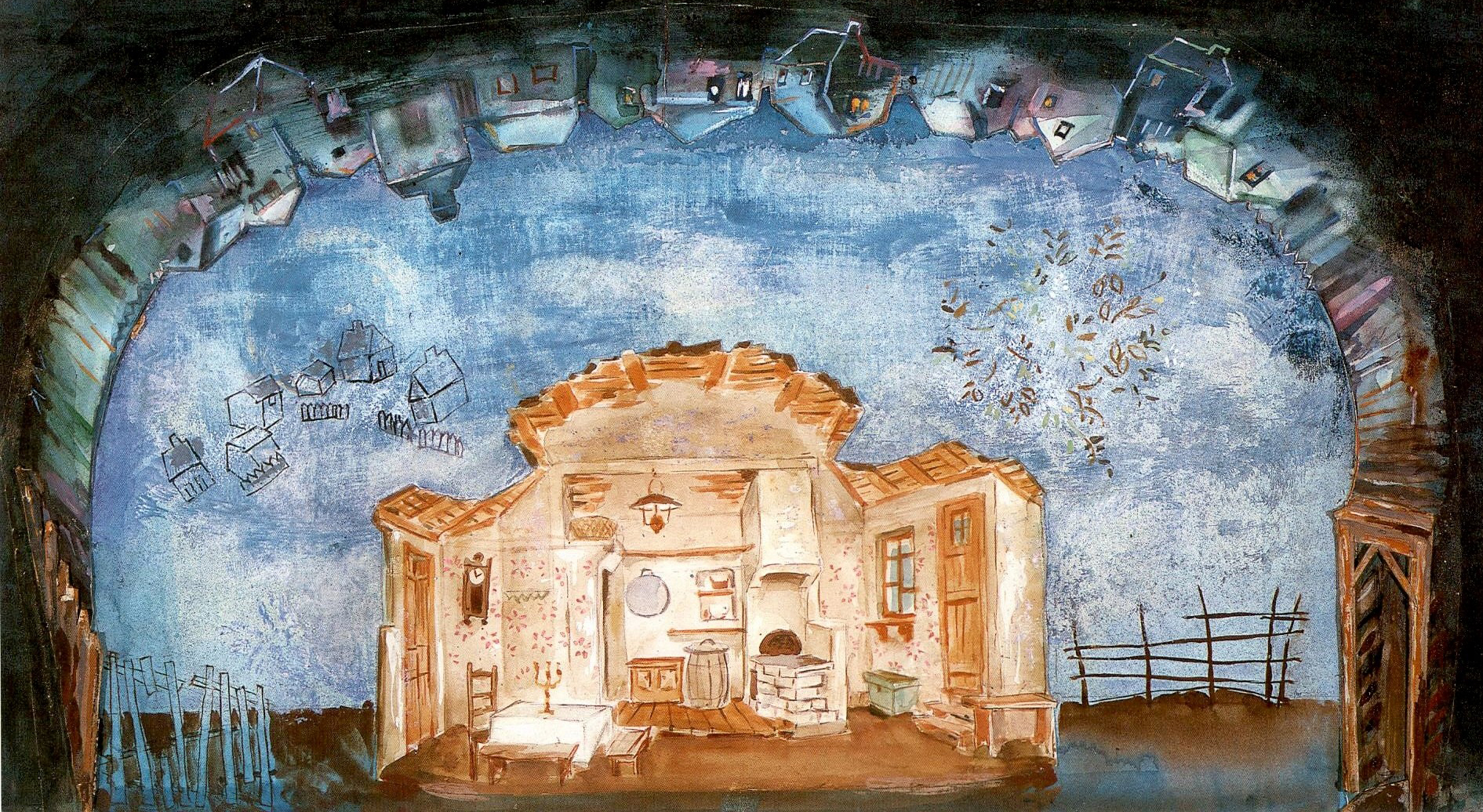 Images from Boris Aronson's original designs for Fiddler on the Roof as preserved in The Theatre Art of Boris Aronson posted with the permission of Lisa Aronson (Aronson's creative partner as well as his life partner), co-author with Frank Rich of this magnificent book.
Notice how Tevye's House is always visually embedded within the community of Anatevka: "surrounded by neighbors in little houses that echo the borders of Chagall's famous 1911 canvas I and the Village."
Click HERE to read my post "Who was Boris Aronson?" (which includes more pix from Aronson's original Fiddler designs).