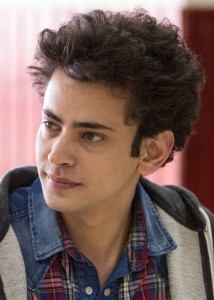 Palestinian prodigy receives a scholarship to attend a prestigious high school in Jerusalem. Consequences are highly specific but also universal.
A Borrowed Identity appears in American theatres in the midst of an acrimonious, contentious, and long overdue conversation about "privilege." Hopefully, many Americans now understand that part of "privilege" is the ability to close your eyes to things you don't want to see.
In the American case, most Caucasian Americans were able to close their eyes to pervasive racism even as incarceration rates grew to crippling proportions in the African-American community. Even after the murder of Trayvon Martin–which occurred in February in 2012–many Caucasian Americans simply refused to believe that African-American males–men and boys–were at such risk that their parents had to start giving them "the Talk" when they were barely teenagers.
Even in the midst of the growing "Black Lives Matter" movement, 12-year old Tamir Rice was still gunned down in a matter of seconds. And so it continued until nine African-Americans were killed in a church in Charleston… while engaged in Bible Study… Only now are most Caucasian Americans finally able to admit that their blindness was a privilege that they had never earned and must firmly renounce.
In Kol Yisrael–in Israel and beyond–Jewish privilege allows us to close our eyes to Palestinian suffering. In the Israeli case, there is an existential crisis that makes our willful blindness understandable. And yet, even if we don't want to see it, can we deny what we know? I don't think so.
I am not a politician or a diplomat, so I have no solutions to offer to any of the "big questions." But I do know that one of the great values of art is an artist's ability to shine light on exactly those issues we try so hard to ignore in our day-to-day lives. We Jews–in particular–have proven ourselves particularly adept at using art to bring the voice of the "outsider" (aka "The Other") to the "insiders" in the mainstream.
In this specific case, I am telling you–my khaverim–that director Eran Riklis and screenwriter Sayed Kashua have made a great work of art. I believe it is of its moment, and I also believe it will live on long after this moment is over. So see it. (JLH: 5/5)
Review by Managing Editor Jan Lisa Huttner
In the opening moments of Eran Riklis' translucent new film A Borrowed Identity, we see a young man on a Jerusalem rooftop looking out over the evening skyline. He is utterly alone, smoking, silent.
Flashback to 1982. A boy named "Eyad" (Razi Garareen) floats high above the houses in the Palestinian village of Tira, trying to fix a television antenna. The Israelis have just invaded Lebanon and his father "Salah" (Ali Suliman) wants a clearer picture of the goings on. Salah is hoping this will finally be the beginning of the end of the state of Israel. Surely the Arab armies will mobilize and the Jews will scatter?
Flashback to 1988. Teenage "Eyad" (Tawfeek Barhom) is more than just the apple of his father's eye, Eyad is also the repository of all of Salah's hopes and dreams. And so, when Eyad is accepted into a prestigious boarding school in Jerusalem, Salah insists that he go. Eyad will learn from the Jews and turn their teachings against them. Eyad will become Salah's shield against disappointment and satisfy needs so long deferred.
But Eyad is just a kid, and once he settles into his new school, Eyad wants what most kids want—he wants to fit it. And so begins the process of transformation by which Eyad becomes "Yonatan," the Jewish man with an Israeli passport who smokes cigarette after cigarette on that Jerusalem rooftop.
Director Eran Riklis is an internationally-known Israeli filmmaker who has made a number of significant films about Palestinian/Israeli relations including Cup Final, Lemon Tree, The Syrian Bride, and Zaytoun. He has won awards from film festivals all around the world, and here in Chicago he was nominated for Golden Hugo awards twice by the Chicago International Film Festival (for The Syrian Bride in 2004 and for Lemon Tree in 2008). Since I have seen all of these films—and several other Riklis films as well—I can say without hesitation that A Borrowed Identity is his "personal best" to date.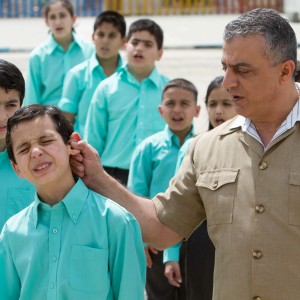 This is Riklis' first collaboration with Sayed Kashua, an Arab-Israeli journalist best-known for his comedy series Arab Labor, for which he received two "Best Script of a Comedy Series" awards from the Israel Television Academy in 2011 and 2012. (Episodes of Arab Labor have appeared regularly on our Chicago Festival of Israeli Cinema schedules.) Riklis and Kashua make a terrific team, seamlessly melding the particular and the universal to create a powerful, unforgettable 20th Century narrative.
I say 20th Century because some of the things Eyad was able to do then would probably not be possible now. Security is much tighter since 9/11, and the ubiquity of cyberspace would undoubtedly limit Eyad's ability to simply disappear when Yonatan goes off to study in Berlin. And yet, who knows? Someone smarter than me—someone as smart as Eyad—will probably find new ways. So still the voice in your head that says "Impossible!" when Eyad gets to the checkpoint, hands over someone else's I.D. card, and is told to drive on. Eyad "passes"–he gets away with it–as so many others have before him.
And what happens to Salah? We never know, and perhaps Eyad will never know either. That is the high cost of passing from one culture to another. A father makes sacrifices to give his son a better life and all too often that son moves on, ashamed of where he came from, and determined to be accepted for who he really is even before he knows who he will actually become.
The actors ground the narrative arc of A Borrowed Identity, turning all of the characters into highly specific human beings who must be exactly who they are no matter how we see their "Big Picture."
The scenes set in the village of Tira revolve around Salah and his nemesis "Jamal" (Norman Issa). Salah was the smart one–as well as the handsome one—the one who went to study in Jerusalem but ended up imprisoned for his political activities. Jamal, now the principal of the elementary school, gets his revenge by endlessly taunting Eyad. "Your father is a fruit picker!" "My father is a terrorist!" "Your father is a fruit picker!" "My father is a terrorist!" Whack goes Jamal's ruler while Eyad chokes back his tears.
On the edges of this drama hover Eyad's mother "Fahima" (Laëtitia Eïdo) and his grandmother "Aisha" (Marlene Bajali). These women cannot rescue Eyad from his father and the battles he fights on his father's behalf, but their love cushions him, and Grandmother Aisha finds ways to tell him details that her son Salah will no longer reveal to others.
Once in Jerusalem, Eyad is befriended by "Naomi" (Danielle Kitzis), a classmate who is shocked that Eyad will not even correct the people who are mispronouncing his name. (His name is AY-yad, not ah-YEED.) Naomi teaches Eyad how to make the "P" sound required for proper Hebrew pronunciation ("P-Palestine! P-Palestine! P-Palestine!") and he falls head over heels in love with her.
His other friend is "Edna" (Yael Abeccassis), the mother of a boy with muscular dystrophy (played by Michael Moshonov). By teaching him the whats and wherefores of her life daily life, Edna inadvertently becomes Eyad's de facto "Jewish Mother." And then the day comes when they both realize there is no turning back…
As the great American novelist Thomas Wolfe said: "You Can't Go Home Again."
© Jan Lisa Huttner FF2 Media (6/26/15)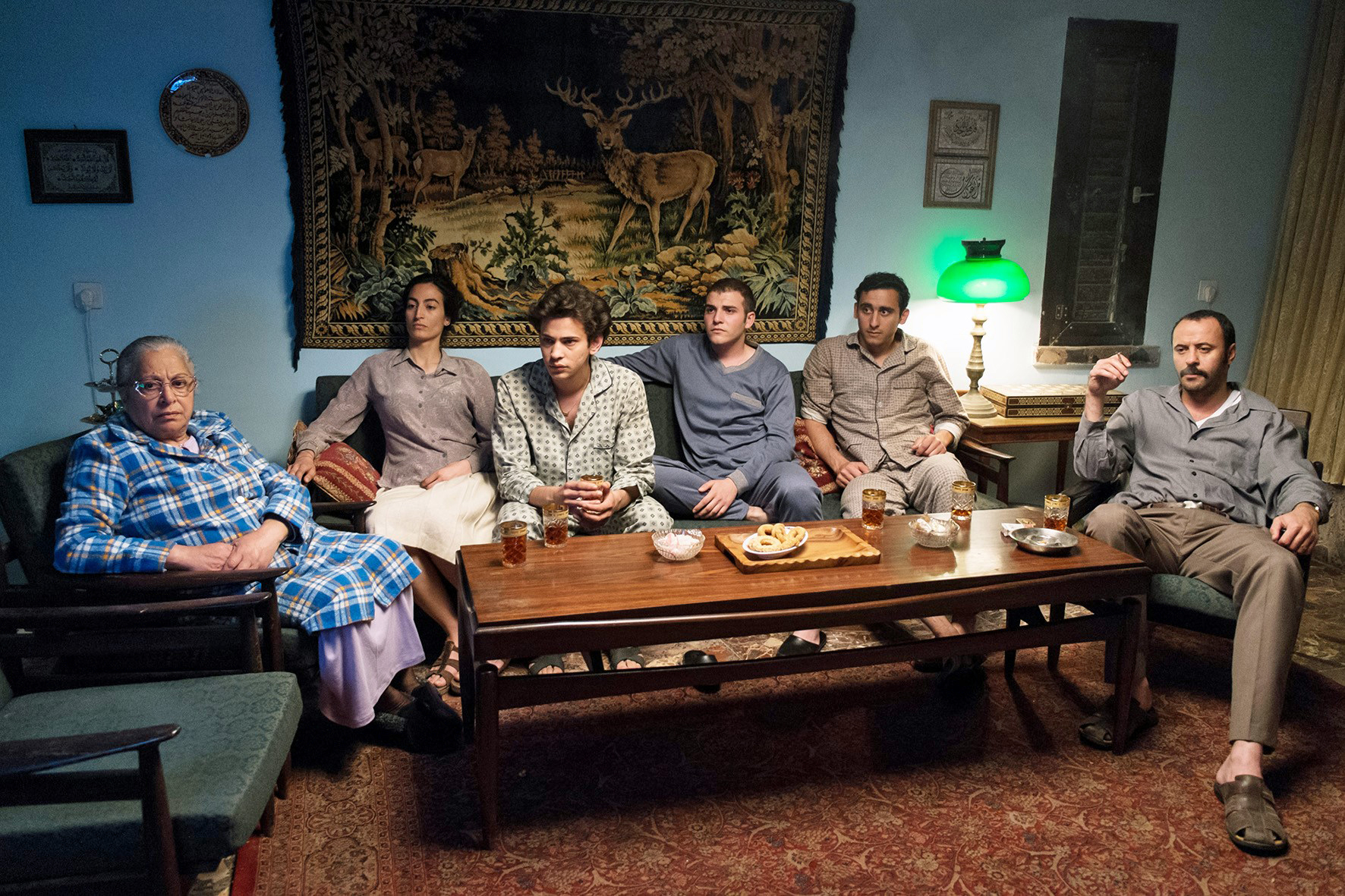 Top Photo: "Eyad" as a teenage student (Tawfeek Barhom).
Middle Photo: Young Eyad (Razi Gabareen) with "Principal Jamal" (Norman Issa).
Bottom Photo: Eyad's Family watching TV at home (from left): Marlene Bajali as grandmother "Aisha," Laëtitia Eïdo as mother "Fahima," Tawfeek Barhom as "Eyad" with his two brothers (?), and Ali Suliman as father "Salah."
Photo Credits: Eitan Riklis
Q #1: Does A Borrowed Identity pass the Bechdel Test?
No.
This is a film about men. Women play important roles in the lives of these men, but they never interact with one another.
Q #2: Where is Tira?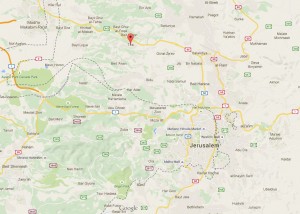 Tira is north of Jerusalem and very close to Ramallah. It is east of "the Green Line" which marks the pre-67 border of Israel. Does this mean Tira is located in Palestinian "Occupied Territory"…? Does this mean Tira is located in Judea & Samaria = "Greater Israel"…? Not for me to say! This is the point at which I take refuge in the fact that I am only a film critic…
The simple fact is that Tira exists. It is quite literally on the map.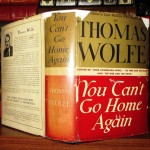 "The human mind is a fearful instrument of adaptation, and in nothing is this more clearly shown than in its mysterious powers of resilience, self-protection, and self-healing. Unless an event completely shatters the order of one's life, the mind, if it has youth and health and time enough, accepts the inevitable and gets itself ready for the next happening…" (Thomas Wolfe)
The screenplay that Sayed Kashua wrote for A Borrowed Identity is a bit of a mash-up of two of his earlier novels Dancing Arabs (published in 2002) and Second Person Singular (published in 2010). Many incidents in A Borrowed Identity appear in one of these two novels, and yet the authorial voice is totally different, and there is no one who corresponds to the young man named Eyal who bookends A Borrowed Identity on that Jerusalem balcony.
I didn't know this when I saw A Borrowed Identity for the first time (at a critics screening on 6/11) and I did not know this when I drafted my review (on 6/26), but by the time I saw A Borrowed Identity a second time with my husband Richard on 6/27, I had already downloaded both novels to my Kindle. This is the way I always try to work as a film critic: I always try to see the film first so I can assess it on its own terms, and then–if the spirit moves me–I back-up to assess it as an adaptation &/or a fact-based story…
In this case, I can say without hesitation that the screenplay for A Borrowed Identity is better than either book. Brilliant, compassionate, and uncompromising, this screenplay for A Borrowed Identity is the work of a mature artist. Everyone in A Borrowed Identity is fully human. There are no heroes. There are no villains. There are only people with strengths and weaknesses that are more common to all of us as human beings than the things that divide us. Bravo!