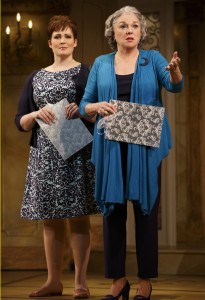 I am so wrapped up in seeing new films since my move to Brooklyn that I rarely get the chance–or even have the desire–to do much else. But a visit from our friends Mary Lou & George was just the excuse I needed to check an item off my Bucket List…
I live by a set of principles that I call "Jan's Laws of Life." In this case, for all the years I lived in Chicago, one applicable law was: "There is too much for any self-respecting workaholic to do in Chicago, so why be in New York where you'll miss even more?!?"
HaHaHa! So, Nu: Who knew the future? Right? Of course right!
But anyway, much as I was determined not to miss whatever I was–in fact–missing in NYC, I did allow myself to admit that I would have dearly loved to have seen two Tony Award-winning performances for myself: Bebe Newirth as "Velma" in Chicago and Tyne Daly as "Mama Rose" in Gypsy. Owning both cast albums–as though I do–just isn't enough…
And so, when I read about Tyne Daly playing a Jewish Mother (!) in It Shoulda Been You, I thought "I really ought to go…" And when Mary Lou wrote to say she and George were on their way, I said: "Game on!"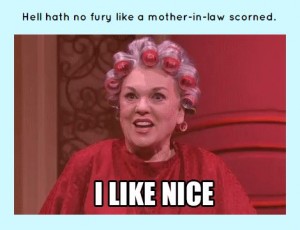 Now just so you know, there is a big curve in the middle of It Shoulda Been You to which the whole cast responds: "I didn't see that coming!" I will not be the one to give it away, but I will say that it does make It Shoulda Been You very hard to "review." So certain critics sound more lukewarm in their reviews than they should.
Don't be dissuaded. This is a delightful show and all four of us had a great time, not just me and Mary Lou but also our guys–George and Richard–too. I give It Shoulda Been You my highest praise: "I laughed! I cried! I had a great time!"
The whole cast is terrific and the production values are first rate. Special shout-out to costume designer William Ivey Long for creating the perfect palette: Jew Blue accented by Hot Pink! (Have I died and gone to heaven?!?)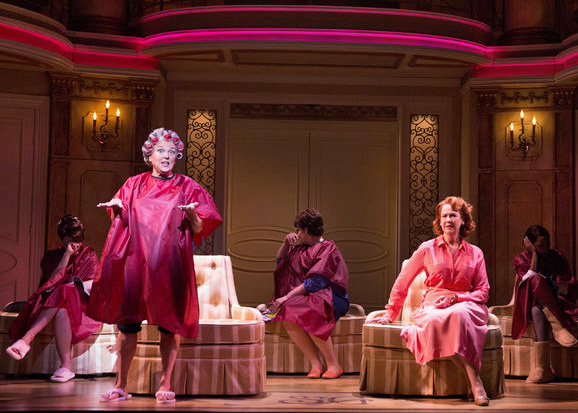 Director David Hyde Pierce–beloved "Niles" of Frazier fame–has a light touch, and keeps things moving at a brisk pace, even though there are several emotional scenes on which one could have dwelled just a bit longer. But it is critically important for It Shoulda Been You to be seen in one sitting. A traditional two-act structure with an intermission would puncture the giddy balloon.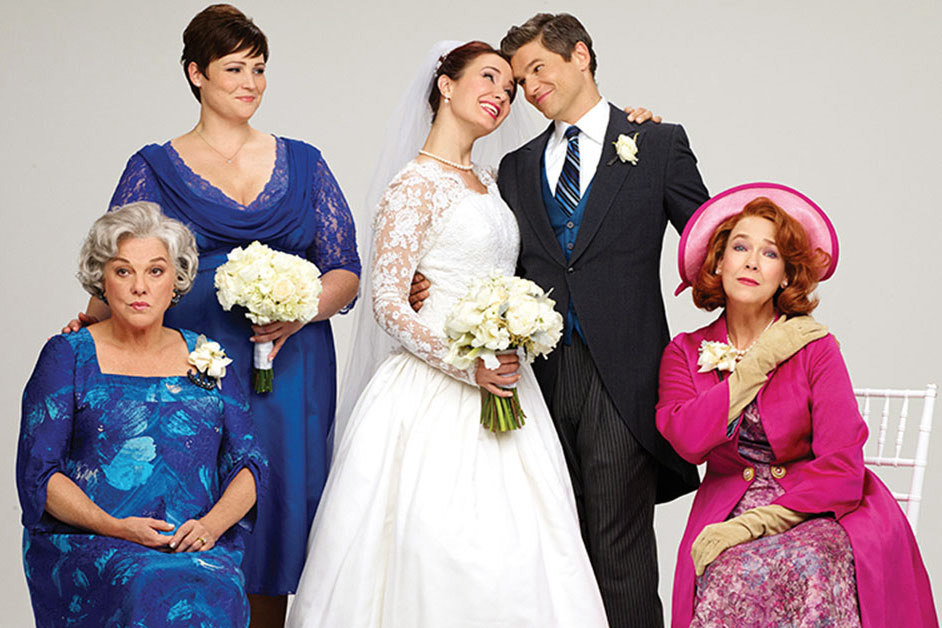 As for Tyne Daly, she didn't get a Tony Award for this performance, but she won my heart nonetheless. And she was rewarded by being asked by David Hyde Pierce to give a "curtain speech" on June 26: Talk about being in the right place at the right time!!!
"At a moment in which the Supreme Court has made a historic decision to extend the right to marry to each and every citizen, the message of love and acceptance at the core of It Shoulda Been You feels particularly resonant," said producer Daryl Roth. "We are so proud to have been able to share this story, along with love and laughter, and we look forward to spreading it across the country with future productions. We are grateful to our amazing company and our appreciative Broadway audiences."
L'CHAYIM 🙂
© Jan Lisa Huttner FF2 Media (7/3/15)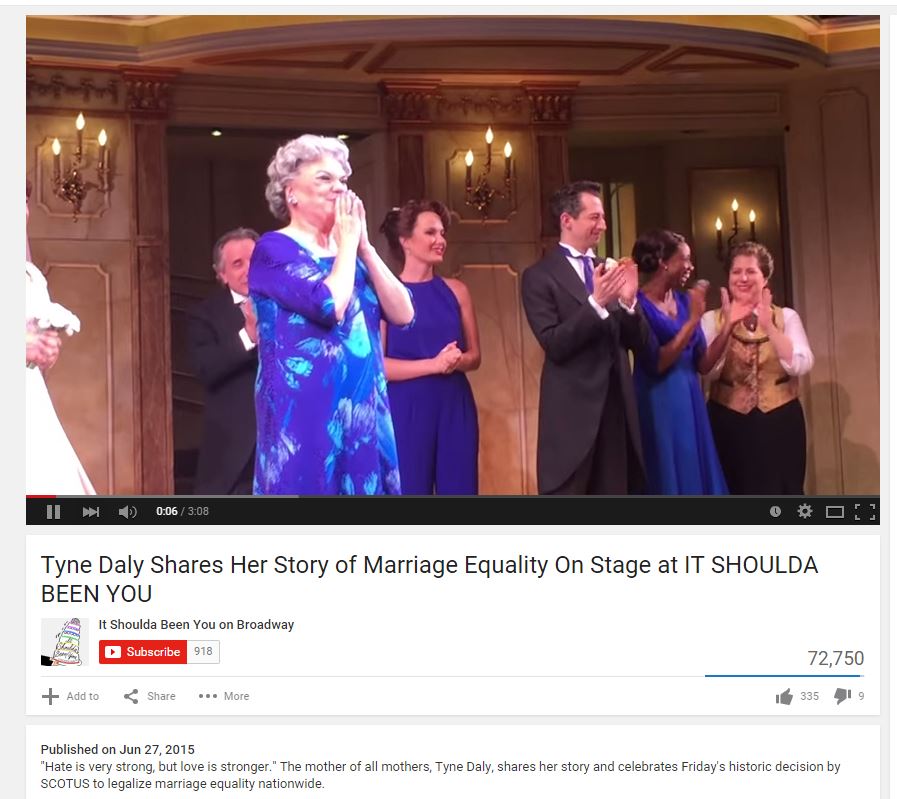 Top Photo: Tyne Daly as "Judy Steinberg" with Lisa Howard as her eldest daughter "Jenny."
Middle Photo: Judy and mother-of-the-groom "Georgette Howard" (Harriet Harris) meet up at the Beauty Shop.
Bottom Photo: "Rebecca Steinberg" (Sierra Bogges) and "Brian Howard" (David Burtka) aka "the happy couple."
Photo Credits: Joan Marcus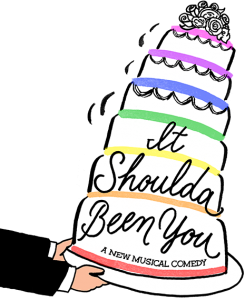 *************************
PS: The lyrics don't seem to be posted online yet, so I can't find any proof of this for you. But in the comic number "Who"–when Jenny and Marty are describing their years of friendship–Jenny actually sings: "Who played Tzeitel to your Motel?"
Of course–Fiddler Fanatic that I am–I practically fell off my chair. If I didn't know better, I might wonder if I had hallucinated? But nope: Richard swears he heard it too.
So Kudos to Lyricist Brian Hargrove, because in just six words, he tells us volumes about these two characters. The line is a "perfect fit, like a glove" 🙂