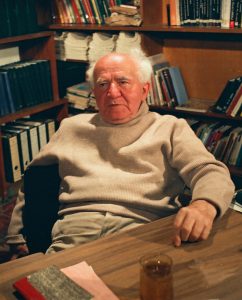 After considerable effort director Yariv Mozer and editor Yael Perlov have located both the images and the audio that David Perlov (Yael Perlov's father) captured when he interviewed David Ben-Gurion — Israel's Founding Father — at his Negev home in 1968. Yasher Ko'ach! (JLH: 5/5)
Review by FF2 Editor-in-Chief Jan Lisa Huttner
Born in Brazil in 1930, filmmaker David Perlov made aliyah at the age of 28 and became one of the fathers of Israeli cinema. By the time of his death in 2003, he had received a lifetime achievement award from the Israel Film Academy (in 1995) and the Israel Prize (in 1999). Although best known for his documentaries, Perlov also made two feature films, The Ben Gurion Story (a 1969 BioPic) and The Pill (a 1972 drama/fantasy).
To prepare for The Ben Gurion Story, Perlov went to Sde Boker, the Negev desert kibbutz in which David Ben-Gurion — the first Prime Minister of the State of Israel — lived from the time of his retirement from politics in 1970 to the time of his death in 1973 (barely two months after the start of the Yom Kippur War).
Eventually, six hours of the footage Perlov shot of Ben-Gurion — fondly known as BG — found its way to the Steven Spielberg Jewish Film Archive in Jerusalem… but there was no soundtrack! Eventually, after an unrelenting search by Perlov's daughter Yael, accompanied by Yariv Mozer, the audio portion was subsequently retrieved from the Ben-Gurion Archives in Negev.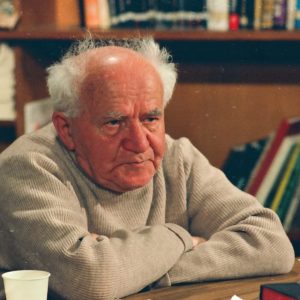 A one-hour compilation of Perlov's footage accompanied by BG's answers — in English — to questions posed by Clinton Bailey (an American specialist on the Bedouin) has now been released in the USA by Go2Films with the title Ben Gurion, Epilogue. Yariv Mozer is credited as director and Yael Perlov is credited as editor, but the result makes it clear that they worked together hand-in-glove to combine the interview scenes from 1968 with news clips and additional archival materials about BG.
What most astonished me is how relaxed BG is on camera. He gives direct, straightforward answers Clinton Bailey's questions in perfect English with only a hint of an accent. Whether visiting Albert Einstein at Princeton or sitting next to Ray Charles on a piano bench, BG is equally unpretentious. Although he is the leader of an embattled nation, he still delights in his ability to do headstands on the beach while on vacation.
BG left Poland for Palestine at the age of 20, so he had little formal education, but he read widely his entire life, and his description of reading Uncle Tom's Cabin at the tender age of 8 years is both deeply moving and highly relevant to understanding the man he would one day become. It was a joy to spend this hour in the company of such a mensch!
© Jan Lisa Huttner (3/15/17) FF2 Media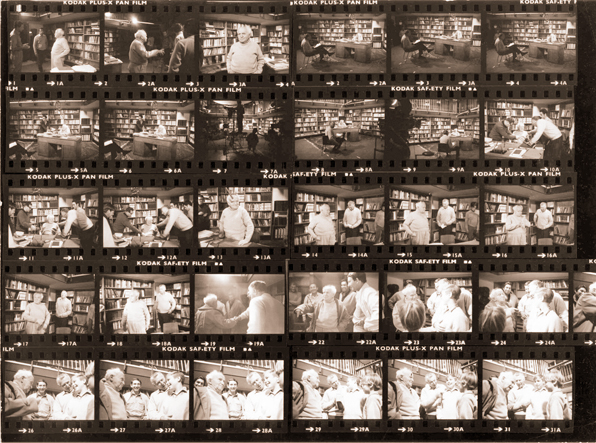 Top Photo: Israeli Prime Minister David Ben-Gurion on the set of the 1968 interview.
Bottom Photo Credit: David Marks.
BONUS: Follow this link to read an appreciation of David Perlov's work by Michael Kustow in The Guardian.